First To Stop Fast-Breaking Email Threats
MailGuard cloud-based email filtering is up to 48 hours ahead of rivals, stopping fast-breaking zero-day attacks. With proprietary IP threat detection engines, MailGuard predicts, anticipates and learns about new and emerging threats, and as a cloud-based security layer, applies immediate protection to customers worldwide.

Compatible With Any Email Platform
Offering both inbound and outbound email filtering with a simple MX (mail-exchange) record change, means you can turn MailGuard email filtering on if you have on-premise Exchange Servers, or if you use Google Workspace, Microsoft 365 or another hosted email solution.
A cloud-based Software as a Service (SaaS) solution, MailGuard is interchangeable and stackable with other leading email security solutions, providing customers defence-in-depth security without the high costs. MailGuard mitigates the threat of email phishing, spear phishing, ransomware and BEC attacks, along with other malicious email-borne threats before they enter your network and immediately blocks spam.
MailGuard requires no additional hardware or software licensing or administrative costs, and can be deployed into existing on premise or cloud based services within hours.

Fast, Reliable Service Ensuring Business Continuity
The MailGuard mail filtering network is a scalable, redundant, fault-tolerant, load balanced mesh of clusters. Governed by strict Service Level Agreements (SLA), MailGuard guarantee 100% email delivery and service uptime and offer rebates if service availability falls below 100%.
MailGuard's dynamic anti-spam engines, include proactive heuristic filters to reject incoming spam, enable significant bandwidth savings. Layers of spam filters combine for advanced protection, performance and accuracy.
Supported by comprehensive email usage reports, MailGuard protects against the unauthorised distribution of confidential or commercially sensitive information by providing a 360 degree view of your inbound and outbound email traffic.
MailGuard is a fully managed service that delivers peace of mind. Our dedicated team of security specialists and our systems are working 24x7 to stop email threats before they enter your network. MailGuard proactively alerts customers to any issues or scams via phone and SMS to further reduce risks to your business.
MAILGUARD KEY BENEFITS
Scalable Cloud Architecture
A Scalable, Redundant, Fault-Tolerant & Load Balanced Mesh of Clusters
Geographically dispersed around the globe with a primary focus of reducing latency, the MailGuard network of mail filtering servers is a scalable, redundant, fault-tolerant and load balanced mesh of clusters.
Multiple Anti-Spam Engine
Multiple Anti-Spam Engines for Protection Against Phishing, Spear Phishing, Ransomware and BEC
Dynamic anti-spam engines, including proactive heuristic filters reject incoming spam, enabling significant bandwidth savings. Layers of spam filters combine for advanced protection, performance and accuracy.
Superior spam catch rate with near zero false positives, with no special tuning or ongoing administration.
Comprehensive anti-spam reporting including individualized reports for employees (console), plus end-user spam quarantine release functionality.
Virus and Malware Protection
Virus, Malware & Blended Threat Protection
Integrated anti-spyware scanners specifically target malicious URLs embedded in messages with the MailGuard proprietary IP threat detection engines.
Our engines detect and unpack archive file types, identifying viruses recursively embedded within attachments. Once identified, we block dangerous file types by their content and MIME type, thus detecting mislabelled attachments.
Deep content analysis is undertaken of all email components to identify and quarantine messages containing potentially harmful code or URL links to known malicious websites.
Virus protection is applied to both incoming and outgoing email, supported with full virus and malware reporting
Inbound Content Security
Take Action On Incoming Email Based On Pre-Defined Conditions
Action can be taken on messages exceeding a specified size limit (eg. Reject or Quarantine) or messages from any blacklisted IP address and domain. Other reject categories such as country can be applied by contacting MailGuard support.
Control inbound messages based on the presence of restricted file types or inappropriate keywords. Implement policies by user or domain – or across the entire organization.
Provide visibility of the security of incoming email through comprehensive reporting and email notifications.
Manage email authentication and anti-spoofing through Sender ID and Sender Policy framework standards support.
Outbound Policies
Outbound Policy Enforcement and Compliance Management
Automatically applies SPAM policy to outgoing messages, and enforces policies relating to outgoing message size, attachments, keywords or recipients.
This allows you to block inappropriate language in outgoing email, upholding corporate policies and ensuring messages comply with legal requirements.
Automatically add disclaimers based on individual, domain or company.
Facility to provide alerts based on outbound email content and attempted policy breaches.
Denial of Service Protection
Protect Against Denial of Service & Directory Harvesting Attacks
Detect and manage suspicious behaviour such as rapid concurrent connections from a single IP address or multiple emails sent to invalid email addresses.
When suspected Denial of Service or Directory Harvesting Attacks are detected, connection attempts from the offending SMTP server are rejected without impact to the customer.
Data Leakage Protection
Features File Fingerprint Technology To Manage Distribution of Confidential Files and IP
MailGuard quarantines any restricted file being sent by an unauthorized user and sends notifications to nominated email addresses.
Our platform provides the ability to use regular expressions (regex) to create powerful pattern matching rules.
Comprehensive Reporting
Comprehensive Reporting and Message Classification

Access comprehensive security and email activity reporting, and
schedule reports with email delivery options in a range of output formats including HTML and PDF.
Review bandwidth reports by sender, recipient, domain and file-type, plus analyze anti-spam performance by user via individualized reports.
View anti-spam/anti-virus performance, attempted policy breaches and identify potential mail abusers through security reports. Use this data to setup specific policies to output digests received directly.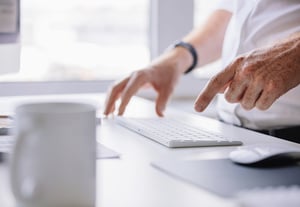 GET PROTECTED
Don't wait until it's too late. In today's climate of heightened cyber risk, you need a specialist cloud email security solution. With no software to install, no updates or patches. Stop advanced ransomware, phishing and sophisticated BEC attacks from reaching your teams' inboxes, today.