ABOUT US
Leaders in Cloud Email Security
MailGuard is a world leader in email security, offering both Secure Email Gateway (SEG) and Integrated Cloud Email Security (ICES) solutions, detecting and blocking fast-breaking sophisticated criminal intent email threats up to 48 hrs ahead of the market.
MailGuard provides protection for businesses throughout the world against criminal intent email threats like malware, ransomware, spyware, phishing, spear phishing, CEO Fraud, viruses, spam and similar malicious scams. MailGuard has led the way in cloud email security since 2001, providing protection, continuity and archiving as integrated cloud solutions for 24/7 peace of mind. There's no infrastructure to maintain, software to install or updates required.
MailGuard's proprietary IP threat-detection engines stop fast-breaking email threats in real-time. Seamlessly stackable with Microsoft 365, Google Workspace, and other email platforms, MailGuard provides an added layer of specialised email security to reduce the impact of cybercrime on business.
A New Approach To Email Security

Many businesses think traditional antivirus software will protect them from an attack, but that's simply not the case. Antivirus can stop known threats, but cyber criminals move at rapid pace, relying on the element of surprise. It can take hours or even days for antivirus vendors to identify and deploy updates to customers.
MailGuard is different to traditional antivirus. A cloud-based email security solution, partnered with smart proprietary IP threat detection engines that predict, learn and anticipate new threats as they're emerging. It can apply immediate protection against emerging threats for users around the globe.
Cyber security is one of the most significant issues facing businesses today, with billions of emails being sent everyday, and the rate of cyber crime increasing exponentially. Nine out of 10 enterprises report being impacted by spear phishing, and 60% of businesses who experience cybercrime are out of business within six months of the incident, with the average cost of an incident being USD $4.35 million.
Where It Started

Craig McDonald is the Chief Executive Officer and Founder of MailGuard.
In 2001, Craig founded MailGuard Pty Ltd (MailGuard), now the world's largest private Software as a Service [SaaS] security company delivering business-to-business email security to customers throughout the world. MailGuard has agreements with some of the world's largest providers of email mailboxes and internet security systems.
Prior to founding MailGuard, Craig was personally affected by an email containing a virus that caused havoc to his business. Craig quickly realised how vulnerable businesses were and the extent to which email was present in our everyday lives. The experience inspired him to start MailGuard.
Craig's key focus is to support and educate businesses who continue to struggle with cybersecurity.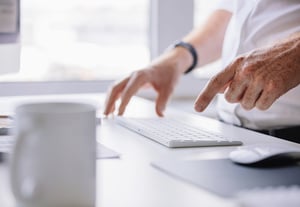 GET PROTECTED
Don't wait until it's too late. In today's climate of heightened cyber risk, you need a specialist cloud email security solution. With no software to install, no updates or patches. Stop advanced ransomware, phishing and sophisticated BEC attacks from reaching your teams' inboxes, today.