A Leader In Cloud-Based Email Security Since 2001
MailGuard is a pioneer in cloud-based email security, providing enterprise-grade protection against email security threats to business throughout the world since 2001. It protects companies and their people from fast breaking, zero-day attacks through sophisticated, advanced detection methodologies.
MailGuard instantly protects your customers against:
Phishing

Spear Phishing

CEO Fraud (Whaling)

Malware

Ransomware

BEC (Business Email Compromise)

Viruses, and

Spam.
MailGuard mitigates the threat of email-borne, zero-day phishing, ransomware and BEC attacks before they enter a client network and immediately blocks spam.
Add MailGuard To Your Customer's Security Stack
Cyber criminals move quickly, relying on the element of surprise. An attack can be executed in minutes, yet it takes hours or days for antivirus (AV) vendors to push out updates to customers. During that window of exposure, criminals iterate on attacks to avoid detection.
Adding MailGuard to your client's current security stack provides defence-in-depth protection, and a powerful barrier against malicious cybercrime threats. Position your company as the trusted cloud email security expert that your customers turn to.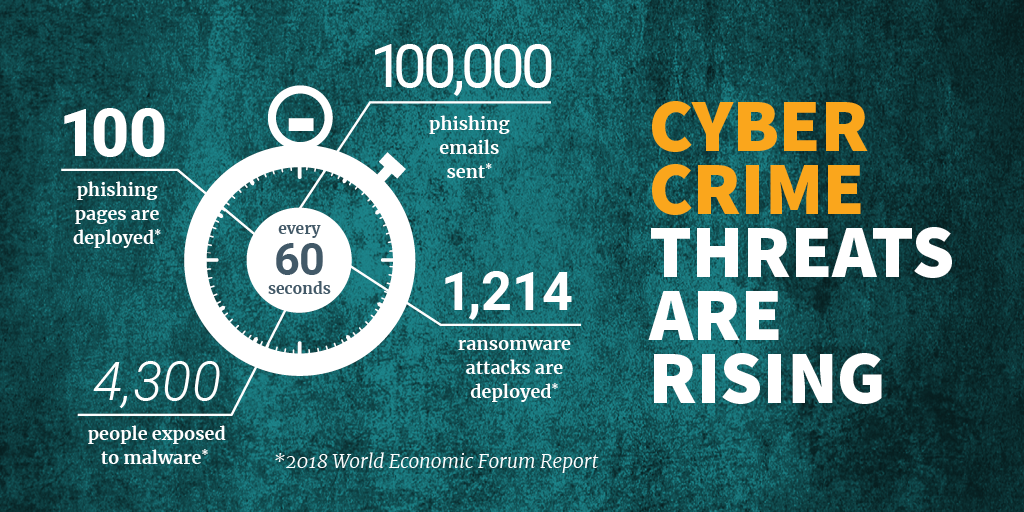 "I called and spoke with Patrick in your help desk. In short he was exactly right and I had the server issue resolved in 30 minutes. This is further proof as to why I am very glad to have partnered with MailGuard. As usual the support I received was first class"

"Complete PC Solutions has been a Partner of MailGuard for over 10 years, we value this partnership as it provides our clients with great Cloud Security Solutions"
The Risks & Dangers Of Email
Email is a dominant form of communication and fundamental enabler of our economy. Over two trillion email messages are sent throughout the world every week, and the proliferation of detailed personal information online is enormous. With so much data at the disposal of cyber criminals, online users are easy prey.
As businesses around the world invest millions of dollars in network security and antivirus every year, they continue to fall prey to cybercrime and data breaches. In fact, nine out of 10 enterprises report being impacted by phishing attacks.
Why Partner With MailGuard
Recommend the category leading solution that detects & blocks zero-day threats up to 48 hours ahead of the market.

Twice as many Microsoft partners choose MailGuard for their own email cloud security.

Our highly skilled support team is available 24/7 to provide superior customer service & 100% customer satisfaction.

Increase your bottom line and your Average Revenue Per User (ARPU) with generous partner commissions.

Deliver a maintenance free service to your customers with a low Total Cost of Ownership (TCO).

We collaborate closely with Microsoft to co-create multi-layered, cybersecurity defense solutions.

Position your practice as a strategic cybersecurity specialist advisor.

Protect the longevity of your client's businesses, and of your future revenues, by proactively combating cyberattacks.

Maintain complete management visibility of accounts in a unified centralised partner console.

Reduce support hours, minimise downtime, and create safer and more productive working environments for your clients.

Free marketing support with provision of co-branded collateral.

Choice of three partnership levels.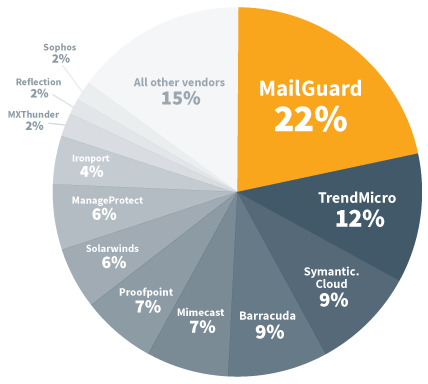 Diagram: Cloud email security used by Microsoft partners. Twice as many partners choose MailGuard over Symantec.cloud, Mimecast, Proofpoint & Barracuda.*
*Comparison set of 39 email security vendors. Excludes partners using solely Microsoft 365, Google & internal appliances
How To Partner With MailGuard
Contact a MailGuard cybersecurity expert today and ask to speak to our partner program team.
Phone: 1300 30 44 30
Email: expert@mailguard.com.au