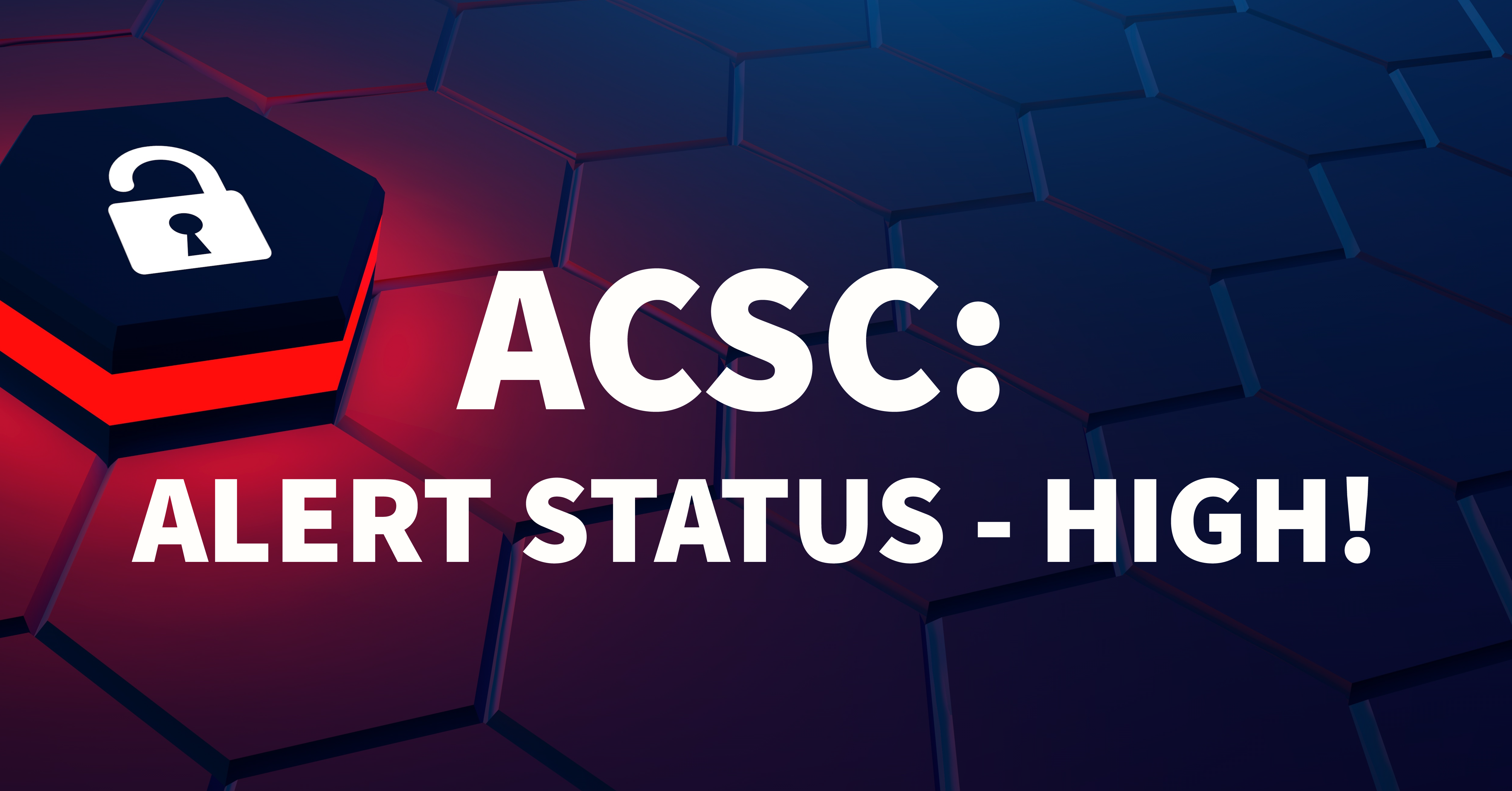 Overnight, the Australian Cyber Security Centre (ACSC) issued an urgent advisory to Australian businesses, due the escalating situation between Ukraine and Russia:
"Australian organisations are encouraged to urgently adopt an enhanced cyber security position. Organisations should act now and follow ACSC's advice to improve their cyber security resilience in light of the heightened threat environment."
The threat landscape is always shifting, and these latest developments are increasing the level of risk for Australian businesses.
The advisory states that "There has been a historical pattern of cyber attacks against Ukraine that have had international consequences. Malicious cyber activity could impact Australian organisations through unintended disruption or uncontained malicious cyber activities. While the ACSC is not aware of any current or specific threats to Australian organisations, adopting an enhanced cyber security posture and increased monitoring for threats will help to reduce the impacts to Australian organisations."
To stay secure, the ACSC recommends that organisations "Urgently adopt an enhanced cyber security posture. This should include reviewing and enhancing detection, mitigation, and response measures. Organisations should ensure that logging and detection systems in their environment are fully updated and functioning and apply additional monitoring of their networks where required."
The advisory also encourages businesses to assess their preparedness to respond to an incident, including a review of Incident Response Plans (IRP) and Business Continuity Plans (BCP), and strongly recommends that organisations implement the 'Essential Eight' mitigation strategies.
You can read the ACSC advisory in full here.
To ensure that your customers have the utmost cyber resilience, it is crucial to evaluate their email security. A multi-layered, defence-in-depth approach to email security is best. Even organisations with Microsoft 365 or Google Workspace, should seek to apply an additional layer of advanced threat protection from a specialist cloud email security vendor like MailGuard.
Nine out of ten cyber attacks start with an email, so it is of paramount importance that your customers consider their people, processes, and tools, to ensure they are of the highest standard.
Your customers and their team members should be alert for:
Phishing emails, impersonating trusted brands like Telstra, Australia Post, or major Australian banks like CBA, NAB, ANZ or Westpac, or utilities like Energy Australia and other providers. Similarly, software vendors like Microsoft, MYOB and Xero are popular targets, as are streaming services like Netflix and parcel delivery services like Fedex or UPS.

Ransomware is rising, so teams should be wary of clicking links or downloading attachments that may result in your data and systems being locked and held to ransom by cybercriminal organisations.

Targeted BEC (Business Email Compromise) attacks are also common, impersonating senior executives like a CEO or President, the emails can be very simple and rely upon the influence of the sender to coerce employees to reveal data, sensitive credentials, or transfer money.
Keeping businesses protected
Prevention is always better than a cure, and the best defence is to encourage businesses to proactively boost their company's cyber resilience levels to avoid being hit by phishing, ransomware, BEC and other zero-day threats in the first place. The fact that a staggering 94% of malware attacks are delivered by email, makes email an extremely important vector for businesses to fortify.
Talk to us
MailGuard's partner blog is a forum to share information and we want it to be a dialogue. Reach out to us and tell us how we can serve you better. You can connect with us on social media or call us and speak to one of our consultants.
Australian partners, please call us on 1300 30 65 10
US partners call 1888 848 2822
UK partners call 0 800 404 8993
We're on Facebook, Twitter and LinkedIn.
Keep Informed with Weekly Updates