Be wary if you're a Commonwealth Bank customer and an email lands in your inbox claiming that your account has been 'locked' and warning 'temporary suspension' until you confirm your account details. It's likely to be the latest phishing scam email, that's currently being blocked by MailGuard.
With the subject '[Alert] Confirm your Netbank account (Case ID #AU 0PPC001701)', the email sender display name is 'Commonwealth Bank' accompanied by an authentic sounding sender email address of 'customerassist(at)cba(dot)com(dot)au'. The actual sender email address is 'whulk(at)whulk(dot)com', however busy and distracted recipients who don't take care to think twice, could be forgiven for thinking the email is legitimate.
Here's what the email looks like: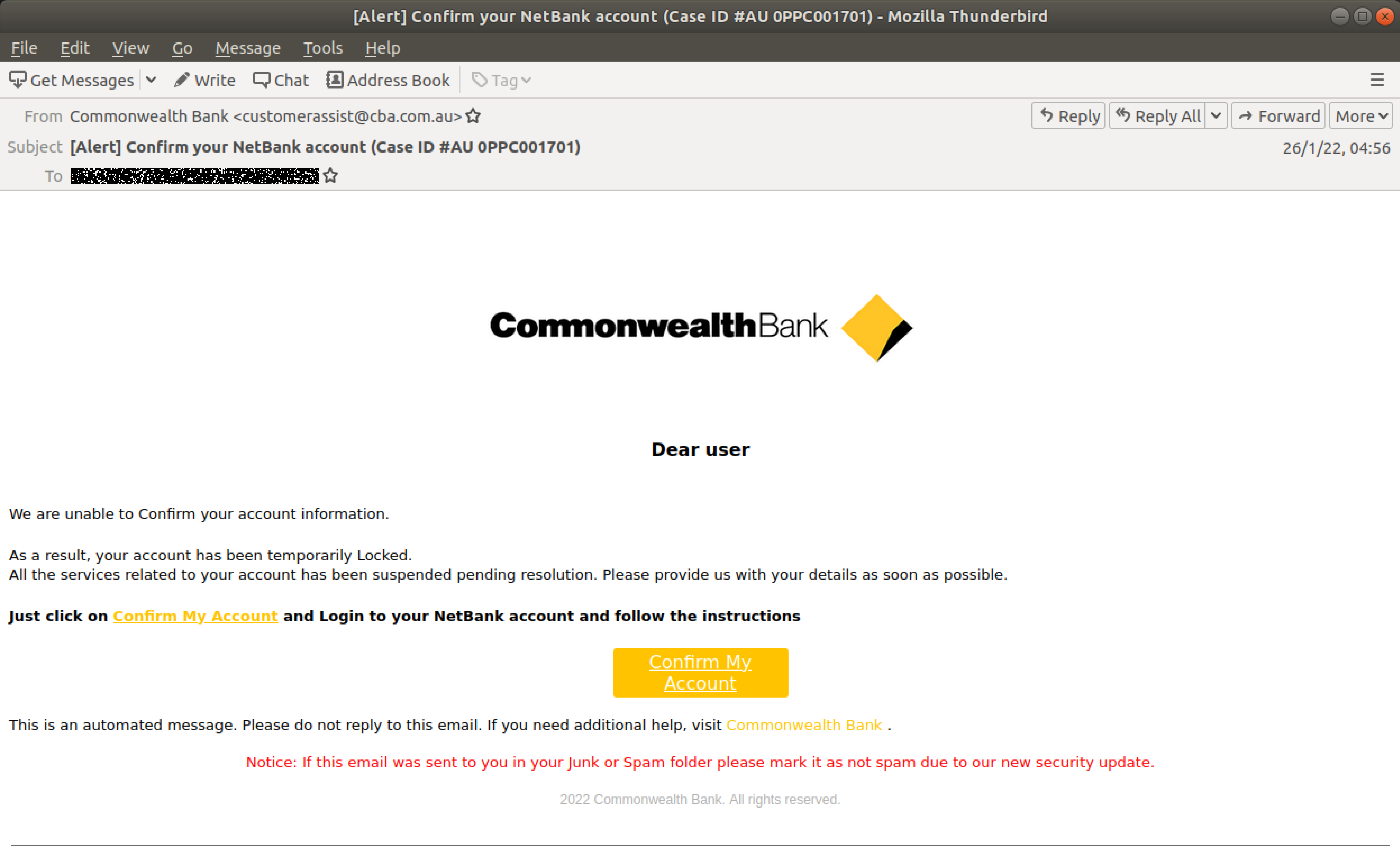 The email calls for customers to 'click on Confirm My Account and Login to your Netbank account...', and those who do so are delivered to an accurate replication of the actual Netbank login page, as shown below.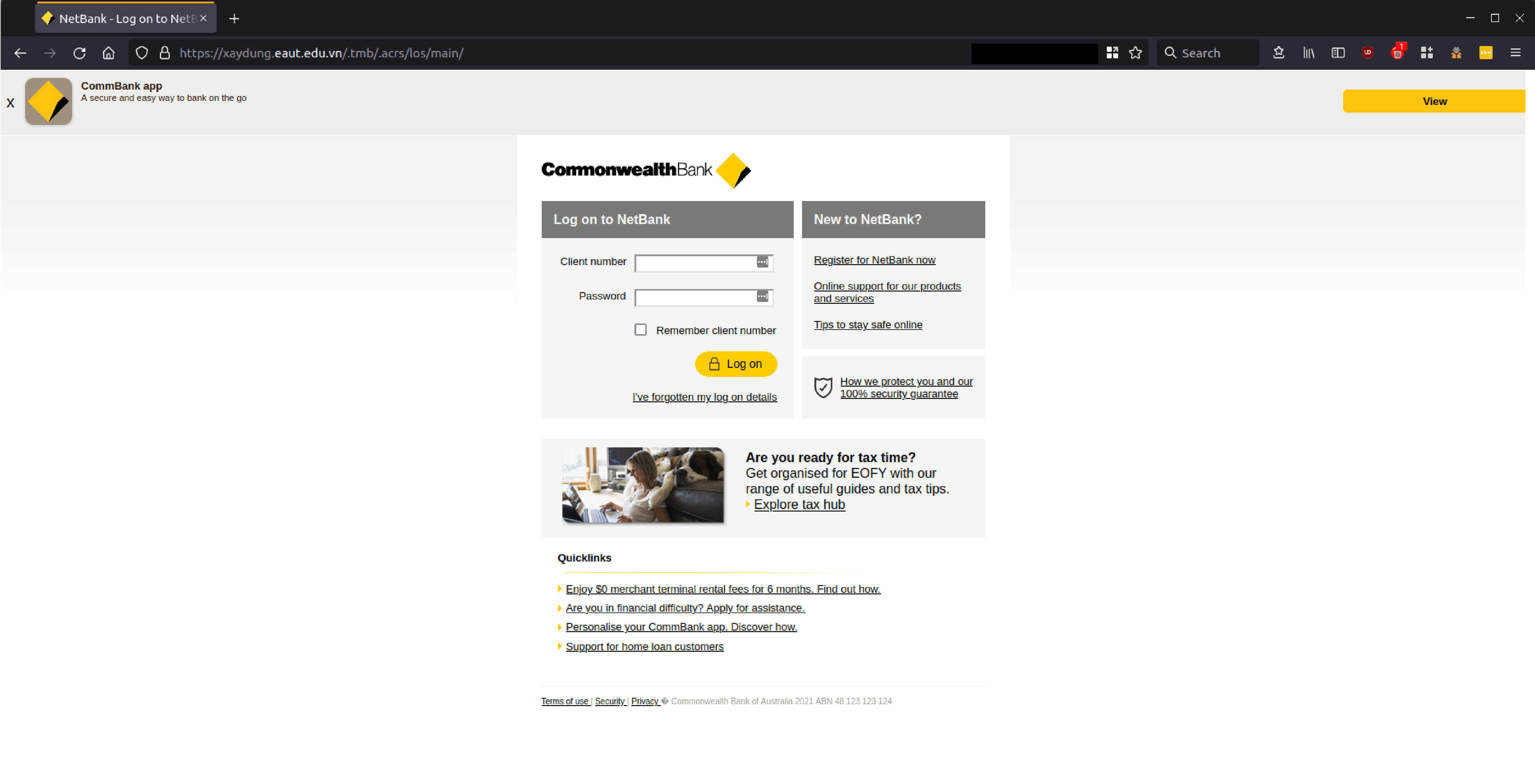 Of course, the Login page is a scam, and once recipients have completed the first phishing page they will have mistakenly provided their Netbank credentials, including their Client number and Password to cybercriminals.
Not satisfied with that information, the next page requests your Personal Details, including your Full Name, Date of Birth, Email Address and Phone Number.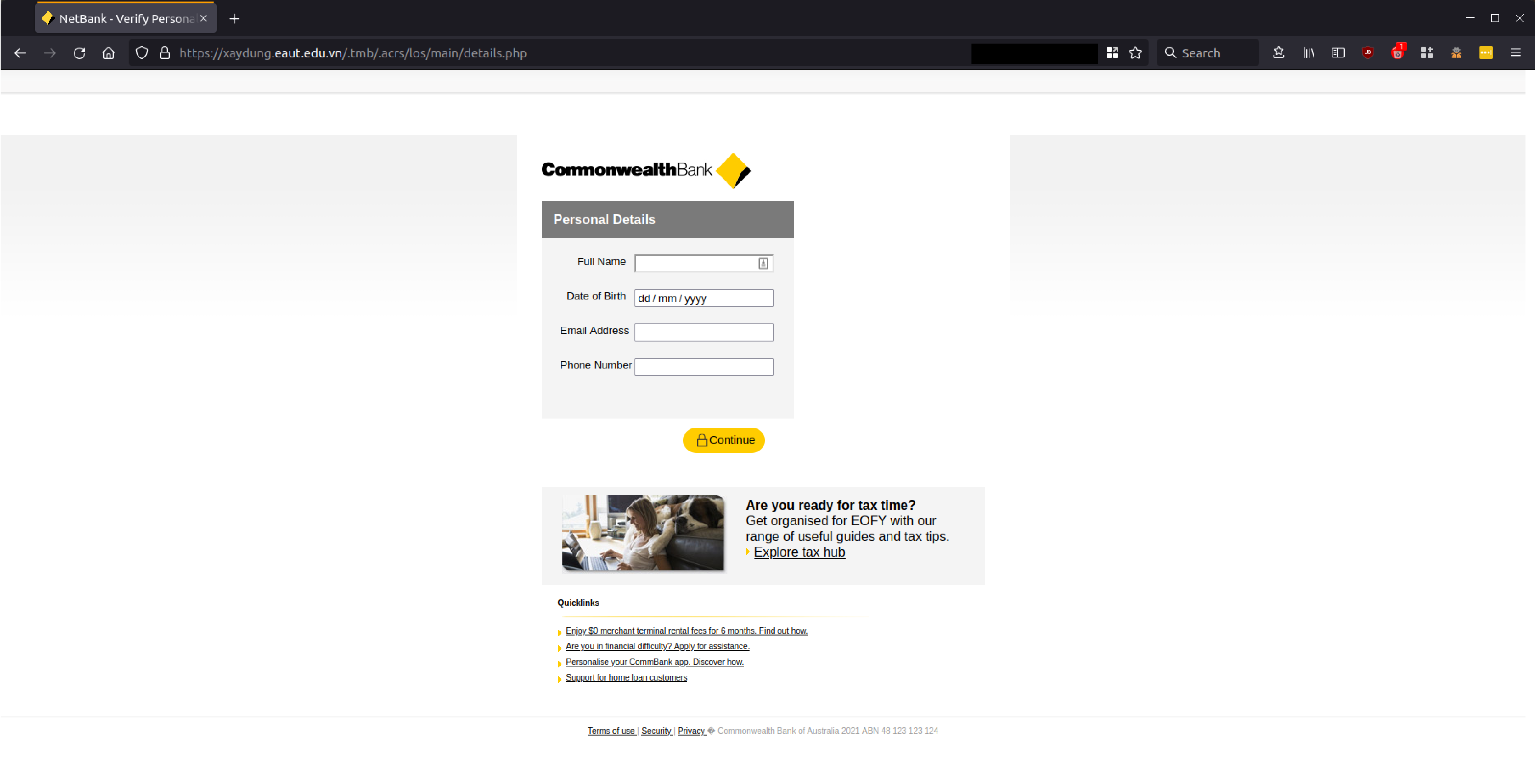 To feign authenticity, the scam sends a 'One Time Password' or OTP code to customers to confirm that they are indeed the owner of the mobile phone number provided.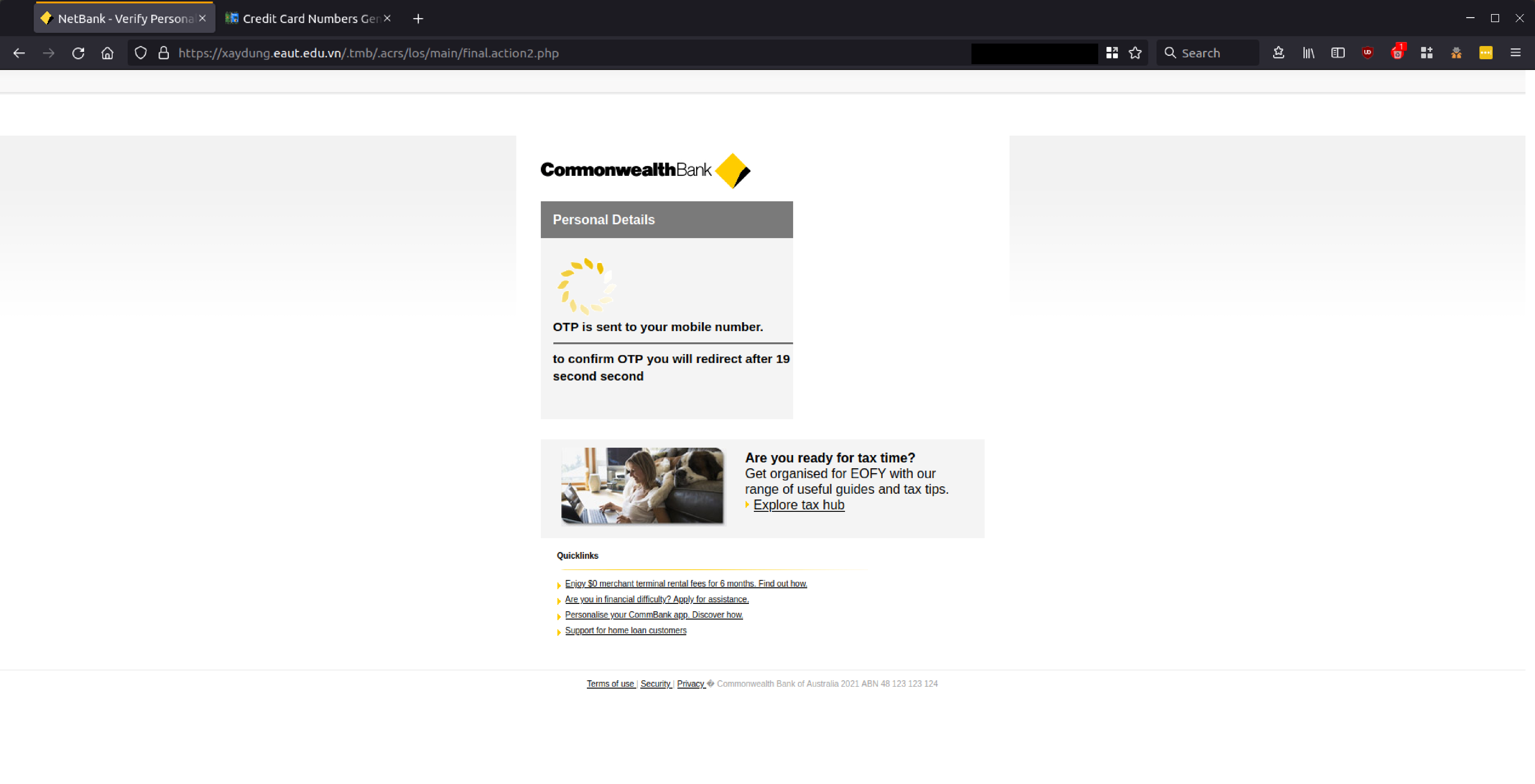 Having captured your Netbank credentials and your Personal Details, the scammers continue to request your Credit Card information, including the Card Number, Expiry Date, Card PIN, and CVV.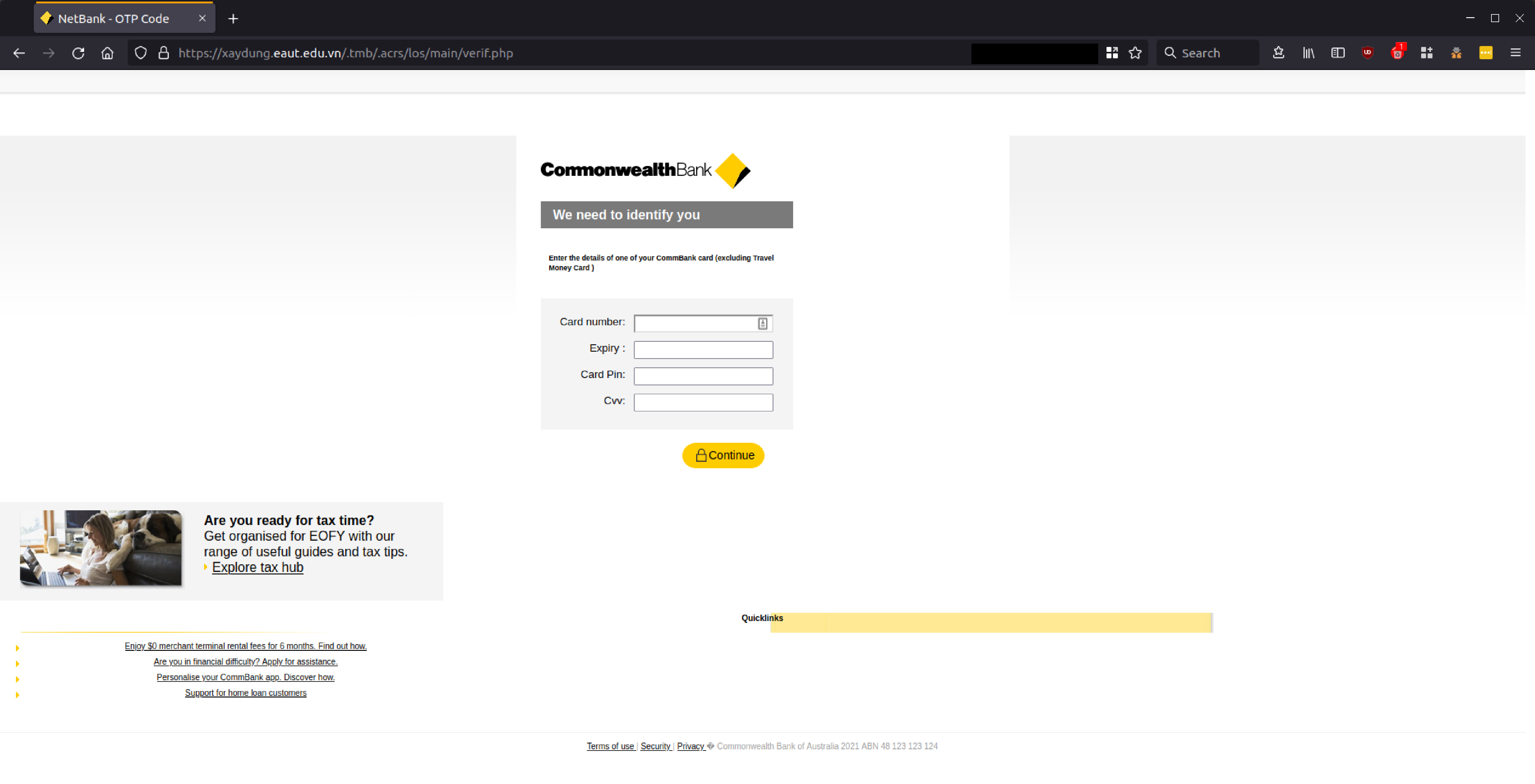 In the final steps of the scam, the cybercriminals behind the ruse send another OTP code, before completing the process.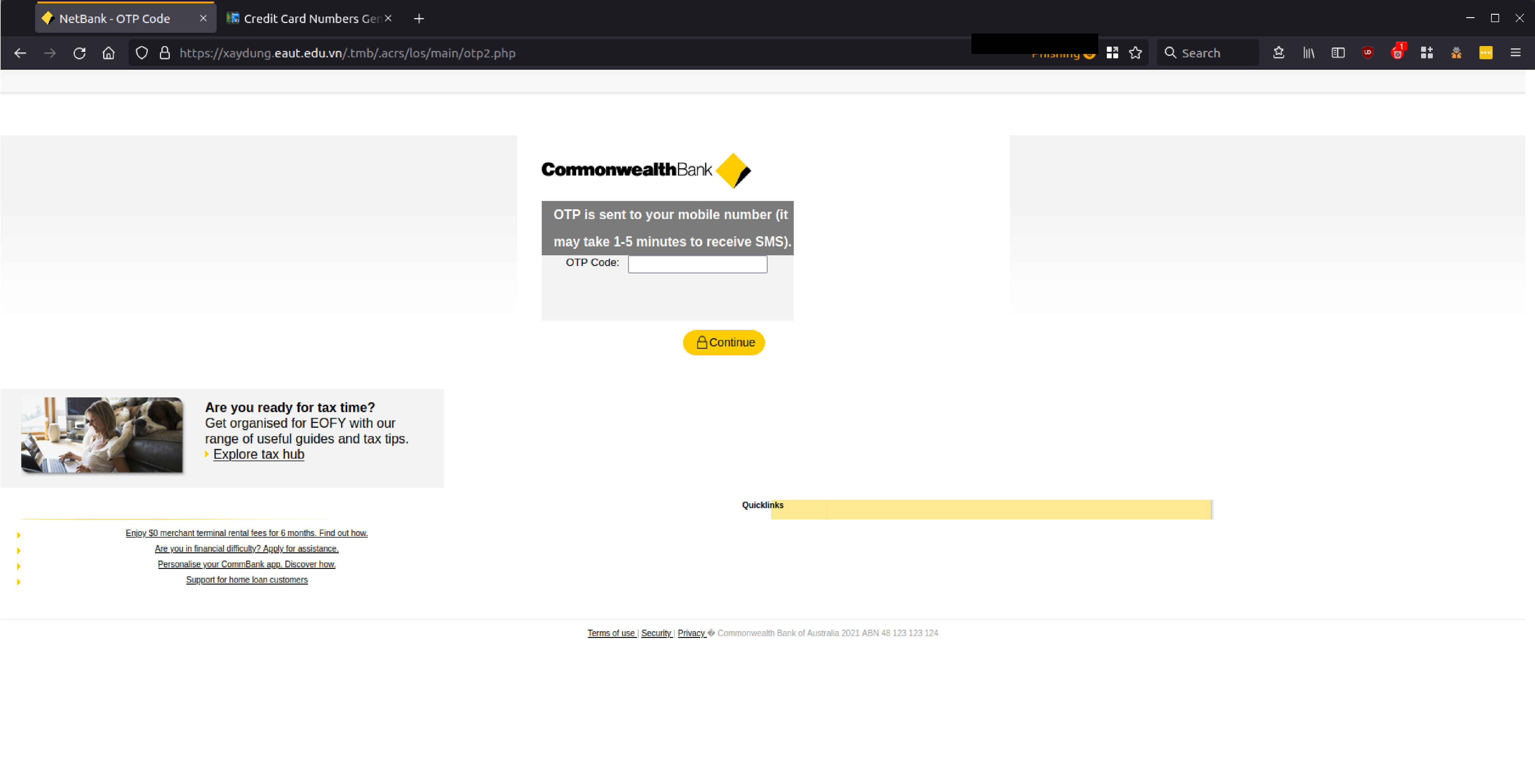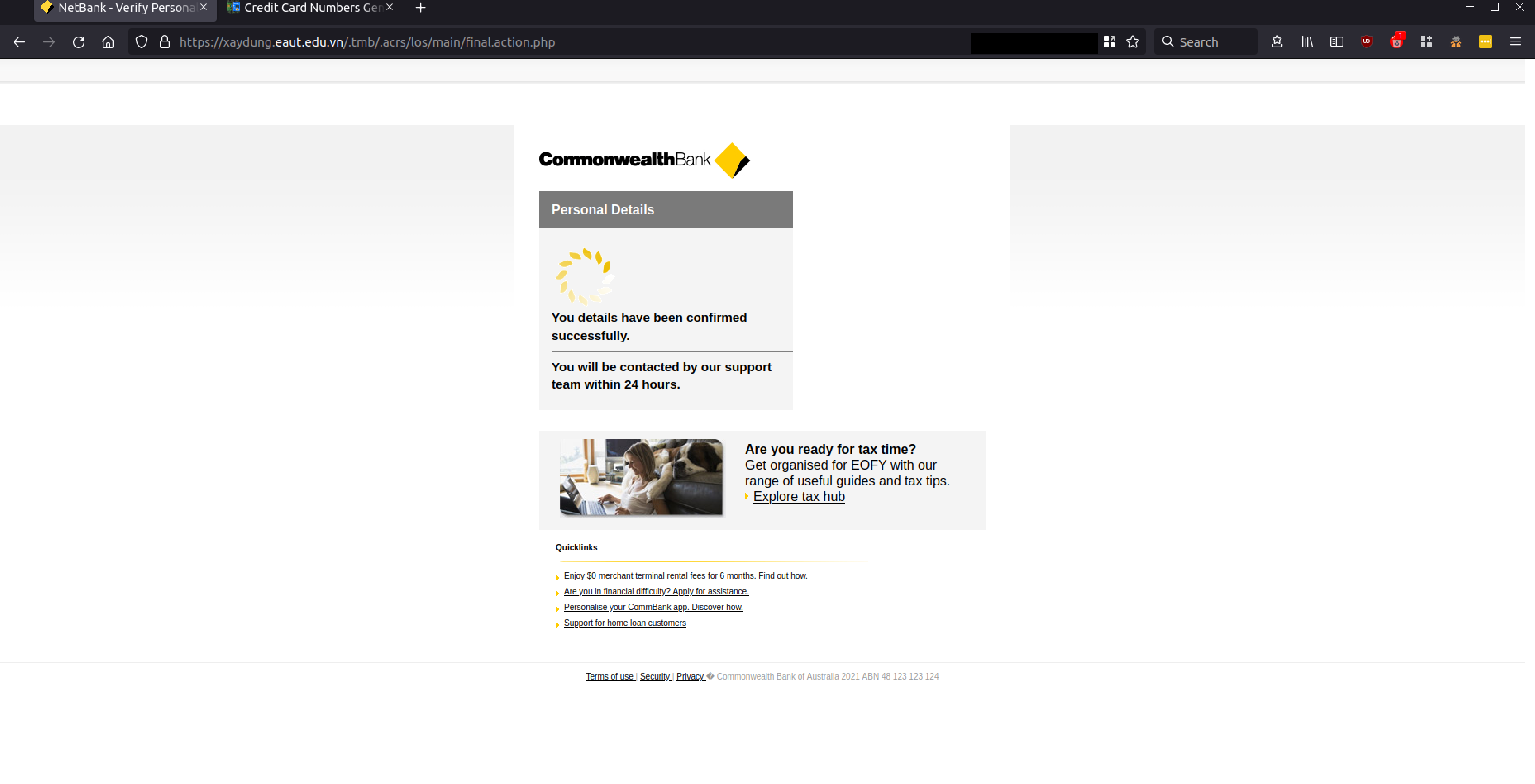 Although those behind the scam have gone to great lengths to imitate CBA's Netbank email communications and Login pages, upon closer inspection, grammatical errors present in the body of the email, as well as the domain address, which is not an official Commonwealth Bank hosted website, are all red flags.
Australia's largest bank, according to the company website, Commonwealth Bank 'serves 15.9 million customers, employs 48,900 people and has more than 800,000 shareholders.' The banks' trusted name and sizeable customer base makes it an attractive target for cybercriminals who are keen to dupe customers into handing over online account credentials, credit card information and personal details for use in financial crimes like fraudulent payments, for identity theft and to sell that information to other cybercrime operations for use in other scams. For this reason, similar scams are common, like these others intercepted by MailGuard, mimicking CBA in August and September.
MailGuard urges all recipients of this email to delete it immediately without clicking on any links. Providing your personal details can result in your sensitive information being used for criminal activity and can have a severe impact on your business's financial well-being.  
Commonwealth Bank (CBA) advises customers that have concerns about the safety of their accounts to call 13 2221 immediately, and provides the following advice on its website (https://www.commbank.com.au/support/security/sms-phishing-scams.html) for customers concerned about email and SMS scams:   
"Remember, we'll never ask you for your banking information by email or text message

 

Stop before you click

 

To be safe, always navigate directly to NetBank yourself and log on from the site you know to be genuine, rather than using any links in communications

 

Report suspicious emails to 

hoax@cba.com.au then delete them straight after. Do not reply or engage with them 
Be aware that scams can also come via the telephone with people pretending to be from a reputable organisation who try and gain access to your computer, bank account and money. In this case, the best thing you can do is hang up and call on an organisation's officially listed phone number to verify the communication" 
MailGuard urges users not to click links or open attachments within emails that:     
Are not addressed to you by name.     

Appear to be from a legitimate company but use poor English or omits personal details that a legitimate sender would include.     

Are from businesses that you were not expecting to hear from, and/or     

Take you to a landing page or website that is not the legitimate URL of the company the email is purporting to be sent from.    



One email is all that it takes    
All that it takes to devastate your business is a cleverly worded email message that can steal sensitive user credentials or disrupt your business operations. If scammers can trick one person in your company into clicking on a malicious link or attachment, they can gain access to your data or inflict damage on your business.    
For a few dollars per staff member per month, you can protect your business with MailGuard's predictive and advanced email security. Talk to a solution consultant at MailGuard today about securing your company's inboxes. 
Stay up-to-date with MailGuard's latest blog posts by subscribing to free updates. Subscribe to weekly updates by clicking on the button below.