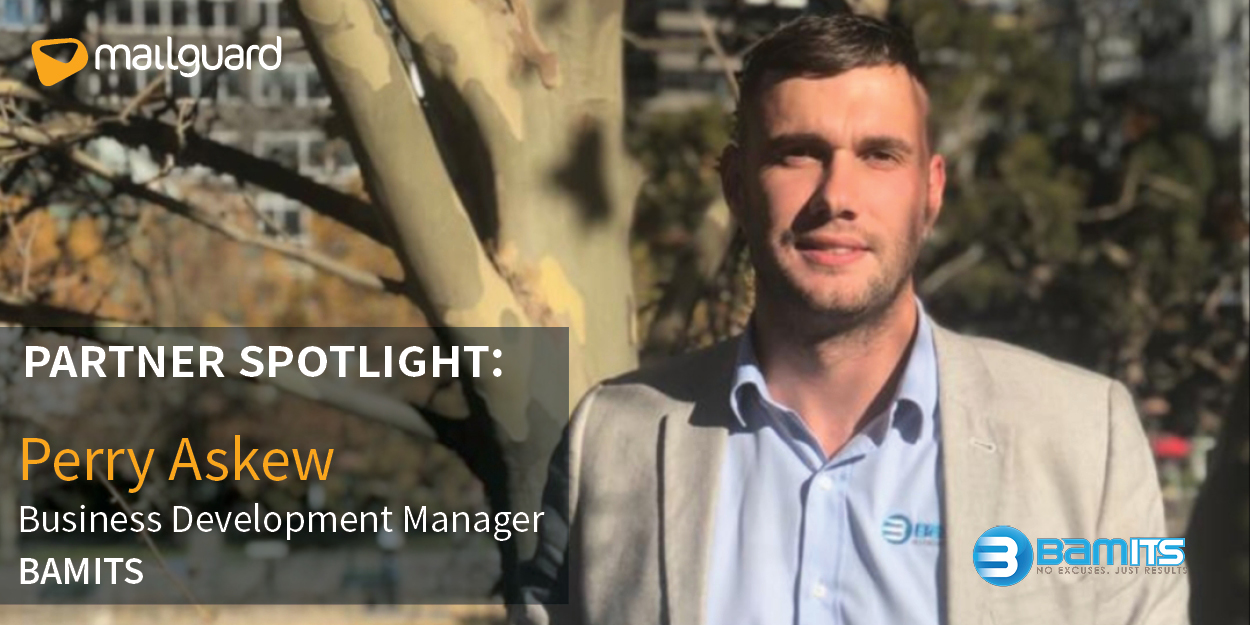 BAMITS is a corporate I.T. support and solution provider and have been Certified Resellers of MailGuard since 2014.
The company provides technical, advisory and managed service solutions to the greater Melbourne metropolitan areas and Gippsland in regional Victoria.
We spoke to Perry Askew, Business Development Manager at BAMITS, to find out more about his views on MailGuard as an email security solution and the value it provides to the BAMITS' customers.
Q & A with Perry Askew, Business Development Manager, BAMITS
Can you tell us a little about BAMITS and the company's trajectory?
"BAMITS was founded in 2013 by Blair Muller who started the company from his home in Newborough in regional Victoria. With Blair's passion for IT and his attentiveness to customer service it didn't take long for the business to outgrow its humble beginnings. Within a few years BAMITS had a team of technicians supporting clients and we'd moved to a new office in the nearby town of Moe.
By early 2019 the BAMITS team was 15 staff strong and offering clients a complete range of IT services including Help Desk, onsite support, hardware and software, advanced networking, consulting and software development. We service clients across a broad range of industries including Health, Not for Profit, Power Generation, Education, Finance and Manufacturing. Our clients range in size from 10 users up to 500+but we have also built environments for clients that support 2000+ users.
"The company's trajectory is focused on continuing to deliver responsive support services to our clients, facilitating their journey to cloud services and ensuring they have the right cyber security in place to protect their business and its data."
What is the BAMITS approach to cybersecurity? How do you boost cyber resilience within the company? 

"We feel that understanding each business need is a must when it comes to cybersecurity. In addition, having trusted cybersecurity vendors such as MailGuard allows us to stay ahead in the ongoing attack against our own infrastructure, and also enables us to boost our clients' cyber defence capabilities."
What's the profile of your MailGuard customers like? Which industries do they mostly belong to?  
"The profile of our MailGuard customers is broad as we service a wide variety of vertical markets but what they have in common is a desire to eliminate time wasted on dealing with SPAM and mitigate the risk of a malicious emails crippling their network or compromising data security. The industry that most of our MailGuard clients belong to is financial, specifically accounting firms."
BAMITS is also a MailGuard client, so not only do you recommend MailGuard to clients, but you're also very familiar with the product. What's the biggest value that MailGuard brings to BAMITS and your customers?
"MailGuard has always been very proactive on its standpoint towards external threats and this is clearly evident in the delivery of their services. They are prompt, reliable and efficient which is necessary for BAMITS, so it allows us to relay that same service to our clients."
"What I love about using MailGuard is that it allows us a lot more flexibility when dealing with each client. No business is the same, so we appreciate the fact that MailGuard gives us the flexibility to create custom and unique policies required for each business!"
What is the feedback like from clients who use MailGuard on top of Office 365 as an added layer of email security?
"We have always received great feedback from our Office 365 clients on MailGuard's success rate of preventing SPAM."
You've been at BAMITS for almost 5 years. Your engineering background allows you to understand the technicalities of the products that you recommend to clients.  Can you tell us about your selling strategies?  
"Honesty, I don't have any training when it comes to "selling" so I don't know any sales tactics or tricks but it's easy to sell something you believe in. Our director Blair is a very passionate and genuine person and that flows down through the whole business and its culture.
Having the engineering background allows me to go more in depth about our technical services so I believe once I get to meet a potential client my technical skills gives me the opportunity to provide more options that may not have been in the discussion before."
Do you have any advice/tips for partners/resellers on how to sell/upsell MailGuard solutions?
"Use the product yourself because it allows you to trust what you sell. We have used MailGuard for some years now and have never looked at moving to a different mail-filtering provider. That allows us to confidently recommend MailGuard as a first line-of-defence to our clients and encourage them to invest in this tried and tested solution."
Can you share a MailGuard client success story? A case of a business who you helped solve their security issues. 
"To be honest, every client we move to MailGuard is a success story."
Interested in finding out more about BAMITS' products and services?
Contact Perry Askew, Business Development Manager, BAMITS
Phone: 1300 134 166
Email: perry.askew@bamits.com.au
Website: www.bamits.com.au
---
Talk to MailGuard
MailGuard's partner blog is a forum to share information and we want it to be a dialogue. Reach out to us and tell us what your customers need so we can serve you better. You can connect with us on social media or call us and speak to one of our consultants.
Australian partners, please call us on 1300 30 65 10
US partners call 1888 848 2822
UK partners call 0 800 404 8993
We're on Facebook, Twitter and LinkedIn.