With 2019 being MailGuard's 18th birthday, we've rounded up 18 of the biggest and most noteworthy cyber-attacks that shook the web, and changed how we look at cybersecurity.
We've created an infographic, '18 Cyber-Attacks That Shook The Web,' that you can share with your clients.
While this list is structured based on the size of the information impacted, it is not comprehensive. Undoubtedly, there may be other cyber incidents with greater destructive potential, but we feel the incidents that we have included in this list are more 'noteworthy' in other aspects – including their design.
If the past 18 years have taught us anything, it is that companies will be breached. No matter how tall or big the wall is, the enemy will find a way around it or under it.
Let these data breaches serve as a motivator for all of us to practise good cyber hygiene, and to remain vigilant.
Download our '18 Cyber-Attacks That Shook The Web' Infographic here.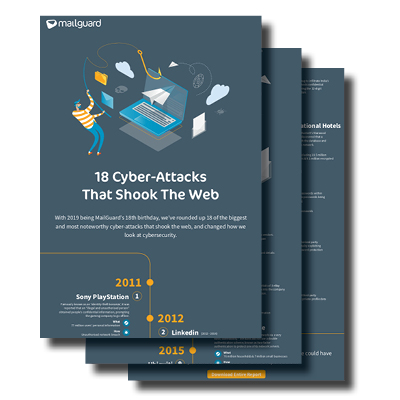 Talk to us

MailGuard's partner blog is a forum to share information and we want it to be a dialogue. Reach out to us and tell us what your customers need so we can serve you better. You can connect with us on social media or call us and speak to one of our consultants.
Australian partners, please call us on 1300 30 65 10
US partners call 1888 848 2822
UK partners call 0 800 404 8993
We're on Facebook, Twitter and LinkedIn.