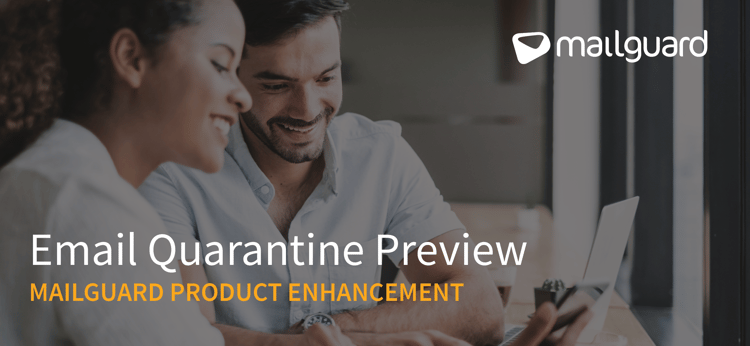 MailGuard is delighted to announce a new product enhancement – an optimised email quarantine preview.
Providing greater visibility for admin users when assessing a quarantined email in the MailGuard console. It's part of MailGuard's commitment to continuous improvement, delivering an outstanding user experience.
What has changed?
Previously, the 'preview' function was text only, presenting 250 characters of text for each quarantined email. To help users to identify false-positives more easily, we have optimised this feature.
The enhancement allows admin users to preview quarantined emails in a manner akin to how the end user recipient would view the email. The preview includes any graphics present in the email and other HTML content, in addition to the text.
Common non-ASCII character-sets are also supported, meaning that Chinese or Arabic text will be displayed correctly. In addition, the preview will show any links within the email. However, the links will not be 'clickable', maintaining a level of protection.
Here is a screenshot of how a quarantined email will appear to users following these new enhancements to the 'preview' function: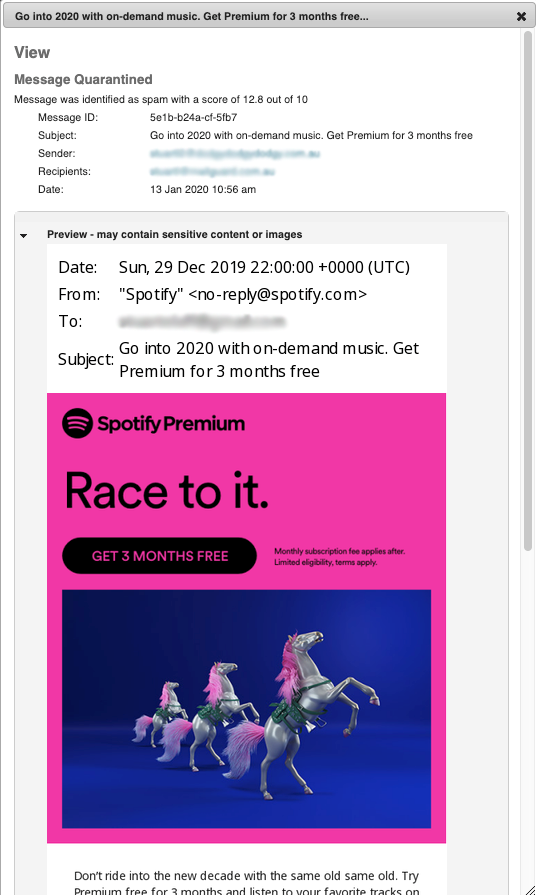 Note: In some emails, it may be impossible to render an image. For example, in emails containing referenced web content that does not resolve in an acceptable time-frame. However, in these cases the existing text-based preview will still be available.
Who benefits from this enhancement?
The new email preview is part of the Console Quarantine page and aids Admin users when they're deciding how to action a quarantined email by enabling them to view the email in its entirety.
Currently, only users at the login level of "Quarantine Admin", "Administrator" or "Partner" will reap the benefits of this enhancement. Our development team is currently investigating additional enhancements in line with this new feature release that should also allow improved visibility for lower level logins in the future.
When will this new enhancement be released?
The new preview feature is currently active and users can access it from the Console Quarantine page as per normal.
If you have any further questions, contact MailGuard support at support@mailguard.com.au
Talk to us
MailGuard's partner blog is a forum to share information and we want it to be a dialogue. Reach out to us and tell us what your customers need so we can serve you better. You can connect with us on social media or call us and speak to one of our consultants.
Australian partners, please call us on 1300 30 65 10
US partners call 1888 848 2822
UK partners call 0 800 404 8993
We're on Facebook, Twitter and LinkedIn.