Brandjacking - where cybercriminals impersonate the brands we trust, in order to fool us into clicking on malicious content - has affected some of the world's biggest companies, past and present.
In celebration of our 18th birthday, we've collated a list of brands that are frequently
mimicked, along with examples of some of the emails spoofing them.
Share these with your clients to raise their awareness on the different ways brands can be exploited by cybercriminals.
Download our 'Brandjackers' Hit List' here.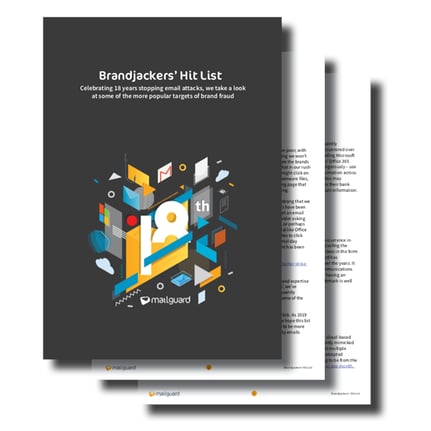 As cybercrime continues to evolve, we hope this list proves useful in helping email users to be more
vigilant and informed about the nasty emails arriving in their inboxes.
Talk to us

MailGuard's partner blog is a forum to share information and we want it to be a dialogue. Reach out to us and tell us what your customers need so we can serve you better. You can connect with us on social media or call us and speak to one of our consultants.
Australian partners, please call us on 1300 30 65 10
US partners call 1888 848 2822
UK partners call 0 800 404 8993
We're on Facebook, Twitter and LinkedIn.