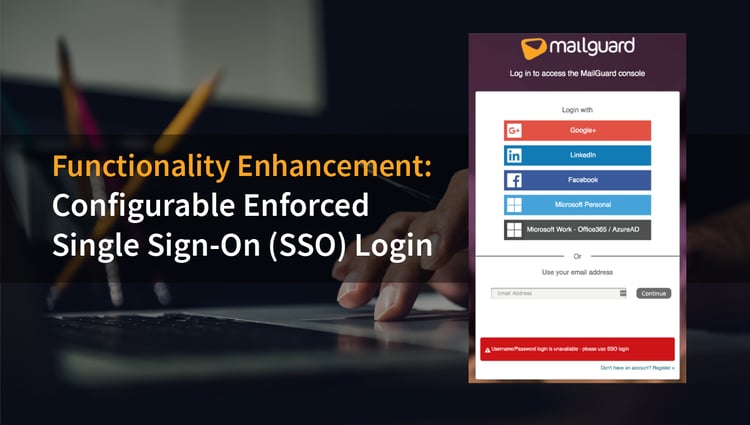 Earlier this month, we announced a new security enhancement to the MailGuard Console – enforced Single Sign-On (SSO) login. For those who missed it, here's a recap of what this enhancement entails.
This new security enhancement allows Console Admins the option to disable the use of a username and password when logging into the Console, forcing users to login via a third-party identity provider. This improves security and streamlines the login experience for Console access. It's part of MailGuard's commitment to continuous improvement, delivering a secure and outstanding user experience.
What does this enhancement entail?
Currently, Console SSO is an opt-in feature, enabled on a company-by-company basis by a Console Admin. While users can still login to the Console using third-party identities, they are also given an option to sign in using their usernames and passwords.

If enabled, this enhancement removes the option of using usernames and passwords altogether, directing users to login only via third-party identity providers. This secures the Console's login functionality further as it reduces the attack surface and allows the use of advanced security options within a desired environment to protect resources. Any fraudulent users attempting to login to the Console will not be able to employ techniques like password spraying or use previously stolen credentials. Instead, they will need to validate access with supported identity providers, including Facebook, Google, LinkedIn, Microsoft Personal, and Microsoft Work accounts, and their respective MFA processes.

Here is a screenshot of how the Console login window will appear after Admins have enabled this new enhancement: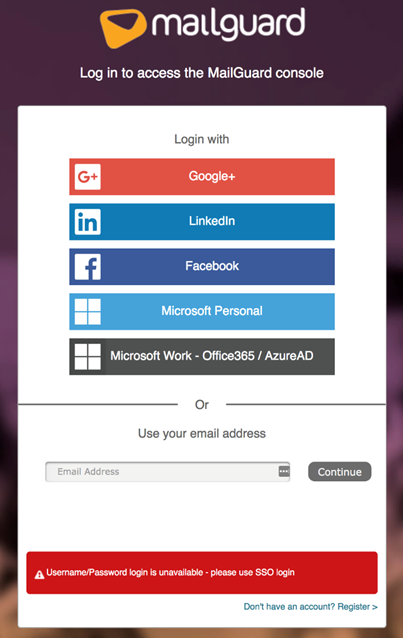 Who benefits from this enhancement?
If enabled, this enhancement ensures all users login to the Console using third-party identities. Admins have full control over what users can access. Organisations that already use SSO to access internal company resources will also enjoy a more streamlined login process within the Console.
How can customers enforce SSO login in the MailGuard Console?

We strongly recommend advising your customers to take advantage of this enhancement, especially those organisations who are actively using the SSO functions already. For those customers that still rely on usernames and passwords to sign in, there's never been a better time to encourage them to use the SSO options available.
For more information on how customers can enforce SSO login in the MailGuard Console, check out our step-by-step guide.
When will this new enhancement be released?
This enhancement is currently active. Admins can remove the username and password option from the Console and enforce SSO login.

This is the first of several updates to the MailGuard Console login experience. More information will be released on the MailGuard Console when available.
For any queries, or for further information about this new security enhancement, please contact MailGuard at support@mailguard.com.au.
Talk to us
MailGuard's partner blog is a forum to share information and we want it to be a dialogue. Reach out to us and tell us how we can serve you better. You can connect with us on social media or call us and speak to one of our consultants.
Australian partners, please call us on 1300 30 65 10
US partners call 1888 848 2822
UK partners call 0 800 404 8993
We're on Facebook, Twitter and LinkedIn.