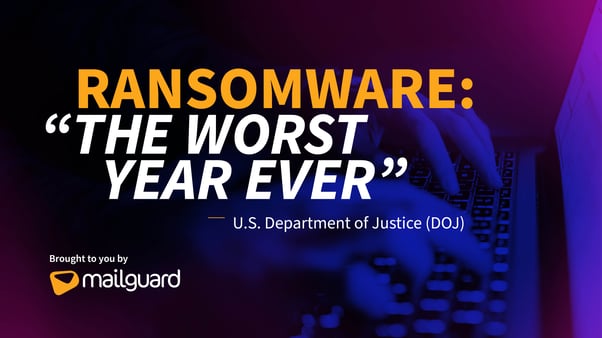 "By any measure, 2020 was the worst year ever when it comes to ransomware and related extortion events. And if we don't break the back of this cycle, a problem that's already bad is going to get worse."

- Acting Deputy Attorney General John Carlin, the United States Department of Justice (DOJ), April 2021
That was the warning issued in an internal DOJ memo announcing the creation of a new task force dedicated to curtailing the rise in ransomware attacks, in April this year (2021). The initiative reflects how serious the growing threat of ransomware is, and points to the critical need for businesses to take proactive defence measures.
Ransomware attacks are proliferating not just in the United States, but also globally, including in Australia. From UnitingCare Queensland to the NSW Labor Party, regardless of size or sector, a wide array of local organisations have recently been hit by ransomware attacks. We're seeing these attacks become even more opportunistic, targeted and sophisticated.
As you continue to assist businesses in paving the way forward and helping them develop a cyber strategy for 2021 & beyond, here is an eBook containing five cyber lessons and trends that emerged from ransomware attacks in 2020.
While not necessarily new, these can go a long way in bolstering businesses' cybersecurity strategies, serving as valuable pointers for more well-informed discussions on mitigating the growing threat of ransomware. Share these with your customers to broaden their awareness on how they can keep their businesses protected in a period of heightened cybercrime.
2020 reiterated the fact that ransomware is here to stay. Its targets may change, but the method is tried and true. Like all cyber threats, these attacks will continue to be opportunistic, directly influenced by, and exploiting global events. Let's capitalise on the lessons learnt from these attacks and use them to make our customers more cyber resilient than ever.
Talk to us
MailGuard's partner blog is a forum to share information and we want it to be a dialogue. Reach out to us and tell us how we can serve you better. You can connect with us on social media or call us and speak to one of our consultants.
Australian partners, please call us on 1300 30 65 10
US partners call 1888 848 282 2
UK partners call 0 800 404 8993
We're on Facebook, Twitter and LinkedIn.