MailGuard is proud to announce that our CEO & Founder, Craig McDonald, has been presented with the 2019 Victorian Pearcey Entrepreneur Award.
The Pearcey State Entrepreneur Awards recognises individuals who have made outstanding contributions to the Australian ICT industry in their state. Specifically, the awards are presented to individuals who have "taken a risk, made a difference and are an inspiration" within the ICT industry.
The award, in its 20th year, was presented last night by the international thought-leader Roger Taylor, Chair of the UK Centre for Data Ethics and Innovation, who also gave this year's Pearcey Oration at the dinner.
Commenting on his win, Craig said he was delighted to take home the award.
"There is such an amazing array of talent and loads of innovation happening at the moment, and it is truly an honour to receive this award," Craig said.
"MailGuard is far from an overnight success, which is why we're at the forefront of our industry. I started MailGuard with the simple ambition of keeping businesses safe from harm, and delivering on that vision has never been more important than it is today."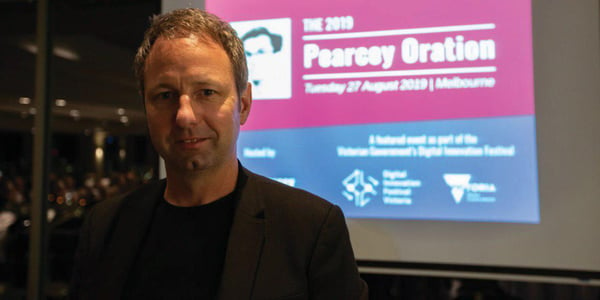 Pictured: Craig McDonald, CEO, MailGuard, at the awards
The Victorian Pearcey Award is supported by the Victorian Government, and is a featured event of the annual Digital Innovation Festival, which seeks to develop, demonstrate and promote technology innovation across every sector of the economy and society.
Previous Pearcey Award winners include Cyan and Collis Ta'eed, co-founders of Envato (Vic 2017); Tim Fung and Jonathan Lui, co-founders of Airtasker (NSW 2017); Nick Molnar, co-founder of Afterpay (NSW 2018); and Mike Cannon-Brookes and Scott Farquhar, co-CEO's of Atlassian Software Systems (NSW 2008).
"Craig has built a globally leading cyber security business from the ground up, which is particularly impressive because he is not a technically trained professional. He is absolutely committed to the vision of technology delivering to us a better world. MailGuard AI-powered cloud cyber security solutions help to protect us from the ever-present and ever-evolving threats to our users and our enterprises. He runs his business with a focus on his people and operates an impressive internship program, helping to build a stronger base for the future of the ICT ecosystem in Australia," commented Jordan Green, Victorian Chair, Pearcey Foundation in a press release.
MailGuard was founded in Melbourne by Craig in 2001, and is now the largest privately owned cloud email security provider in the world. The company operates in over 27 countries and offers 100% guaranteed availability and maintains a quintessential focus on serving its customers and their users.
Reflecting on the beginning of his journey with MailGuard, Craig highlighted the importance of partnerships.
"Our early partners like NetDefence provided the business with an opportunity to scale. We shared the risk and the opportunities, and I am thrilled that today we can both reflect on a substantial base of satisfied customers. Since those early days, we have grown to a partner base of more than 500 strong tech partners and resellers, spanning the globe and providing category leading support and protection to some of the world's leading businesses.
"I'm proud that MailGuard remains 2-48 hours ahead of the market, stopping zero-day email threats. This award is a giant nod to our hard work and pioneering spirit, and a sign of the great innovations coming out of the IT and cybersecurity sector here in Australia," Craig continued.
MailGuard is integrated with all the major email platforms, and is the preferred supplier and partner for some of the world's largest companies, including Microsoft.
"Craig epitomises the values of the Pearcey Foundation. He took a risk to start his companies, to change the world for the better and to do it all from a base in Melbourne, long before we even had the concept of a tech startup," said Wayne Fitzsimmons, Chair, Pearcey Foundation.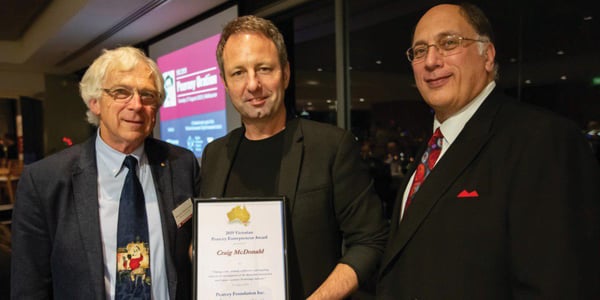 Pictured (L-R): Wayne Fitzsimmons, Chair of the Pearcey Foundation, Craig McDonald, CEO, MailGuard and Jordan Green, Chairman of the Pearcey Foundation, Victoria Committee
The award comes in the 18th year of operation for MailGuard, which was a pioneer of cloud-based email security when it was first formed.
"I can't think of a better birthday present for MailGuard than this award," Craig said.
For more information regarding Craig's win, please reach out to our media liasion, Akankasha Dewan, at akankashad@mailguard.com.au.
If you'd like to chat more about choosing the right email security solution for your clients, then don't hesitate to get in touch. Our partner program offers a range of benefits that can help both with your business as well as your clients'.
Talk to us

MailGuard's partner blog is a forum to share information and we want it to be a dialogue. Reach out to us and tell us what your customers need so we can serve you better. You can connect with us on social media or call us and speak to one of our consultants.
Australian partners, please call us on 1300 30 65 10
US partners call 1888 848 2822
UK partners call 0 800 404 8993
We're on Facebook, Twitter and LinkedIn.