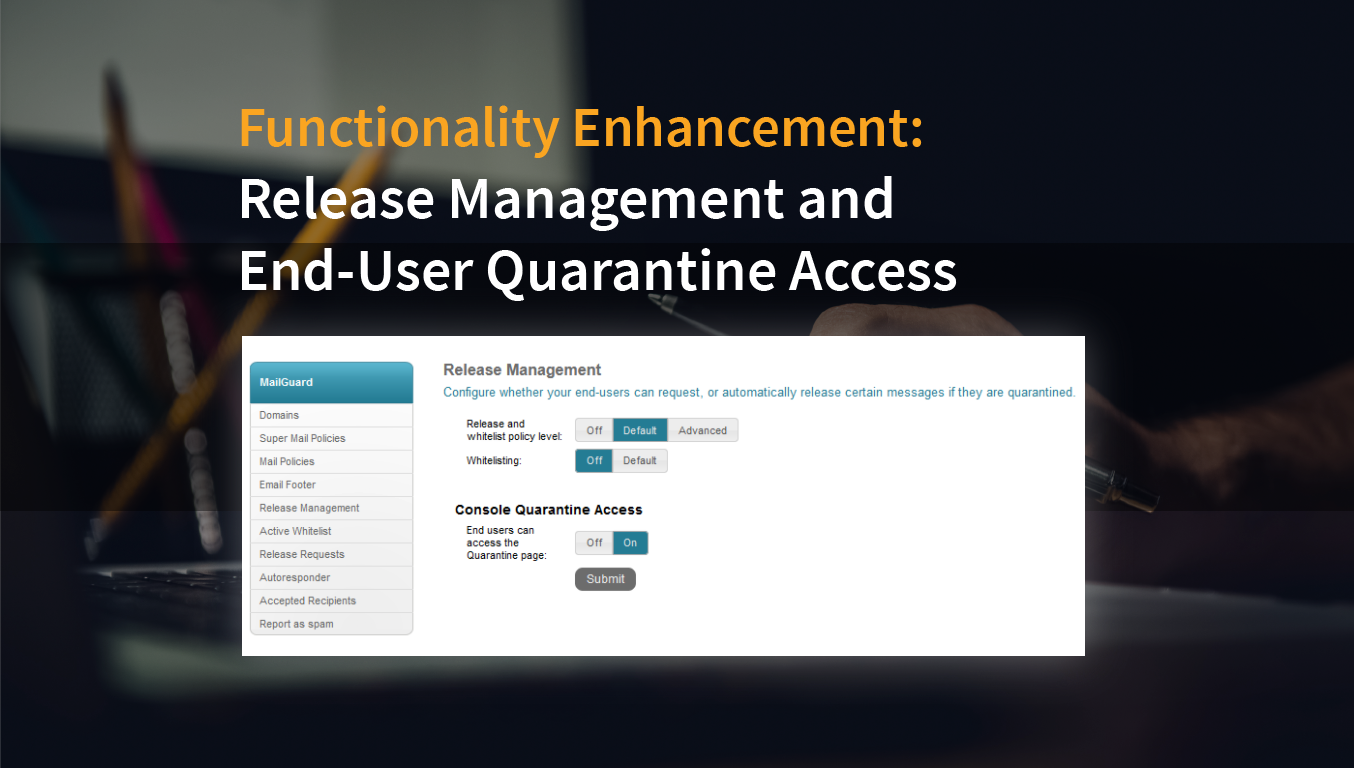 In line with its' commitment to continually improve and enhance the functionality and user-experience of its products and services, MailGuard has now enabled End-User Quarantine Access in its Management Console.
The move is in response to customer feedback and aims to take some burden off MailGuard Admins, for whom it may be a daily task to review and release quarantined emails or false positives on behalf of employees.
By default, End-User Quarantine Management remains 'Off', and email notifications alert employees to any inbound emails that have been intercepted and directed to quarantine for review by a MailGuard Admin. However, where the company and/or Admin determines that an employee is capable of accurately discerning threats, the Admin can now enable End-User Quarantine Access to grant permissions to those individual users so that they can review and release their own emails.
The permission set in the Release Management menu allows an Admin to pick and choose how much control and visibility their end users have to manage their own emails, ranging from none, through to the power to release everything from Quarantine (for the email user address that is logged in).
How do I enable End-User Quarantine Access?
If a user has a Console Login, you can configure that user to have End-User Quarantine Access.
If an end-user does not have a Console Login, you can:
Create a new user to have access to the MailGuard Console,

Set your MailGuard Console to enable End-User Self Registration, or

In edge cases, convert an Unconfigured User into an End-User level login.
There are 2 stages involved in enabling End-User Quarantine Access:
End-User Quarantine Access for your Organization. For this, you will need to:
Login to the MailGuard Console

Select the 'Configure' menu

Select 'MailGuard'

Click on 'Release Management'

Within 'Release Management', there are two options that are configurable. The main 'Release Management' settings and the 'Console Quarantine Access' toggle option.

Set the "End users can access the Quarantine page:" to 'On' and click on the Submit button.
This is what the screen looks like: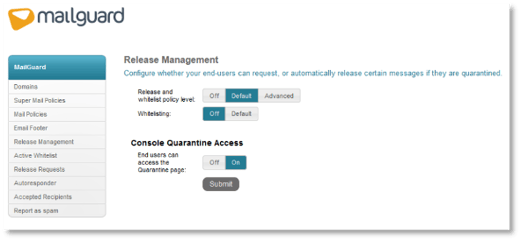 2. Now that you have enabled End-User Quarantine Access at an organizational level, you can choose to set it up for each of your end-users that require a higher-level of admin control over their Quarantined emails:
Within the MailGuard Console, select the 'Configure' menu

Click on 'Users' to enter 'User Management'

Click on the 'Edit' button to the right of the user

Once loaded, click on 'Release Management'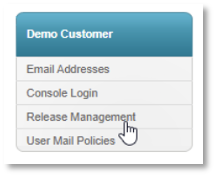 Within the user's Release Management, change the "End users can access the Quarantine page:" to 'On' and click on the 'Submit' button.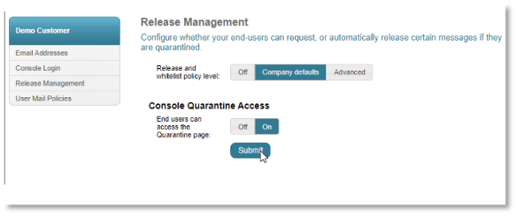 Important Note:
End-user Quarantine Access should only be enabled at the discretion of the Email Administrator, on a per-user basis.

Granting this level of access can reduce the overhead for an Admin when managing Quarantined messages for end-users, however, there are sound security reasons why the functionality is set to 'Off' by default, and not easily configurable on a company-wide basis.

Allowing end-users access to review and ultimately release emails from quarantine by themselves without any Admin review (the most relaxed level available in Release Management) should only be done if those users are deemed informed enough to know what is safe and what they should and should not be releasing.

MailGuard recommends clear end-user education before allowing full access and control to their own Quarantine, so they know exactly what the risks are. Generally, there are good reasons why these emails were quarantined, but there are always going to be false positives. Knowing the difference, is critical to intelligently releasing those emails deemed as safe.

The MailGuard Support team is always available to assist with policy best practise and implementation.
Finally, end-users may benefit from the following Console Help article (when signed into the MailGuard Console), on 'How To Search Quarantine In The MailGuard Console' if they are going to be using that functionality regularly.
For any queries, or for further information about this new enhancement, please contact MailGuard at support@mailguard.com.au.
Talk to us
MailGuard's partner blog is a forum to share information and we want it to be an open dialogue. Reach out to us and tell us how we can serve you better. You can connect with us on social media or call us and speak to one of our consultants.
Australian partners, please call us on 1300 30 65 10
US partners call 1888 848 282 2
UK partners call 0 800 404 8993
We're on Facebook, Twitter and LinkedIn.