"We can go from 52,000 customers and a few thousand sellers to 17 million partner sellers and 75 million buyers around the world… that's the opportunity ahead of us.
"I recruited MailGuard 2 years ago... a cybersecurity solution that sits on Azure and uses Office 365… We helped MailGuard move into 12 additional countries and form significant partnerships... At Insight UK alone, they've identified over 150,000 Office 365 users for MailGuard."

- Gavriella Schuster, Corporate Vice President Commercial Partner Channels & Programs - Microsoft, speaking on Wednesday at Microsoft Inspire in Las Vegas.
(Watch Gavriella's full Inspire Corenote speech, here.)

Inspire is the highlight of the Microsoft Partner calendar, and this year is no exception. It's a powerful networking opportunity for Microsoft Partners from around the globe and this year's Inspire is delivering an experience that really lives up to the event's name.
MailGuard & Microsoft partnership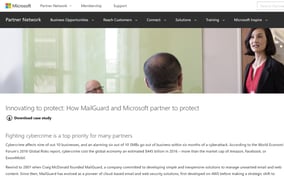 It was a huge boost for MailGuard to be spotlighted in Gavriella Schuster's Corenote speech on Wednesday; It's a big recognition of our ongoing work with Microsoft.
As well as being a pilot participant in Microsoft's global partnership programs, MailGuard is an official launch partner of Azure Australia Central, Microsoft's secure cloud service serving the Australian public sector.
Our email security solutions have been designed to work seamlessly with Microsoft Office 365 and provide a vital layer of protection for Office 365 inboxes.
Microsoft recently certified MailGuard as a Silver Partner, in recognition of our ongoing collaboration.
Meeting friends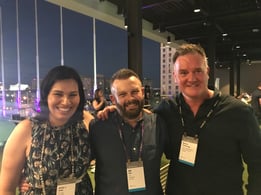 This year's MailGuard Inspire delegation includes our Chief Marketing Officer, Daniel McShanag and Chief Technology Officer, Bill Rue.
Daniel and Bill have a raft of meetings lined up and they've been flat out since they hit Vegas. But they want to meet as many of the US Partner crew as possible, so If you spot a couple of exhausted jetlagged Aussies, say "g'day mate!"
(That's Bill and Daniel at Inspire hanging out with Anita Sood, ISV and Next Generation Partnerships Lead, Microsoft.)
Talk to us

MailGuard's partner blog is a forum to share information and we want it to be a dialogue. Reach out to us and tell us what your customers need so we can serve you better. You can connect with us on social media or call us and speak to one of our consultants.
Australian partners, please call us on 1300 30 65 10
US partners call 1888 848 2822
UK partners call 0 800 404 8993
We're on Facebook, Twitter and LinkedIn.