Game, set, match
CyberRisk have taken out first place in MailGuard's 2018 Q3 Reseller Partner competition.
CyberRisk founders Wayne Tufek and Leong Wang were presented with their $5000 JB Hi-Fi prize certificate by Colin Garro - MailGuard's Global Director; Sales & Channel - and MailGuard Cloud Security Specialist Davina Dickens.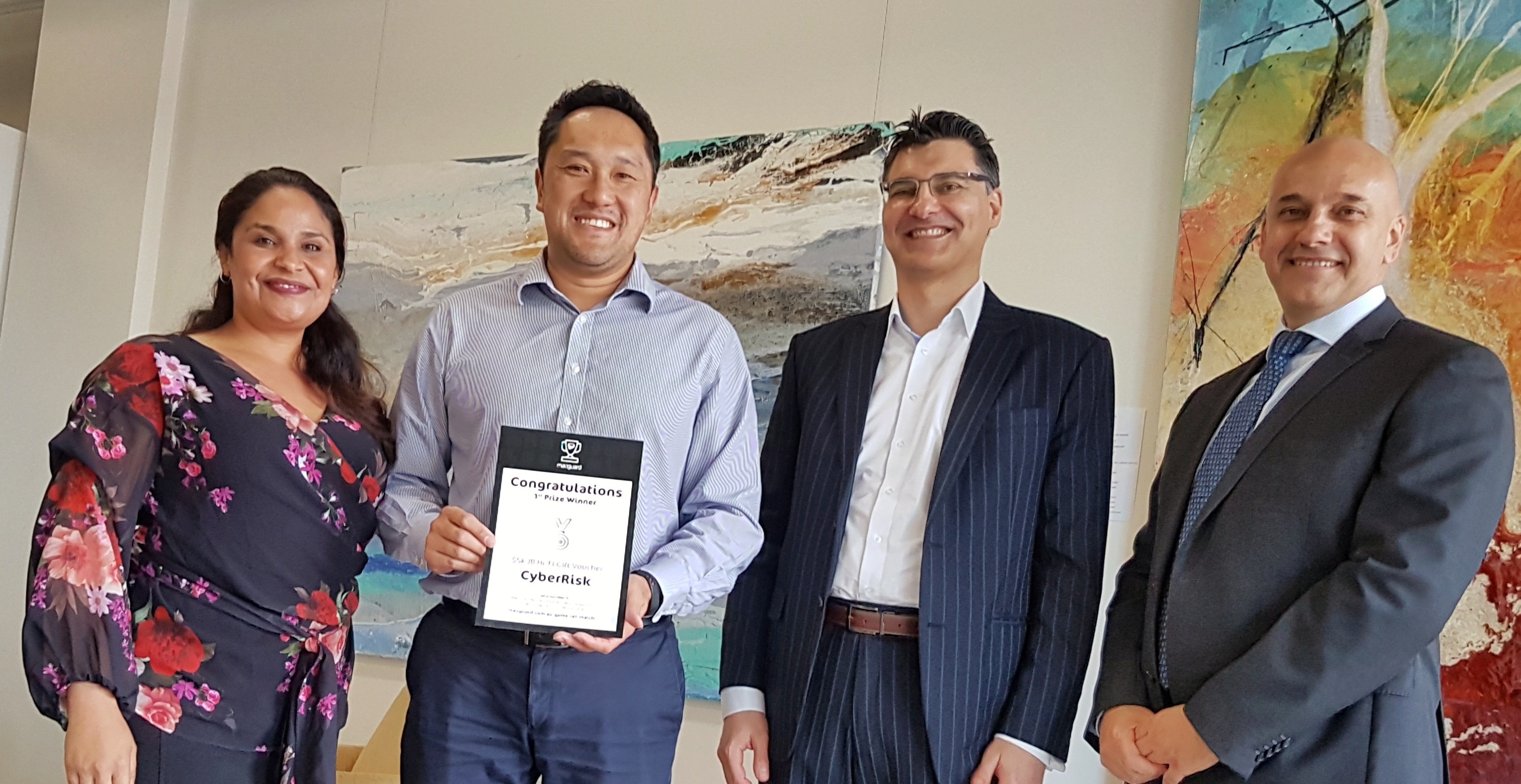 Photo: CyberRisk founders Wayne Tufek and Leong Wang receiving their Partner Reseller First Prize $5000 JB Hi-Fi certificate from MailGuard's Colin Garro and Davina Dickens. L to R: Davina, Leong, Wayne and Colin; at the MailGuard offices in Melbourne, Australia.
About the winners: CyberRisk

CyberRisk was founded in December 2016 by Wayne Tufek and Leong Wang. The two founders had worked together during the prior year and realised they had complementary skill sets.
Wayne Tufek has over 20 years experience in designing business driven strategies to improve cyber risk management in some of Australia's largest organisations.
Leong Wang has over 18 years experience in IT and he specialises in Infrastructure and security services implementation.
Significant cyber events were occurring at a growing rate in 2016. Leong and Wayne saw the opportunity to use their IT industry experience to help businesses manage risk and navigate what they call "the FUD; Fear, Uncertainty and Doubt.
Risk has positive aspects if managed correctly - competitive advantage, business growth and revenue expansion to name a few - but the CyberRisk philosophy is that protecting your organisation's reputation is crucial in ensuring that your business continues to grow and meet its objectives.
CyberRisk provide their customers with expert advice to protect their organisation and its reputation from cyber-attacks, leveraging years of experience from managing and deploying IT Security programs to organisations across many different industries.
CyberRisk believe that cybersecurity starts with support from executives because they are ultimately accountable for the business and its customers.
"The Cyber Security landscape can be daunting as there are so many products providing solutions for every niche," Leong said, talking to the MailGuard Blog after their prize presentation. "We advise our clients not to try and boil the ocean and help them identify and prioritise areas of high risk by implementing appropriate controls that are practical and cost effective. Cyber security is often considered an IT problem, in reality, it's a combination of improving people, process and technology."
Asked why CyberRisk decided to offer MailGuard's products to their clients, Wayne Tufek responded: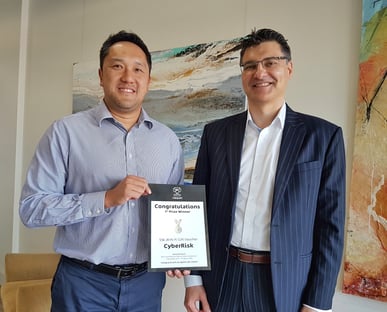 "The key benefits of MailGuard are that the technology provides a higher level of spam and threat detection, and the MailGuard alert digest is a simple way for customers to release emails that have been quarantined... MailGuard's local pro-active support team retrospectively review inbound emails, and are responsive and knowledgeable about the product which is also a big plus."
Photo: Leong Wang and Wayne Tufek - CyberRisk founders - with their $5000 JB Hi-Fi prize certificate.
Wayne and Leong say they plan to spend their $5000 JB Hi-Fi prize voucher on boy toys; possibly a new LCD TV.
Get in on the action
Would you like to be part of the MailGuard Partner community and have a chance at winning our next reseller competition?
Sign up for Partners Blog updates - using the form on this page - and we'll keep you up to date with all our partner news.
Talk To Us


The MailGuard Partners Blog is a forum to share information, with an open dialogue. Reach out to us and tell us what your customers need so we can serve you better. You can connect with us on social media or call us and speak to one of our consultants.
Australian partners, please call us on 1300 30 65 10
US partners call 1888 848 2822
UK partners call 0 800 404 8993
We're on Facebook, Twitter and LinkedIn.