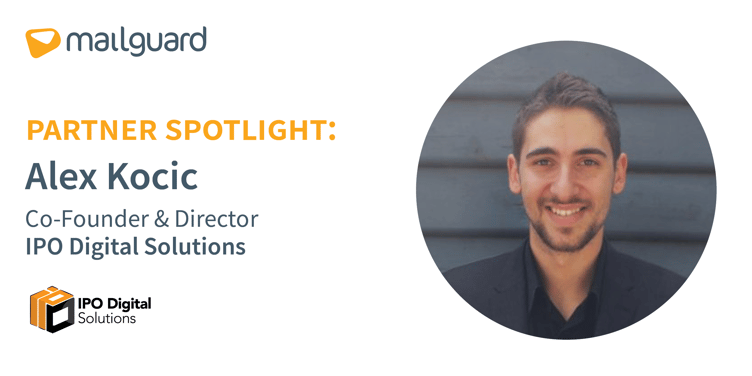 A partner and reseller of MailGuard since 2018, IPO Digital Solutions is a Melbourne-based Managed IT Services company founded in 2016.
The company provides a range of IT services for its clients, including email security, endpoint protection, network security, disaster recovery, business continuity solutions and more.

We spoke to Alex Kocic, Co-Founder & Director at IPO Digital, to ask his perspectives on dealing with the changing face of cybercrime, and the value MailGuard provides in protecting businesses.
Q & A with Alex Kocic, Co-Founder & Director, IPO Digital
Over the years, cybersecurity has evolved in several ways. Which cybersecurity trends do you expect to see in 2020?
"Evolving threats have changed the face of cybersecurity over the years. Threats are increasing in sophistication constantly, and cybersecurity simply has to keep up. Increasingly, cybercriminals aren't only attacking end user devices but infiltrating entire networks and online services."
"In 2020, we foresee a rise in ransomware, phishing attacks and attacks to online services."
To deal with these evolving threats, what measures does IPO Digital Solutions take to improve cyber resilience within its own company?
"We believe in walking the talk, and so we implement the same cybersecurity solutions to protect our systems that we provide to our clients. We partner with industry leading vendors that offer cutting-edge technologies that can keep up with the latest, evolving threats. These give us peace of mind that our networks, along with our clients', are secure and looked after."
IPO Digital Solutions has been using and selling MailGuard for over 3 years, so you're very familiar with the product. What's your experience been so far? And any feedback from your clients?
"We've identified that spam and phishing emails are among the biggest cyber threats to our clients, and MailGuard's ability to effectively filter out these emails & protect networks is crucial and an important part of our recommended security suite."
"The greatest value that MailGuard brings is its customer service."
"The company's cutting-edge solutions are complemented with its great support team, including a dedicated Account Manager.This allows us and our clients to have 24/7 protection when it comes to email security, complete with a team that is always ready to offer valuable support and information."
Speaking of recommendations, please elaborate on your selling strategy. What are some of the problems you typically face when trying to sell cybersecurity solutions (like MailGuard) to clients and how do you overcome them?
"The biggest challenge is to show a prospect that there is value in spending money on an additional product when they haven't had a major threat/interruption. In the case of email security, for example, this may be in the form of phishing or spam emails that have interrupted systems."
"We overcome this by providing reports and/or industry benchmarking stats so they can make a more informed decision. For example, we show them MailGuard's comprehensive reports that contain information on which and how many emails are being blocked."
"We also provide clients with information on how phishing emails are having a negative impact on their industry to show them the dangers of not taking a proactive step in boosting their email security."
IPO Digital Solutions use MailGuard for email security on top of Microsoft Office 365. Can you talk to us about that?
"I fully endorse taking a multi-layered approach to cybersecurity. This is the most effective way of providing wholistic protection for our clients. More and more businesses are moving towards SaaS solutions that utilise Office 365. MailGuard's services allow us to protect them and stop criminal intent email-threats before they even hit our clients' mailboxes."
What's the feedback like from clients who use MailGuard on top of Office 365 as an added layer of email security?
"I've seen that after they've implemented MailGuard, clients are always more relaxed and confident about their email security. The simplicity and speed of releasing emails from quarantine also gives them additional peace of mind that they will never lose an email accidentally."
Interested in finding out more about IPO Digital Solutions and their services?
Contact Alex Kocic, Co-Founder & Director at IPO Digital Solutions
Phone: (03) 9792 5554
Email: alex@ipodigital.com.au
Website: https://ipodigital.com.au/
---
Talk to MailGuard
MailGuard's partner blog is a forum to share information and we want it to be a dialogue. Reach out to us and tell us what your customers need so we can serve you better. You can connect with us on social media or call us and speak to one of our consultants.
Australian partners, please call us on 1300 30 65 10
US partners call 1888 848 2822
UK partners call 0 800 404 8993
We're on Facebook, Twitter and LinkedIn.