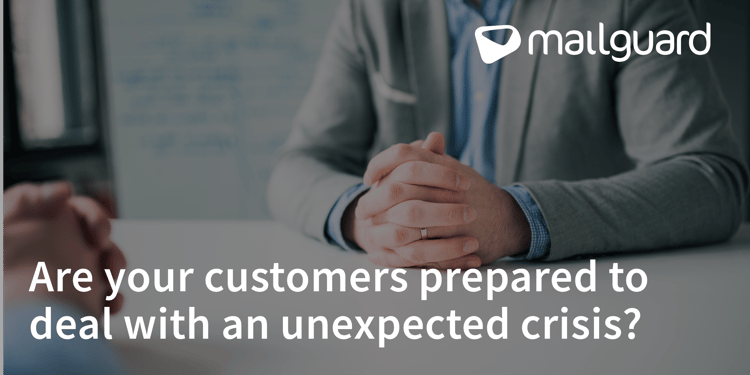 Natural and man-made disasters can strike at any time, and the physical & mental well-being of our family, friends and colleagues remain the top priority.
In the middle of a pandemic few of us need reminding about that fact, especially coming so soon after the unprecedented fire season that so many endured this past summer in Australia.
As trusted advisors, we help businesses build out effective strategies to mitigate cyber-risks. As you are no doubt supporting customers to help them remain cyber resilient and operational, it may be an opportune time to talk to them about proactively protecting their businesses against other potential disruptions, natural or man-made.
Digital systems can be at risk from a host of unanticipated factors - everything from weather through to crime, including cyber-attacks. Even equipment breakdowns, or perhaps an internal hack from a disgruntled ex-employee. Some are less common than others, with varying severity, but any of these events could still have a dire impact on a business. All sorts of systems can fail, from inboxes, to customer databases or payroll.
Here at MailGuard, we have supported businesses across this spectrum – weather is a big one, especially for businesses at the mercy of major storms, floods or fires. It might also be a cybercrime event, where a business has its data and network held for ransom, or a more traditional crimes like a business break-in that damages infrastructure. Basically, digital systems can be at risk from a multitude of factors ranging in nature and severity - most of which aren't in our control.
Not being prepared to handle these risks can result in extensive revenue and data loss for companies, not to mention brand damage, customer dissatisfaction, disruptions to business operations, and many more. Costs vary depending on the size and nature of your business. Statista reported that unscheduled downtime from critical server outages cost 34% of enterprises at least $1 million per hour on average in 2019. Another 25% of respondents globally reported an average hourly downtime cost of between $301,000 and $400,000. 
How does MailGuard help customers mitigate these risks?
At MailGuard, we are committed to helping our partners and customers protect their inboxes from malicious emails and to keep their valuable data safe. Here's a quick refresher of two solutions that can help customers in the event of an unanticipated disruption.
In the event of a natural disaster, you need to be able to access your email server - it's a critical business function. One way businesses can minimise the impact of sudden email outages is to implement an email continuity solution such as MailGuard Live. This product is designed as a fail-safe backup method that ensures organisations never go without full email functionality and backups. The capability for staff to send and receive time critical emails will give business owners peace of mind and certainty knowing that in a crisis they are covered and can continue to operate as normal.
In the unlikely event that your customers' company or business activities become involved in a lawsuit, and they need to access old, deleted emails to satisfy legal and regulatory requirements, MailGuard's SafeGuard solution ensures emails are forensically intact, incorruptible, and easily accessed via the unified console in minutes. The last thing businesses owners want is the task of searching for emails that a disgruntled employee decided to delete before an exit interview. By archiving old emails and attachments via SafeGuard, customers can also recover space for current messages, saving the cost of new storage and reducing the risk of sensitive information being leaked.
Please get in touch with your Account Manager if you would like any help with starting the conversation about email archiving and continuity with your customers.
Prevention is better than a cure, and helping customers proactively mitigate the cyber-risks triggered by unanticipated disruptions (natural or man-made) is one way we can support them during these times.
Talk to us
MailGuard's partner blog is a forum to share information and we want it to be a dialogue. Reach out to us and tell us what your customers need so we can serve you better. You can connect with us on social media or call us and speak to one of our consultants.
Australian partners, please call us on 1300 30 65 10
US partners call 1888 848 2822
UK partners call 0 800 404 8993
We're on Facebook, Twitter and LinkedIn.