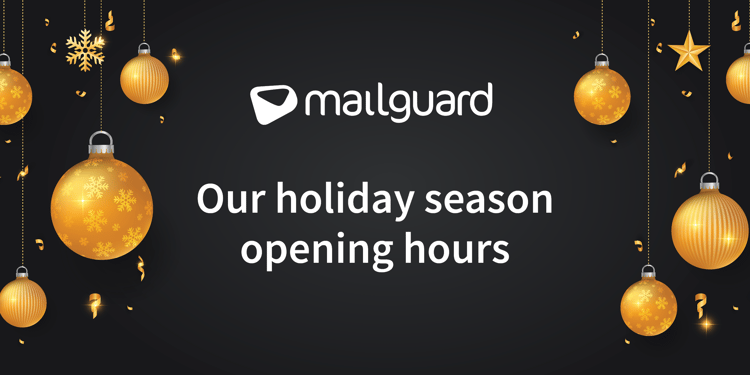 As the end of 2021 approaches, MailGuard would like to extend a heartfelt thank you to you, our partner community, for your continued invaluable support throughout what has been another tumultuous year.
Throughout the end-of-year holiday period, we will be operating around the clock to ensure that you and your clients remain fully supported. The MailGuard service desk team will be available and ready to assist you with your queries to help keep your business safe, 24 hours a day, Monday through to Sunday, as per normal.   
Customer Support (Toll Free)
Australia: 1300 306 510
United States: 888 848 2822
United Kingdom: 0 800 404 8993
International direct dial: +61 3997 51000
support@mailguard.com.au 
And, our sales team will be available during normal business hours (AEST), excluding public holidays.
Sales Enquiries
Australia: 1300 306 510
International: +61 3 9694 4444
sales@mailguard.com.au 
We hope you have a cyber-safe & relaxing holiday break, and we wish you a prosperous 2022! 
Talk to us
MailGuard's partner blog is a forum to share information and we want it to be a dialogue. Reach out to us and tell us how we can serve you better. You can connect with us on social media or call us and speak to one of our consultants.
Australian partners, please call us on 1300 30 65 10
US partners call 1888 848 2822
UK partners call 0 800 404 8993
We're on Facebook, Twitter and LinkedIn.