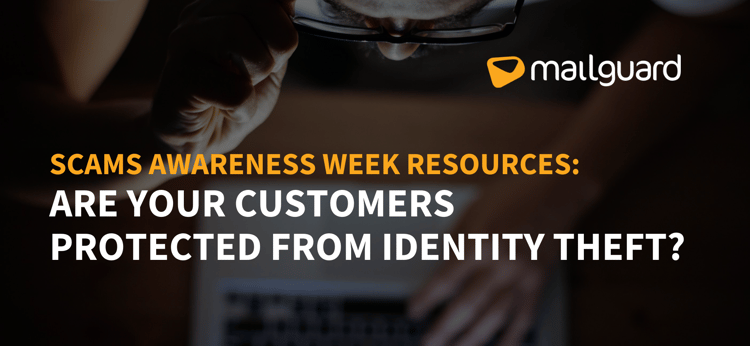 Earlier this month, we partnered with the Australian Competition & Consumer Commission (ACCC) to mark Scams Awareness Week, an annual national public campaign dedicated to reducing the impact of scams in Australia. This year's theme focused on identity theft and protecting valuable data online, with the slogan "Be yourself. Don't let a scammer be you."
While Scams Awareness Week might be over, we can bet cybercriminals are still busy stealing personal and financial information for illicit gains, with many cruelly exploiting COVID-19 and targeting remote workforces. In 2020:
$3.86 million

 is the average amount a data breach costs an organisation, and

business identity theft is expected to grow a 

staggering 258%.



Now, more than ever, it is imperative that we take proactive steps to enhance our customers' cyber resilience levels. In case you missed these last week, here are some resources you can share with businesses to educate them about staying protected from business identity theft. They include:
An eBook on business identity theft

,

An infographic with 7 ways to defend your business from identity theft

, and

5 types of threat-based impersonation scams (phishing, online shopping, social media, BEC & remote access)

You can find all these resources in our Scams Awareness Week Digital Hub.
Together, let's continue collaborating and learning from one another to protect our customers from cybercrime.
What strategies are you advocating to your clients, to ensure their businesses and their data are protected at all times? We'd love to hear your views. Feel free to contact us via the details below or join the conversation on our Twitter and LinkedIn pages.   
Talk to us
MailGuard's partner blog is a forum to share information and we want it to be a dialogue. Reach out to us and tell us how we can serve you better. You can connect with us on social media or call us and speak to one of our consultants.
Australian partners, please call us on 1300 30 65 10
US partners call 1888 848 2822
UK partners call 0 800 404 8993
We're on Facebook, Twitter and LinkedIn.