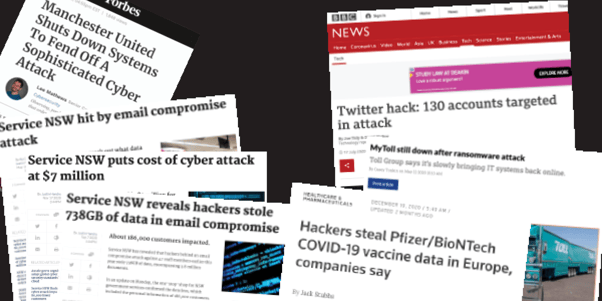 Against the backdrop of a global pandemic, and with more businesses operating remotely, the global scourge of cybercrime became even more calamitous in 2020.
From SolarWinds, to Twitter, to Service NSW, regardless of size or sector, a wide array of businesses were impacted. We saw cybercrime become even more opportunistic, targeted and sophisticated.
But while disruptive, these attacks provide key insights into the minds of cybercriminals, carrying valuable lessons and critical reminders about the need to challenge our existing security postures and practices in order to stay protected.
As you continue to assist businesses in paving the way forward and helping them develop a cyber strategy for 2021 & beyond, here's a round-up of 10 cyber-attacks that made headlines last year.
While the list of cases isn't comprehensive (there have been many other cyber incidents), it serves as a good summary that you can share with your clients to broaden their awareness of the different ways their businesses can get compromised, and what steps they can take to boost their cyber defences.


2020 was a year many of us would like to forget, but it did provide an opportunity to reflect on our cybersecurity readiness and past choices, at a time when it is needed the most. As we put the year behind us, let's capitalise on the lessons learnt from these attacks and use them to make our customers more cyber resilient than ever.

Talk to us
MailGuard's partner blog is a forum to share information and we want it to be a dialogue. Reach out to us and tell us how we can serve you better. You can connect with us on social media or call us and speak to one of our consultants.
Australian partners, please call us on 1300 30 65 10
US partners call 1888 848 282
2
UK partners call 0 800 404
8993
We're on Facebook, Twitter and LinkedIn.