MailGuard has intercepted a phishing email warning users that their Office 365 registration needs to be verified within 48 hours, or else risk having their account suspended. With millions of businesses and individuals using (Microsoft) Office 365 globally for their daily tasks and communications, it is highly likely that a lack of vigilance will result in cybercriminals stealing credentials for later criminal use, such as identity theft, BEC, sold on the dark web and more.
The subject of the email is 'Office 365' with the sender's name, 'Urgent: Fraudulent activities', attached to an email address that appears to have originated from a compromised car rental website. Scammers have copied the Office 356 logo, as well as the inclusion of accurate physical address details of Microsoft offices in the US and Canada, to feign authenticity. The body of the email advises the user that their 'Microsoft Office' information needs to be verified within 48 hours of receiving the email, otherwise, account suspension will ensue.
Here's what the email looks like: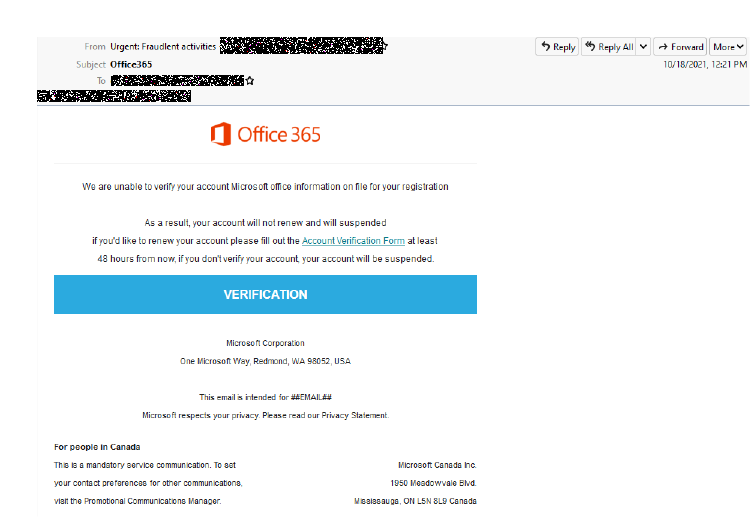 If the user clicks on the blue 'Verification' button, they are taken to the phishing page, which also appears to be hosted on a compromised website. The page asks for the victim's email address and password. Scammers have used somewhat accurate Microsoft and Office 365 branding and logos, that at a quick glance, would look quite convincing to many users.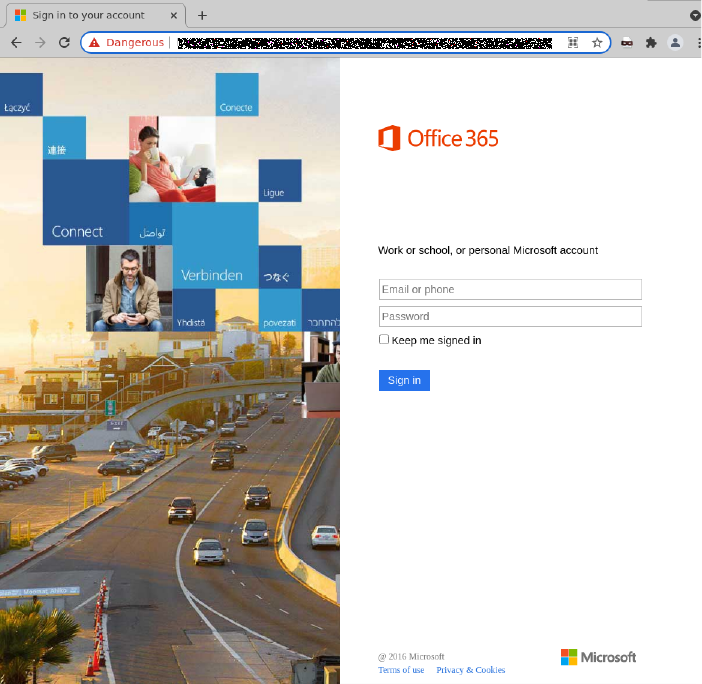 Once these credentials are entered and submitted, the attacker harvests them for later use, and the user is then redirected to a legitimate Microsoft 365 login page. A tactic used by cybercriminals to trick the victim into thinking that that they have provided their details to a trustworthy source.
Providing your Office 365 account details to cybercriminals means that they have unauthorised access to your sensitive data, such as contact information, calendars, email communications and more, which could lead to criminal activity such as BEC, identity theft and other fraudulent activity. Customers of trusted brand names such as Outlook and Office 365 by Microsoft, are targeted by cybercriminals due to their expansive user base, therefore, customers must remain vigilant and check twice before clicking on any potentially harmful links.
MailGuard urges users not to click links or open attachments within emails that:   
Are not addressed to you by name.   
Appear to be from a legitimate company but use poor English or omit personal details that a legitimate sender would include.   

Are from businesses that you were not expecting to hear from, and/or   

Take you to a landing page or website that is not the legitimate URL of the company the email is purporting to be sent from.    
One email is all that it takes   
All that it takes to devastate your business is a cleverly worded email message that can steal sensitive user credentials or disrupt your business operations. If scammers can trick one person in your company into clicking on a malicious link or attachment, they can gain access to your data or inflict damage on your business.   
For a few dollars per staff member per month, you can protect your business with MailGuard's predictive and advanced email security. Talk to a solution consultant at MailGuard today about securing your company's inboxes.   
Stay up-to-date with MailGuard's latest blog posts by subscribing to free updates. Subscribe to weekly updates by clicking on the button below.