Microsoft Office 365 and Smartsheet users are cautioned to be aware of any email correspondence asking you to open and sign a 'Confidential Commercial Credit' agreement. This is a phishing attempt, that not only aims to steal sensitive login credentials, but potentially download malware, that could be incredibly damaging to networks. With millions of Smartsheet and Microsoft users worldwide, it is more than likely that innocent victims will fall prey to this phishing attempt, particularly since the scammers are using compromised email addresses to trick recipients, utilising trusted Microsoft branding elements and given the frequency of shared documents amongst time-poor workers. Therefore, recipients are warned to remain vigilant and refrain from downloading any suspicious or unexpected files.
The email screenshotted below, shares a document, purporting to be from the popular collaboration software tool, requiring a signature from the recipient for commercial credit. Scammers have copied the branding and slogan associated with the company, "the leading work execution platform that empowers teams and organizations to move their ideas to impact – fast" as well as including contact, privacy policy, and user agreement details to confuse users into thinking this is a legitimate document.
Here's what the email looks like: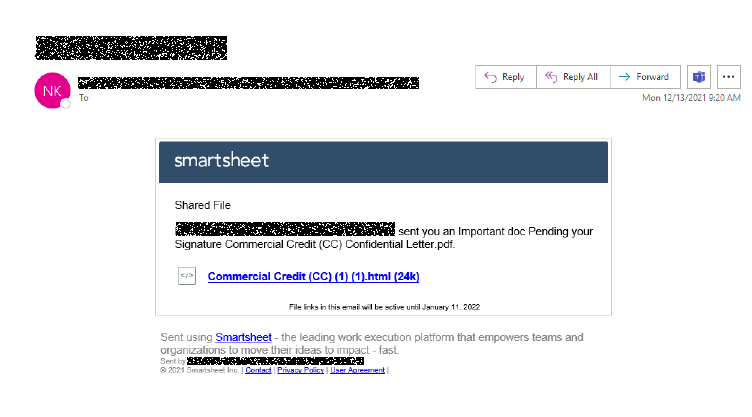 As per the screenshots below, after the link is clicked, a HTML file is downloaded, which when opened, displays a login page asking for the victims' Microsoft Office email address and password, amidst a background that appears to be a Microsoft Word document. Once these credentials are entered and submitted, the attacker harvests them for later criminal activity and the user is met with an error saying, "Your account or password is incorrect". This phishing page is a self-contained HTML file, hosted by Smartsheet.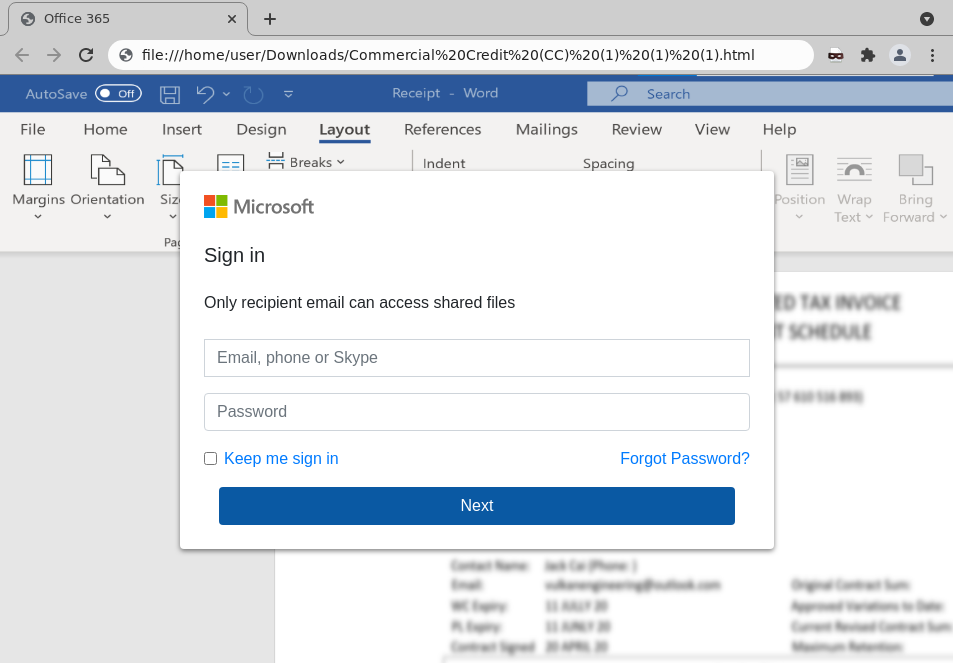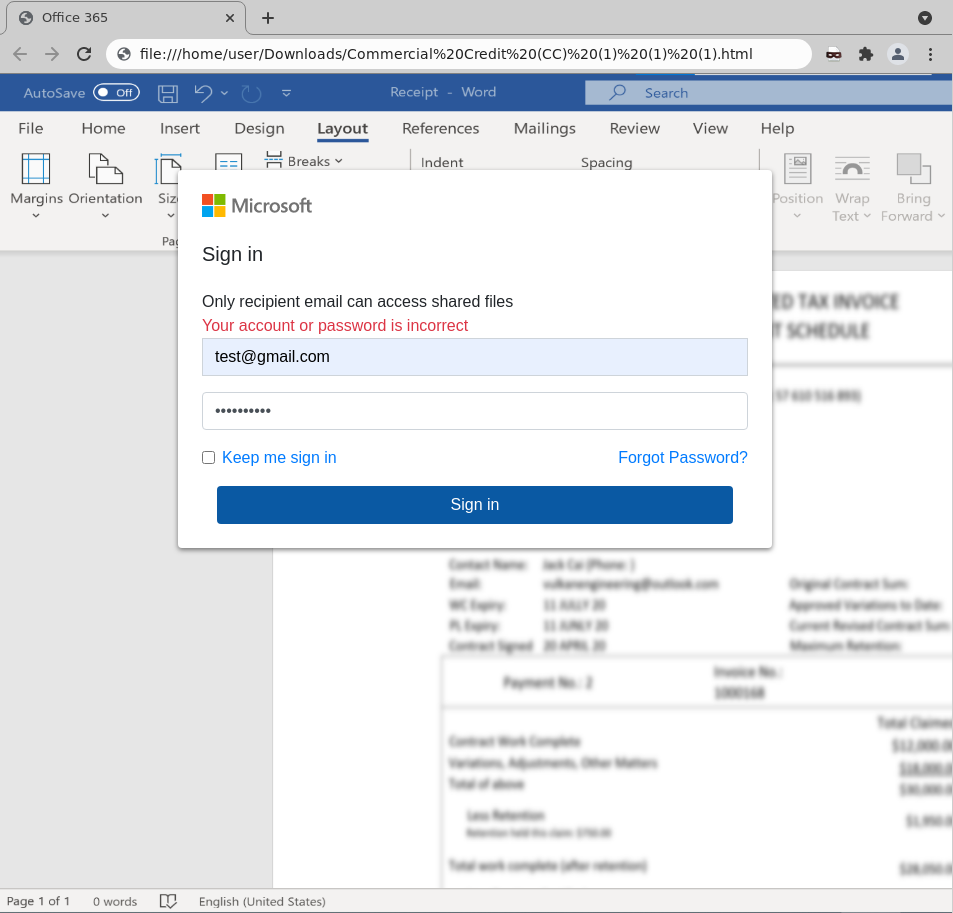 MailGuard urges all recipients of this email to delete it immediately without clicking on any links. Providing details such as your login email or password to your Microsoft Office 365 account means that cybercriminals can access details such as your email, calendars, contacts and sensitive company information that can be used to design BEC scams, for identity fraud, or sold on the dark web, plus other criminal activity. In addition, accessing malicious links could install harmful malware on networks, leading to dire consequences, including ransomware attacks.
Users should not click on links or open attachments within emails that:  
Are not addressed to you by name.      

Appear to be from a legitimate company but use poor English, or omit personal details that a legitimate sender would include.      

Are from businesses that you were not expecting to hear from, and/or      

Take you to a landing page or website that is not the legitimate URL of the company the email is purporting to be sent from.      



One email is all that it takes    
All that it takes to devastate your business is a cleverly worded email message that can steal sensitive user credentials or disrupt your business operations. If scammers can trick one person in your company into clicking on a malicious link or attachment, they can gain access to your data or inflict damage on your business.    
For a few dollars per staff member per month, you can protect your business with MailGuard's predictive and advanced email security. Talk to a solution consultant at MailGuard today about securing your company's inboxes. 
Stay up-to-date with MailGuard's latest blog posts by subscribing to free updates. Subscribe to weekly updates by clicking on the button below.