MailGuard has discovered a phishing scam that is using Apple branding to try and deceive victims. The scam is using a well made fake Apple login screen, which is pictured in the screenshot, above.
Apple computers have a reputation for being resistant to viruses, but that doesn't make Apple immune to brandjacking. Because Apple is such a popular and well trusted company they make perfect targets for criminals who want to give their scams false legitimacy.
This fake Apple website is hosted at www.appleid.apple.com.appsupportmail.com and the design of the page is quite convincing. An unwary person could easily be fooled by this fake site and enter their login ID and password, allowing the criminals behind this scam to hack into their account.
Recipients of this email scam will see a message show up in their inbox like the one in the screenshot below: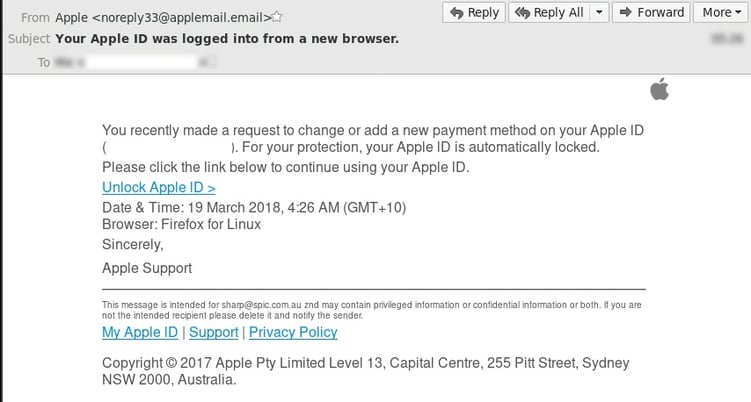 If the recipient clicks on the link in this message they are taken to the fake login page where their credential data will be harvested.
MailGuard's analysis of this cyber-attack reveals that the messages have been sent from the email domain '@applemail.email' which is hosted with Google mail. These emails can pass both SPF and DKIM authentication tests so they will probably be able to penetrate a lot of inboxes.
This attack has the potential to affect a lot of people and could result in financial losses and significant harm to computer systems.
If you see a message like this in your inbox today, delete it immediately.
Please share this threat alert on your social media to help people avoid this scam.
Protect yourself from brandjacking

If your company's email accounts aren't protected, brandjacking emails are almost certainly being received by your staff. Cybercriminals know we can be tricked; that's why they send out millions of scam messages and put so much effort into making them look convincing.
People are not machines; we are all capable of making bad judgement calls. Without email filtering protecting your business, it's just a matter of time before someone in your organisation has a momentary lapse of judgement and clicks on the wrong thing.
For a few dollars per staff member per month, you can protect your business with MailGuard's predictive email security.
Talk to an expert at MailGuard today about making your company's network secure: click here.
Stay up-to-date with new posts on the MailGuard Blog by subscribing to free updates. Click on the button below: