A new email fraud attack has been detected by MailGuard.
The scammers behind this attack are exploiting MYOB's brand name to persuade potential victims their email message is a legitimate invoice notification.
The message - shown in the screenshot above - looks like a very straightforward invoice notification.
It shows the text "MYOB Technology" in the footer, which is a ruse designed to give recipients a false sense of confidence.
The message urges the recipient to "view invoice," but actually this email is just a scam to get the victim to click on these malicious links.
At time of writing, MailGuard is the only security company detecting this attack.
Brandjacking
Scammers commonly use well-known brand names like MYOB's to lend credence to their malicious emails.
This practice is known in the cybersecurity industry as brandjacking and it takes many forms. Some brandjacking attacks are simple like this example, and some are very elaborate, like the fake Telstra bill scam that MailGuard intercepted on Monday (see screenshot, below).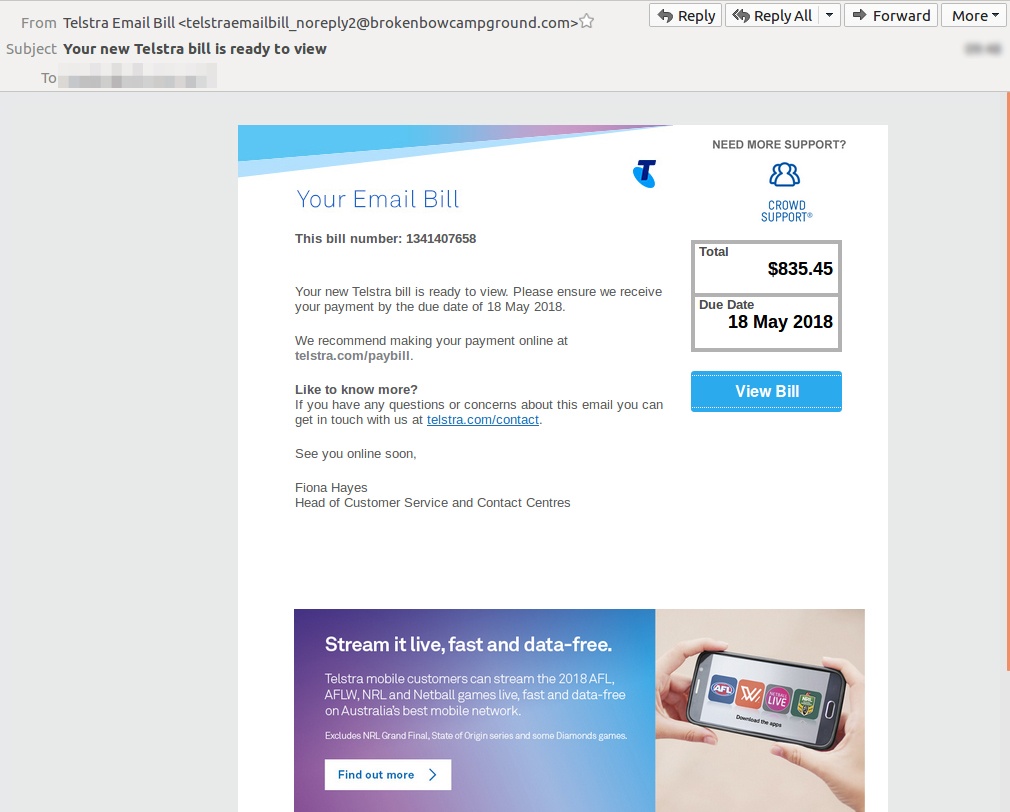 Brandjacking scams can deliver malware like viruses or trick people into giving their login credentials or credit card information to phishing sites. They are a growing problem and a very useful tool for scammers because they leverage the trust people place in big companies to deceive them.
Don't get scammed

If your company's email accounts aren't protected, scam emails like the one above are almost certainly being received by your staff. Cybercriminals know people can be tricked; that's why they send out millions of scam messages and put so much effort into making them look convincing.
People are not machines; we're all capable of making bad judgement calls. Without email filtering protecting your business, it's just a matter of time before someone in your organisation has a momentary lapse of judgement and clicks on the wrong thing.
For a few dollars per staff member per month, you can protect your business with MailGuard's predictive email security.
Talk to an expert at MailGuard today about making your company's network secure: click here.
Stay up-to-date with new posts on the MailGuard Blog by subscribing to free updates. Click on the button below: