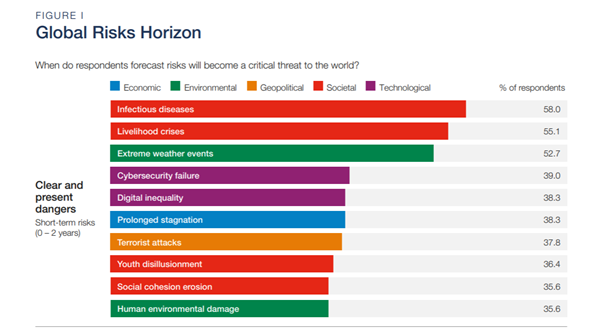 The COVID-19 pandemic accelerated digital transformation among many businesses, but also simultaneously exposed their cyber vulnerabilities and levels of unpreparedness against insidious, targeted cyber threats.
As we continue helping our clients solidify their cybersecurity strategies and making them more cyber resilient, here's a sobering fact to remind them that the war against cybercrime rages on: Cybersecurity failure is the fourth most pressing "clear and present danger" to the global economy.
That was a key finding of the World Economic Forum (WEF)'s Global Risks Report 2021, which looked back at a year ravaged by a global pandemic, economic downturn, political instability and the rapidly-worsening climate crisis. The report's findings are based on the annual Global Risks Perception Survey, which asks the Forum's network of business, government, civil society and thought leaders to gauge the risks facing our world.
Cybersecurity failure is among the top four short-term risks (up to two years) identified in the report, topped only by infectious diseases, livelihood crises and extreme weather events.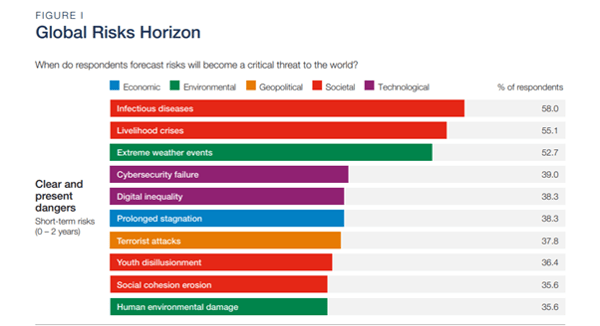 Source: WEF Global Risks Report 2021
"Knock-on effects," aka medium-term risks (three to five years) saw cybersecurity failures rank in eighth place.
"Business, government and household cybersecurity infrastructure and/or measures are outstripped or rendered obsolete by increasingly sophisticated and frequent cybercrimes, resulting in economic disruption, financial loss, geopolitical tensions and/ or social instability," the report noted.
The WEF report comes as an urgent wake up call to all of us looking to enhance our clients' cybersecurity strategies that there is still room for improvement. The fact remains that tens of millions of computers are being exploited, with news of companies being hacked surfacing daily.
And the situation is expected to deteriorate, the report warned:

"Misinformation, cyberattacks, targeted strikes and resource grabs are on the rise… The next decade is likely to see more frequent and impactful dissemination of disinformation on issues of geopolitical importance such as elections, humanitarian crises, public health, security and cultural issues…States and nonstate actors alike will likely engage in more dangerous cyberattacks…and these attacks will become more sophisticated."
This report serves as another impetus for us to continue conversing with our clients about boosting their cyber defences. We can't afford to dismiss the report's warnings. The stakes are too high, and the threat is all too real.
A multi-layered approach is fundamental to ensure our customers' cybersecurity is up to scratch. We know that nine out of 10 businesses are being impacted by phishing, even when most have an email security solution in place. No one vendor can stop all threats, so it's crucial to remind customers that if they are using Microsoft 365 or G Suite, they should also have a third-party email security specialist in place to mitigate their risk. For example, using a third-party cloud email solution like MailGuard. 
In addition, to help partners with communications about cybercrime, we also urge you to go to our Partner Blog. You'll find several resources there, such as whitepapers and infographics with the latest updates, infographics and statistics on the cybersecurity landscape that you can use when conversing with your clients.
You can also speak to a MailGuard Account Manager about your plans, to see how we can support you more. MailGuard can help with blog content, eDMs, case studies and events, to name just a few of the ways that we're helping partners and protecting businesses.  
As we enter a new year, let's keep working together to empower our customers with the technical capabilities and knowledge to make them more cyber resilient than ever.
Talk to us
MailGuard's partner blog is a forum to share information and we want it to be a dialogue. Reach out to us and tell us how we can serve you better. You can connect with us on social media or call us and speak to one of our consultants.
Australian partners, please call us on 1300 30 65 10
US partners call 1888 848 282
2
UK partners call 0 800 404
8993
We're on Facebook, Twitter and LinkedIn.