Cybersecurity; it's a complicated topic to discuss and understand. Because it deals with hacking and fraud, it's an ever-changing field with a lot of ambiguity. Helping business people understand the importance of effective cybersecurity can be a challenging task, but it's what Sean Pary does all day in his role as a salesperson at MailGuard. He's an expert at explaining cybersecurity in language people can understand. If you want to understand MailGuard, Sean is the guy to ask, so here are his answers to the top FAQs.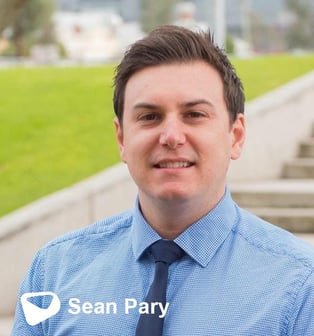 A really basic question first, Sean; what sort of organisations need MailGuard?
Sean Pary: Any organization that communicates via email needs cloud-based filtering; if you're using any kind of email whether it's web-based or Outlook, or something similar, you are going to be targeted by email-based fraud and malware attacks. There are criminals all over the world who spend all of their time setting up email attacks - there are literally millions of malicious emails going out every day - so having some sort of inbox protection is vital, and that's where MailGuard comes in.
Cybersecurity is a very complicated business. How do you help people understand the challenge?
SP: To reduce the risk of cyber attack you need to take a holistic approach and take security into account at every level of your organisation. The best way to put a cybersecurity strategy in place is by using the same kind of strategies that are well known in the physical security industry. It's called defence in-depth, or layered defence, and it means implementing several security measures, and multiple processes including education, hardware and software solutions.
I find it can be easier for non-technical people to understand cybersecurity if I compare it to the real world - to the material world. You don't want to just have an army, or an air force, or an intelligence organisation alone - you need to have all of them, to have every available strategy in place - and it's the same in the virtual world too.
How do you explain, to people who aren't familiar with what MailGuard does, why it's so important?
SP: Let's say your business represents your own personal health and wellbeing. Imagine that you have to go and see a surgeon to have a procedure done; this is a life or death situation. Would you feel comfortable visiting a doctor fresh out of a university with no experience? Or would you see a doctor that has had fifteen-plus-years experience in their specialized field and who is constantly studying the latest surgical techniques? MailGuard is the experienced surgeon. This is a company that's world-leading, that has an excellent track record and knowledge, with a fantastic reputation, and that continues to strive for improvement to stay ahead in its field.
What do you say to people who ask you about the process of introducing MailGuard to their company? Are people concerned about disrupting their daily activities?
SP: I normally say "it's very simple; all you need to do is to point your mail exchange records to our MailGuard filters; add in an inbound connector and you're done."
MailGuard is actually very simple to implement compared to other security measures. The best thing is that MailGuard has a dedicated 24/7 tech support team here in Australia ready to help and guide people through the process if they get stuck.
I'm a new business owner; I'm setting up my online infrastructure. You're recommending I should invest in a MailGuard subscription, but I say; "well, we have antivirus software already, why do I need MailGuard..?"
SP: Unfortunately we live in a world where cybercriminals are always evolving and improving their attack methods and the majority of the time companies that get attacked suffer financial losses and leaked client information. In a lot of cases the breaches are so major that they lead to companies actually going out of business. Antivirus software just doesn't cut it anymore in securing your business' data. It has a role to protect your organisation against threats that might be introduced on a flash drive, but every company needs defence-in-depth. MailGuard provides that fast response, first line of defence against never before seen, inbound attacks. It's predictive, meaning that MailGuard is actually detecting and blocking new email threats between 2 and 48 hours before other security providers.
OK, last question; what, in your opinion, are the biggest selling points of this product? What are the features of MailGuard that really close the deal when you're talking to prospects?
SP: Speed is number one; speed in identifying and blocking zero-day email-borne threats that other security companies haven't even spotted yet - that's the big thing that makes MailGuard a premium product. We're hosted on the Azure cloud and the use of pure cloud tech means all our clients are protected in real time, anywhere in the world.
Another thing that makes our product stand out is the quality of our customer support; 24/7 phone support located in Australia with 98% first call resolution. Our customer support people get incredible, positive feedback from customers and I think that's because they are in-house and really know our products inside out.
MailGuard, as a company, combines maturity with innovation. We've been in the cybersecurity space for over 16 years now and we're always improving our tech. We are always a step ahead of the latest threats - now we're using AI technology to anticipate and predict the next attack - and that's our commitment to our customers. It's always about being first and the most reliable.
Talk to us

MailGuard's partner blog is a forum to share information and we want it to be a dialogue, so please get in touch if you have any questions.
Would you like to understand our products better? Reach out to us so we can serve you better. You can connect with us on social media or call us and speak to one of our highly trained consultants.
Australian partners, please call us on 1300 30 65 10
US partners call 1888 848 2822
UK partners call 0 800 404 8993
We're on Facebook, Twitter and LinkedIn.