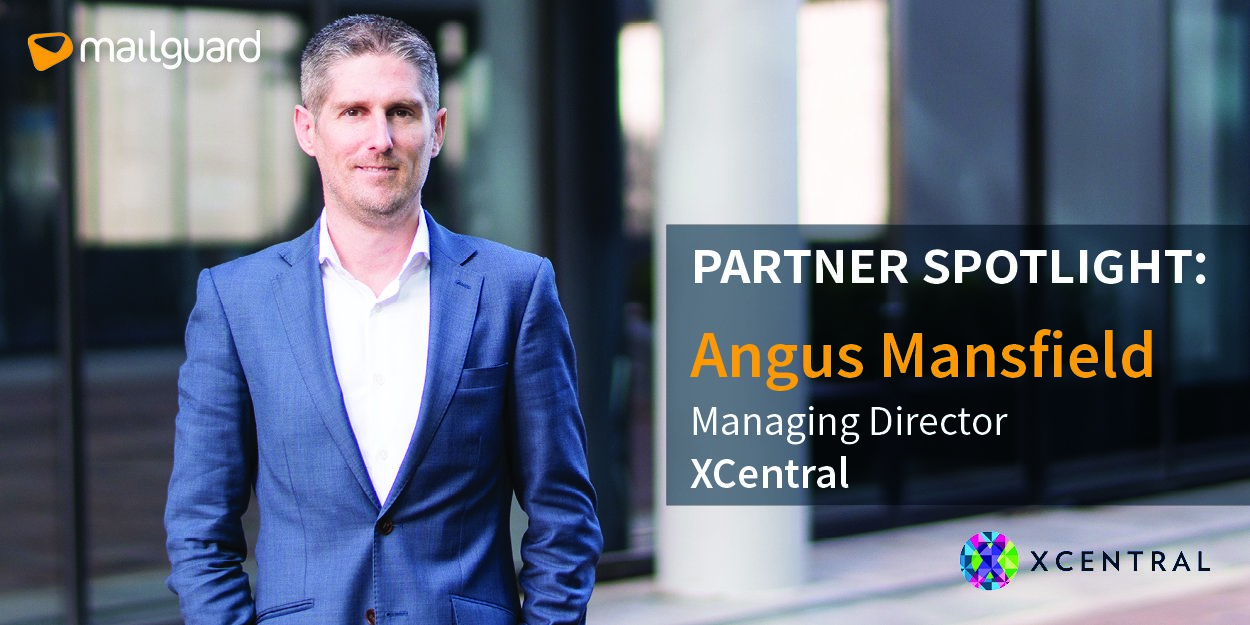 XCentral is an Australian I.T. Services Provider and a valued MailGuard Partner.

Since 2005, XCentral have had a successful track record of delivering managed services and cloud solutions. The company's experienced team uses proven methods to enable organisations to realise the full potential of today's digital technologies.

We spoke with Angus Mansfield, Managing Director of XCentral on the company's approach to cybersecurity, his views on MailGuard, and to learn more about XCentral's core beliefs that 'technology transforms business'.
Q & A with Angus Mansfield, Managing Director, XCentral
Can you tell us a little about XCentral? We're keen to shine the spotlight on how XCentral progressed over the years, the company's achievements, and also on its product and services range.
"We are a System Integrator and Managed Service Provider. We consult, advise, design and implement our clients' IT architecture and systems. We keep their systems running and free IT resources up so they can focus on strategic initiatives.
We have been successful and won several awards over the years in the Microsoft space around servers, desktops, Office 365 and Managed Services."
What is XCentral's approach to cybersecurity? How do you boost cyber resilience within the company?
"We believe that cybersecurity is a problem that requires a multi-layered approach. With risks coming in so many forms, it's important to protect multiple aspects of a network - the perimeter, the devices, the data and the users. In our opinion, this is a leadership responsibility.
We aim to provide our clients with industry-leading protection by partnering with industry-leading vendors."
XCentral recommends MailGuard to its clients; what sort of businesses are your MailGuard customers? What industries are they mostly in?
"Our MailGuard clients don't fit into a single profile description. Email is so pervasive today that the threat is almost universal. We have clients ranging from hospitality to manufacturing, aged care to leading national sports organisations."
XCentral is also a MailGuard client, so not only do you recommend MailGuard to clients, but you're also very familiar with the product. What's the biggest value that MailGuard brings to XCentral?
"That's because we want to be using what we recommend to clients – it's about walking the talk.
Using MailGuard not only gives us the same benefits, it also lets us have the same experience which is important from a support and client experience perspective."
And what do you think is the biggest value MailGuard provides to your clients?
"It would be too simplistic to say "peace of mind" as this implies that the threat is perhaps not persistent.
Our MailGuard clients enjoy not only the usual pesky email spams that people find frustrating, but also the additional layer of protection against malicious, criminal-intent emails."
XCentral uses MailGuard for email security on top of Microsoft Office 365; Can you talk to us about the value of that MailGuard brings to XCentral as an added layer of security for Office 365 email?
"Microsoft does a great job for what is a ginormous user base in Office 365. Still, we're always pondering over the question "are we putting our best foot forward?" when it comes to email security. Suffice it to say, MailGuard is a great additional security layer on top of an enterprise grade email platform."
What's the feedback like from clients who use MailGuard on top of Office 365 as an added layer of email security?
"The feedback is difficult to gauge. We are mainly guided by the mantra – no news is good news. That in itself speaks volumes.
We do know that clients who implement MailGuard can simply get on with their work after we configure it, albeit in a more secure environment."
Angus, you started and have been leading XCentral's journey and growth over the past 15 years. In that time, you've grown a family of successful, satisfied and cared-for organisations. What's your favourite thing about helping organisations realise the full potential of today's digital technologies?
"We believe technology transforms businesses. Our mission is still the same and that is to enable clients to use technology to transform how they work, collaborate and engage with customers.
I am so satisfied when I see clients reap the full benefit of the technology platform and systems we have created and implemented; when I see them innovate with technology; when they view technology as an enabler of change and innovation, and when I see the productivity gains from the technology solutions. That's what satisfies me; what makes me proud of the work of the team."
Can you share a MailGuard client success story?
"It's difficult to prove to a client what may have happened if their email systems weren't protected by MailGuard, because MailGuard obviously stops the threat before they can see or act on it and experience the damage.
The best stories we do have of our clients involve us showing clients MailGuard-related reports and seeing their expression when they see what is being blocked. The numbers can be staggering, and their sense of feeling protected is really evident."
Interested in finding out more about XCentral's products and services?
Phone: 1300 881 113
Email: info@xcentral.com.au
Website: www.xcentral.com.au

---
Talk to MailGuard
MailGuard's partner blog is a forum to share information and we want it to be a dialogue. Reach out to us and tell us what your customers need so we can serve you better. You can connect with us on social media or call us and speak to one of our consultants.
Australian partners, please call us on 1300 30 65 10
US partners call 1888 848 2822
UK partners call 0 800 404 8993
We're on Facebook, Twitter and LinkedIn.