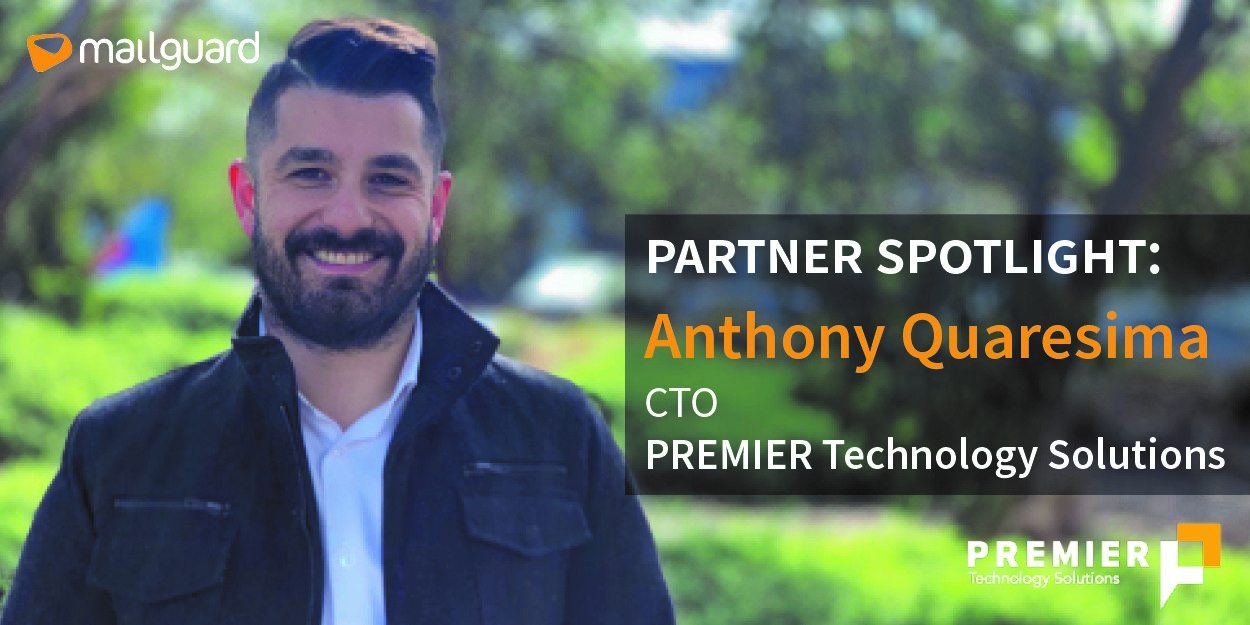 Premier Technology Solutions has been a valued MailGuard Partner since 2016.

Premier was founded in 2001 on the principle that Australian businesses deserve smart, reliable, and efficient IT solutions delivered with pride and integrity. The company has grown to a business with over 40 staff based primarily in Melbourne, delivering premium managed IT services Australia wide.
The firm's solutions and services extend from the desktop to the cloud, and its client base spans a wide range of industries, from manufacturing to financial services, through to hospitality and not for profits.
We spoke with Anthony Quaresima, CTO of Premier on the company's approach to cybersecurity, why it partnered with MailGuard, and tips on collaborating better.
Q & A with Anthony Quaresima, CTO, Premier Technology Solutions
Can you elaborate on the type of services Premier Technology Solutions provides? What's your role in the company?
"Premier was founded in 2001 by the founder and CEO Matthew Beesley. We are a Microsoft Partner specialising as a Cloud Solution Provider (CSP) with approximately 40 employees.
I'm currently the CTO and have been with Premier for over 11 years. When I started with the business, we were only a small handful of people working out of a serviced office. Today, we have grown into a multinational company in multiple locations."
What are the problems or opportunities that Premier Tech typically helps its customers with?
"The customers we typically serve are mid-sized businesses that look to invest in IT to grow their own footprint. We have over 100 full managed clients that average 30-40 seats in size
The products and services that Premier provides include managed IT Services. We offer IT support, strategy & management that delivers predictable, industry leading results & commercial outcomes for a fixed monthly fee.
Other services range from cloud services to IT security audits and ransomware protection"

(For a full list of services, please contact Ray at the details below)
What is the Premier approach to cybersecurity? How do you boost cyber resilience within the company?
"We have developed a comprehensive security stack that includes MailGuard as our email protection provider. Our stack combines a range of best in industry partner solutions to provide a multi-layer approach from perimeter, all the way to the endpoint."
Premier is also a MailGuard client, so not only do you recommend MailGuard to clients, but you're also very familiar with the product. What's the biggest value that MailGuard brings to Premier?
"We needed an email protection solution that was reliable, had a strong support department and protected Australian businesses against localised attacks, such as viruses disguising themselves as Australia Post emails. Our former providers were large, well-known international companies, and they were letting us down."
Almost all products are being seen as commodities in the evolving market space. What is often overlooked is the support and overhead needed when working with products.
We wanted supportability, ease of use and a solution we could call as one of the top items on our requirements list, and MailGuard was so far ahead of the crowd that it made it an easy decision for us to partner with."
Elaborate on your selling strategies. What advice do you have for our partners?
"Email protection is such a critical part of protecting a business that we include MailGuard in all our managed service agreements, without offering an 'ala carte' product selection.
When partnering with MailGuard, work out your on-boarding process and understand the optimal way to rollout the product in a standardised manner to your client base.
We knew what we wanted and after one workshop with the Service Manager at MailGuard, we were able to create a process that allowed us to migrate over a hundred clients within the month, with minimal fuss."
Can you share a MailGuard client success story?
"One of the most awesome MailGuard stories that I'll never forget is when we were managing a larger client at the time (+250 Users).
The client's in-house IT team wanted to call the shots on their website and email filtering systems and support them in-house. Our regular proactive assessments advised them they were at risk. However, as the relationship was new, and because we were still proving ourselves, they decided against taking our recommendations.
The client ended up getting hit by a crypto-attack thrice in one week. That's when they eventually said, 'do what you have to do to make it stop'. We secured and restored their network to full operation that day and from that moment on we had their full trust and our processes weren't questioned again!"
Interested in finding out more about Premier Technology Solutions' products and services?
Phone: 1300 76 76 48
Email: Ray.Sweeney@premiertech.com.au
Website: http://www.premiertech.com.au/

---
Talk to MailGuard
MailGuard's partner blog is a forum to share information and we want it to be a dialogue. Reach out to us and tell us what your customers need so we can serve you better. You can connect with us on social media or call us and speak to one of our consultants.
Australian partners, please call us on 1300 30 65 10
US partners call 1888 848 2822
UK partners call 0 800 404 8993
We're on Facebook, Twitter and LinkedIn.