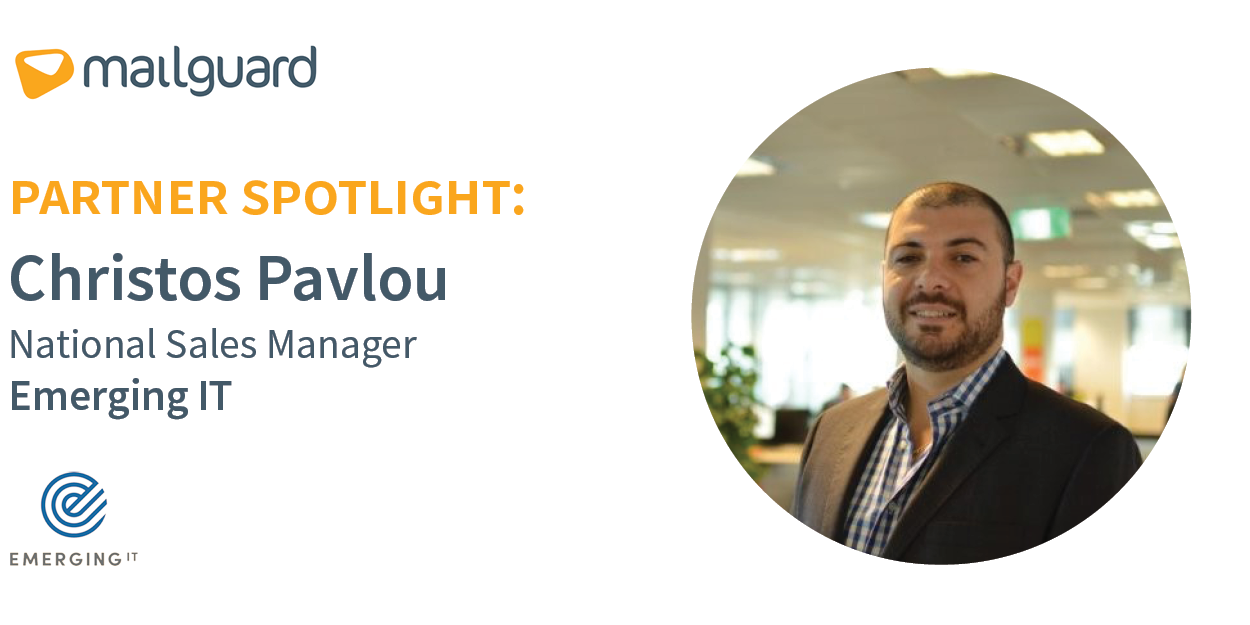 Emerging IT is an Australian managed service provider and has been a valued reseller and partner of MailGuard's since 2016.

The company was founded in 2001 and today, it delivers managed services to over 100 clients. In 2016, the company turned from a Network Operations Centre (NOC) to a Security Operations Centre (SOC). This has seen the implementation of next-generation anti-spam, web defence and antivirus protection.
We spoke with Christos Pavlou, the National Sales Manager of Emerging IT, to learn more about the company's ethos, its approach to cybersecurity, and the biggest value that MailGuard brings to its clients.
Q&A with Christos Pavlou, National Sales Manager, Emerging IT
How would you summarise current attitudes towards cybersecurity within the corporate landscape?
"Cybersecurity is one of the most important aspects of protecting technology and information assets. However, many businesses fail to recognise or understand the potential threats that may arise from having little or no protection. If we truly want to ensure we preserve our digital data and processes, we have to get real about the nature of the threat.
There's a plethora of cybersecurity solutions in the market today. What advice do you give your clients who are looking for the right solution for their organisations? How should they get started?
"The most important piece of advice I normally give to my clients is that they should work with the people, solutions and businesses they can trust. I place a lot of importance on building trust and genuine relationships when it comes to working with my clients.
Trusted IT and security advisors work like an extension of their clients' own teams and recognise the responsibility they hold in keeping their customers' cyber safe. I recommend that clients work with an organisation that understands their business and one that also holds a solid understanding of the current cybersecurity landscape."
Could you also elaborate on your selling strategies? Any tips or tricks when it comes to
selling cybersecurity solutions?

"Our ethos is based on providing clarity to our clients. The clearer things become - the easier it is to make decisions, drive progress and lead change.

Cybersecurity is a complex field that is constantly evolving. It's our job to inform clients of the level and types of cyber risk they are dealing with so they can then decide what they need to do for their business."
Emerging IT has entrusted MailGuard's specialised email security services for over 3 years. What's the biggest value MailGuard brings to Emerging IT?
"MailGuard lowers the total cost of ownership as it reduces the amount of maintenance and support our engineers need to conduct. This is done by blocking the bad and allowing the good to hit mailboxes.
MailGuard's impressive filtering and quarantine processes allows us to easily identify what needs to be released from the notification emails, meaning it is relatively low touch from our end.
All these reasons are why Emerging IT also deploys MailGuard to all its Managed Services clients. It is one of the first layers of protection we utilise for us and our clients. If you partner with Emerging IT, you partner with MailGuard!"
Can you talk to us about the biggest advantage MailGuard brings to Emerging IT and your clients as an added layer of security for Office 365 email?
"I've always been a huge advocate of multi-layered security. MailGuard is able to seamlessly stack with native Office 365 security - this makes it harder for spam to hit our mailbox and greatly reduces the risk of spam emails being opened."
Hundreds of businesses rely on Emerging IT for their IT including mission-critical infrastructure to run their business. What's your favourite thing about helping small businesses succeed?
"At Emerging IT, we operate on a client-first mentality, we genuinely care about keeping our clients happy – we always put the client first and that's what keeps us going.
For example, this was an email we received on Friday:
'We do truly appreciate all you guys do!'
That's my favourite part, when your clients go out of their way to thank you.
Interested in finding out more about Emerging IT's products and services?
Contact the team at Emerging IT
Phone: 1300 133 966
Email: sales@emergingit.com.au
Website: www.emergingit.com.au
---
Talk to MailGuard
MailGuard's partner blog is a forum to share information and we want it to be a dialogue. Reach out to us and tell us what your customers need so we can serve you better. You can connect with us on social media or call us and speak to one of our consultants.
Australian partners, please call us on 1300 30 65 10
US partners call 1888 848 2822
UK partners call 0 800 404 8993
We're on Facebook, Twitter and LinkedIn.