We are delighted to announce the addition of a new feature to our product Console – a new drop-down menu.
The feature allows all administrators to navigate to their desired menu options more seamlessly by reducing the number of clicks required.
This drop-down menu will come into effect for all accounts from next month.

Here's a screenshot of this new feature: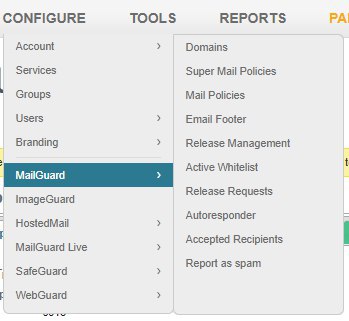 What are the benefits of this drop-down feature?

Currently, all administrators must click the parent menu (above; left menu), before being presented with a new page with the above 'sub-menu' items (soon to display like above; right menu).

The drop-down menu is designed to reap time savings for MailGuard administrators.
This feature is part of MailGuard's ongoing commitment to enhance our users' experience in order to ensure all customers are served as effectively as possible.
If you have any further questions, contact MailGuard support at support@mailguard.com.au
Talk to us

MailGuard's partner blog is a forum to share information and we want it to be a dialogue. Reach out to us and tell us what your customers need so we can serve you better. You can connect with us on social media or call us and speak to one of our consultants.
Australian partners, please call us on 1300 30 65 10
US partners call 1888 848 2822
UK partners call 0 800 404 8993
We're on Facebook, Twitter and LinkedIn.