Responding to questions from customers, a MailGuard partner recently asked this question. For those of you who may be unfamiliar, Litigation Hold is one of the eDiscovery features in Exchange Online.
According to uslegal.com, "A litigation hold, (also known simply as "legal hold") or as a "preservation order" or "hold order," is a temporary suspension of the company's document retention destruction policies for the documents that may be relevant to a law suit or that are reasonably anticipated to be relevant. It is a stipulation requiring the company to preserve all data that may relate to a legal action involving the company. A litigation hold ensures that the documents relating to the litigation are not destroyed and are available for the discovery process prior to litigation."
Techopedia goes on to explain that, "In addition to pending litigation, a legal hold may be put in place because of an audit and/or an investigation. This will affect corporate policy in a number of ways. For example, a legal hold will often change the rules on how data are backed up in a system, how tape vaults or other storage archives are maintained, and whether physical storage media are recycled."
Of course, definitions and legal obligations will vary for different jurisdictions, and this blog post is not intended as legal advice, so we encourage partners and their customers to seek independent professional legal advice when considering their respective needs.
Suffice to say, email data and its preservation is critical if 'Litigation Hold' is a requirement for your customers.
269 billion emails were sent and received each day worldwide in 2017, and over 70% of corporate communication are carried out via email. In addition to the email messages themselves, they often also contain a wealth of data, including invoices, contracts, and other business-related information – information that is highly valuable in the event of litigation and when keeping in line with industry compliance standards.
Every organisation must decide where to store this business-critical data, and how to free up end-user inboxes. Office 365's Litigation Hold feature is a great solution, however considering how critical these business records are, as in all aspects of best practise cybersecurity, many experts recommend a multi-layered approach. Having a dependency on a single vendor, albeit one as significant as Microsoft, is a risk, especially when your firm is reliant on the recovery of its critical data for representation in a legal matter. Having a second, independent vendor for email archiving is a prudent decision.
Even if that second solution is only required as a temporary solution due to a service outage like we saw last weekend in the UK, for Exchange Online.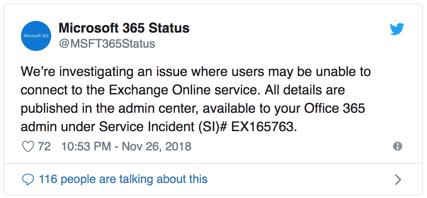 An archiving solution like SafeGuard, from MailGuard provides added peace of mind, with geographically dispersed data centres, designed to host business-critical data, and operates under stringent security and controlled access processes.
The killer combination of Office 365 Litigation Hold and SafeGuard ensures constant and real-time service to access your encrypted archive of every email sent or received by your business.
Also keep in mind that Litigation Hold in Exchange Online is not ideal for a backup. Backups should be stored in an independent physical location and with Exchange Online, this is not the case. In the event of cyberattack, like if your files are locked down by ransomware, you may not be able to retrieve your data. Also, storage costs will continue with Litigation Hold, because you can't delete unneeded data, and likewise there may be a need to continue paying the Microsoft licensing fees to retain access to data for former employees.
Office 365's Litigation Hold provides users with extra mailbox storage space. An abundance of it, in fact: up to 100 GB. Previously, if this quota was reached, organisations had to contact Microsoft to increase it. That's no longer the case, however; now the storage automatically expands, being incremented in chunks until storage needs are met, with no upper limit.
With SafeGuard, standard storage starts at 3 years with unlimited capacity, however longer storage durations are available based on your business needs, under a retention agreement.
Litigation Hold is great for preserving data. With the addition of SafeGuard, your data secure in an independent, secure location, allowing for email retrieval by sender, recipient, date, time, subject, body and attachments, just as they were originally sent or received. It allows existing email archives to be swiftly and simply imported, and empowers your team with the ability to re-send the original email to all recipients within your company directly from the archive.
Together, the features of Microsoft O365's Litigation Hold combined with a third party SaaS archiving solution like MailGuard's SafeGuard, will ease the e-discovery process associated with a legal action and ensure that your business email is protected no matter what happens. Your business knowledge is retained, your Intellectual property is protected, and you will remain compliant with statutory regulations.
Talk to us

MailGuard's partner blog is a forum to share information and we want it to be a dialogue. If you have questions about Safeguard, reach out to us and tell us what your customers need so we can serve you better. You can connect with us on social media or call us and speak to one of our consultants.
Australian partners, please call us on 1300 30 65 10
US partners call 1888 848 2822
UK partners call 0 800 404 8993