A new phishing scam discovered by MailGuard is trying to mislead victims by impersonating a OneDrive notification.
The phishing email (shown below) claims to be from "ȪneḎrive" (sic) and is associated with several sender email accounts including:
alison_cody@mckinnonbasketball.org

craig@selectinsurance.com.au

pierre.mars@cap-xx.com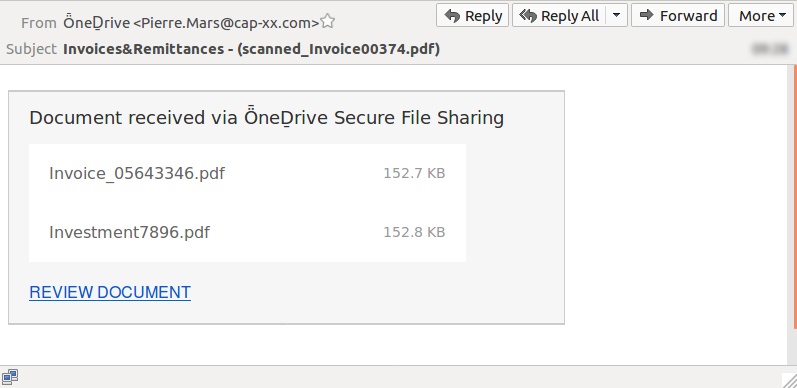 The email tells intended victims that there is a "document received via ȪneḎrive" and they should click on a link to "review document."
The link takes the victim to a phishing page (shown in the screenshot at the top of the page) where they are asked to submit their Microsoft login credentials.
The objective of this kind of scam is to harvest login data that can then be used in identity theft and for hacking into user accounts.
Help us to warn people about this scam by sharing our Tweet, below:
#ZERODAY #FASTBREAK Simple HTML email linking to a phishing site, display name is display name is ȪneḎrive. More details to be posted on the blog: https://t.co/Ycbu7fd1tV
#EmailScam #Phishing #Malware #CyberSecurity #CyberCrime #MailGuard @scamwatch_gov pic.twitter.com/KrGxYJFeV6

— MailGuard (@MailGuard) May 28, 2018



Don't get scammed


If your company's email accounts aren't protected, scam emails like the one above are almost certainly being received by your staff. Cybercriminals know people can be tricked; that's why they send out millions of scam messages and put so much effort into making them look convincing.

People are not machines; we're all capable of making bad judgement calls. Without email filtering protecting your business, it's just a matter of time before someone in your organisation has a momentary lapse of judgement and clicks on the wrong thing.

For a few dollars per staff member per month, you can protect your business with MailGuard's predictive email security.
Talk to an expert at MailGuard today about making your company's network secure: click here.

Stay up-to-date with new posts on the MailGuard Blog by subscribing to free updates. Click on the button below: