MailGuard has detected a new phishing scam using MYOB branding to deceive victims into giving up their Microsoft login data on a phishing site (shown in the screenshot above).
This scam uses a fake MYOB notification email (shown below) which advises the recipient "to view your remittance advice you are required to login with your correct email password."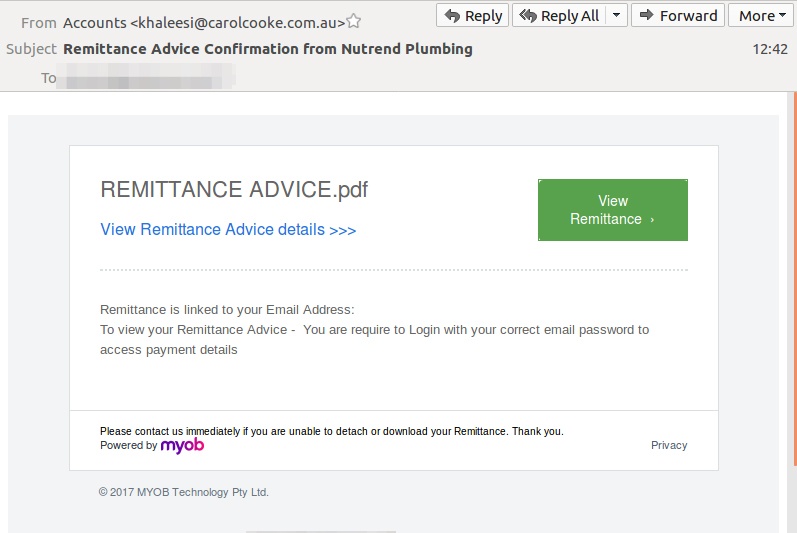 The displayed "view remittance" link points to the phishing page where the victim's login credentials are captured by the scammers.

The display name shown in this scam message is "Accounts" and the sending address is "khaleesi@carolcooke.com.au"
Help us to warn people about this scam by sharing our Tweet, below:
#ZERODAY #FASTBREAK Well-formatted HTML email #brandjacks @MYOB and links to a #phishing site. None of the domains look registered for the spam run and all appear to be existing compromised accounts. More on the blog: https://t.co/ZQpnALidau @scamwatch_gov pic.twitter.com/sjqa4jhL5U

— MailGuard (@MailGuard) May 28, 2018
Protect your inbox

Always hover your mouse over links within emails and check the domain they're pointing to. If they look suspicious or unfamiliar don't open them.
9 out of 10 cyber-attacks are delivered via email, so it's essential to have the best filtering service available.
For a few dollars per staff member per month, you can have the peace of mind of MailGuard's comprehensive cloud-based email and web filtering. You'll significantly reduce the risk of zero-day (previously unknown) threats and stop new variants of malicious email from entering your network.
Keep up to date on the latest scams by subscribing to MailGuard updates or follow us on social media.
If you're experiencing problems with email scams you can speak to one of MailGuard's cloud security specialists right now on 1300 30 44 30