Imitation is certainly not an appreciated form of flattery for popular file sharing service WeTransfer when it comes to malicious activity. The cloud-based online platform is the latest name being used in a phishing scam aimed at securing credentials from its (some) 70 million users, in 190 countries worldwide. WeTransfer, known for its convenience in allowing users to transfer various files to other users on the internet, has been targeted to deliver malicious files to victims. MailGuard has intercepted this phishing attempt.
The scam attempts to copy the colorful illustrations, branding and design used by WeTransfer in order to feign authenticity to the unknowing victim. The email seems to originate from a compromised account, with the subject line advising the recipient that they have received an 'x' number of files via WeTransfer (similar, but not the same, to what an actual email sent by a WeTransfer user may contain). Note the addition of a '?' after the '5 Files, 550MB in total' information to indicate the imitation as well as the discrepancy between the sender's email address and name.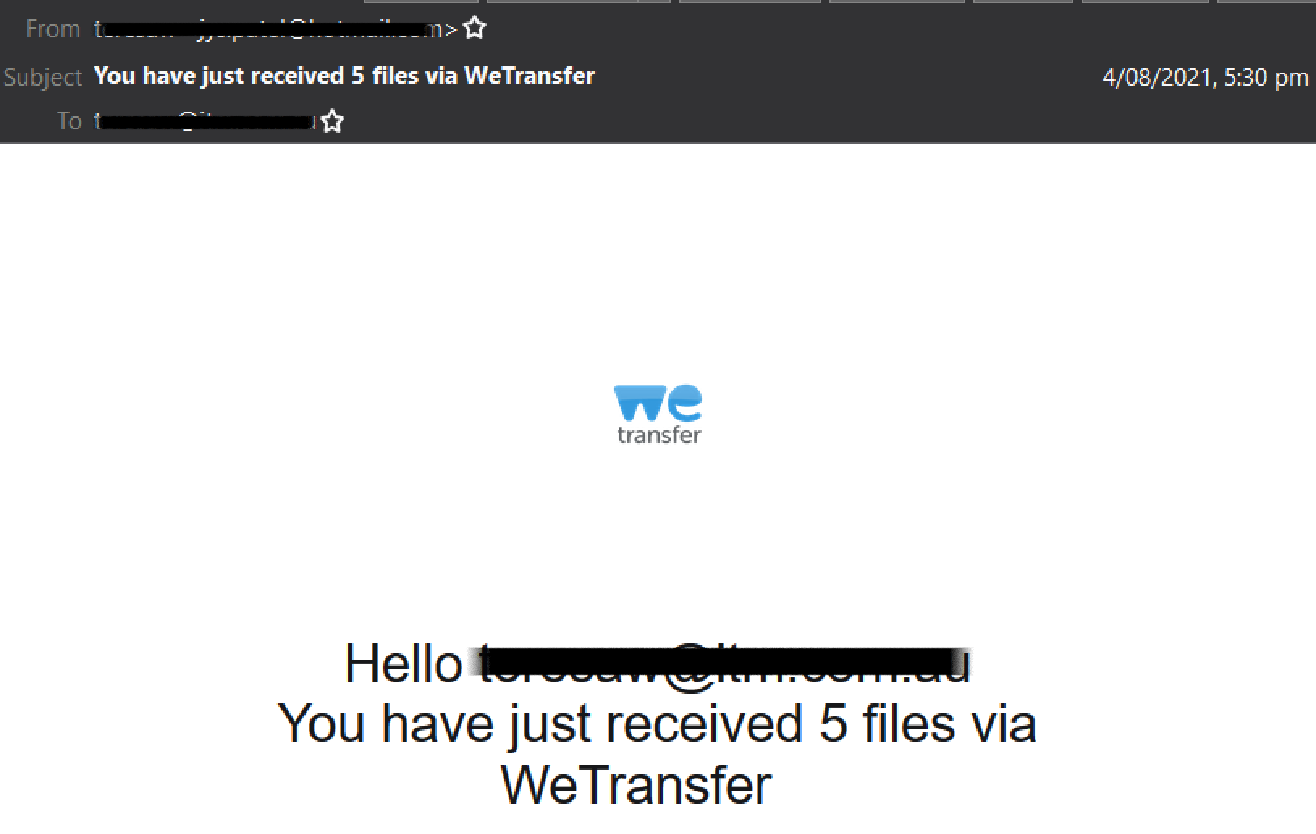 Once the user clicks on the phishing link 'Get your files' they are then taken to a cleverly designed WeTransfer page using similar colouring and design in order to entice the victim to enter their credentials. The scammers in this case fail to accurately imitate WeTransfer by using 'We Transfer Plus' instead of the actual offer of a 'Pro' service that WeTransfer provide.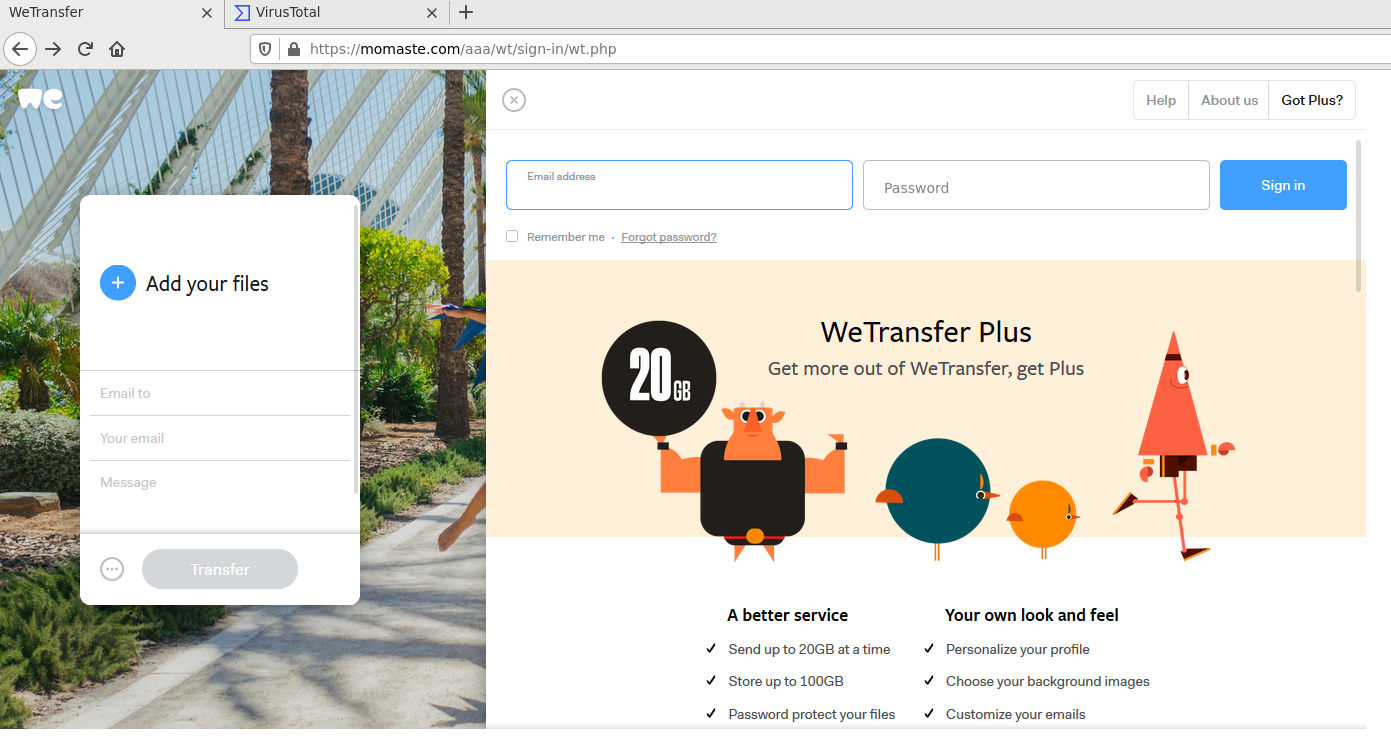 If you have received an email from WeTransfer that rings alarm bells, please be sure to contact them via the following link: https://wetransfer.zendesk.com/hc/en-us/requests/new
Furthermore, WeTransfer provides the following advice from their website to help prevent victims from giving their credentials to a cybercriminal:
"WeTransfer will never do the following:
confirm your email address or other account credentials such as passwords

ask you to download a transfer from a download link

provide your full card number, or other payment details

we don't provide phone support, so we will never ever call you about WeTransfer.
If you do receive a suspicious communication from someone purporting to be WeTransfer, but you're not 100% sure, this is a good checklist to follow:
Is the layout different from the layout you usually see when you open a WeTransfer mail? If so, don't use the download button or link.

Are you being asked to enter your email address or password to download the transfer? If you are, double-check with the sender that they've sent you a

password protected transfer

. If you don't recognise the sender, or aren't expecting a transfer, treat it with extreme caution.

Does the download button take you to our domain (

https://wetransfer.com

)? If not, the files are hosted somewhere else and never safe to download. You can check this by copying and pasting the link into your address bar without pressing Enter.

Check the address mentioned in the body of the email. If the transfer isn't from someone you know or an obvious fake, don't use the download link.

If the email mentions 'WeTransfer Plus' - disregard it. We've updated the name for our paid service, from 'WeTransfer Plus' to 'WeTransfer Pro'.

Check the sender's address. We always send our service-related emails from "

...@wetransfer.com

". If the email is sent from a different address, don't open the download link. (Please note that sometimes we send out marketing emails from different addresses - and if you contact our Support team, we'll email you back from '

@wetransfer.zendesk.com

)

Please note that emails from "

...@wetransfer.com

" are no guarantee that we've actually sent you this email. So stay aware even if we seem to be the sender.

Check the address the email was sent to. We only ever send a transfer email to your own email address. Not to "undisclosed recipients" or to other addresses. So finding a "Bcc" definitely means we did not send you this email."
MailGuard urges all recipients of this email to delete it immediately without clicking on any links. Providing your personal details can result in your sensitive information being used for criminal activity.
MailGuard urges users not to click links or open attachments within emails that:
Are not addressed to you by name.

Appear to be from a legitimate company but use poor English, or omit personal details that a legitimate sender would include.

Are from businesses that you were not expecting to hear from, and/or

Take you to a landing page or website that is not the legitimate URL of the company the email is purporting to be sent from.
One email is all that it takes
All that it takes to devastate your business is a cleverly worded email message that can steal sensitive user credentials or disrupt your business operations. If scammers can trick one person in your company into clicking on a malicious link or attachment, they can gain access to your data or inflict damage on your business.
For a few dollars per staff member per month, you can protect your business with MailGuard's predictive and advanced email security. Talk to a solution consultant at MailGuard today about securing your company's network.
Stay up-to-date with MailGuard's latest blog posts by subscribing to free updates. Subscribe to weekly updates by clicking on the button below.