In a novel new scam, phishers are attempting to bypass spam filters by embedding an image of a custom QR code in an email, rather than a link to a phishing page. When scanned by a mobile phone camera, the QR code image will open the phishing page instead. Email filtering services routinely check for malicious URLs or links, so the inclusion of the image is designed to side-step that trip-wire.
The email is masquerading as a security notification, with the subject highlighting that it is a 'Final notice' – a common tactic to introduce a sense of urgency – with a 'mandatory 2FA security update required'.
The emails originate from a compromised Office 365 account, and the sender is displayed as 'ITDESK', with the message warning users that 'Failure to authenticate the security information will lead to a loss of email privileges'.
Here's what the email looks like: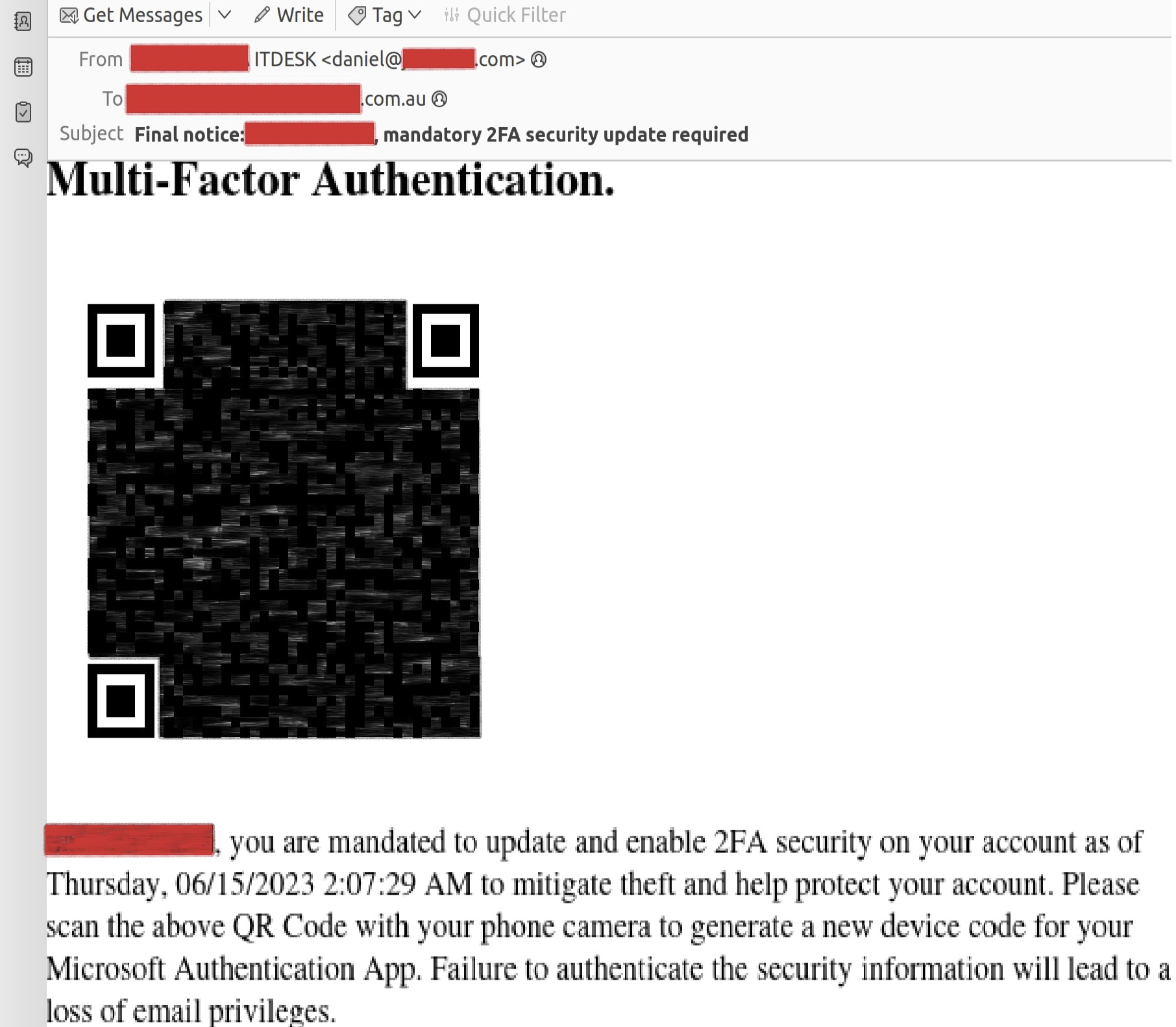 Upon arriving at the phishing page, users are presented with a number of CAPTCHA prompts which mandate that the web client is an actual browser (or can simulate a browser) and is actively executing JavaScript. This is another attempt by those behind the scam to prevent security providers from automatically evaluating the result of a target page by ensuring a human is actually visiting.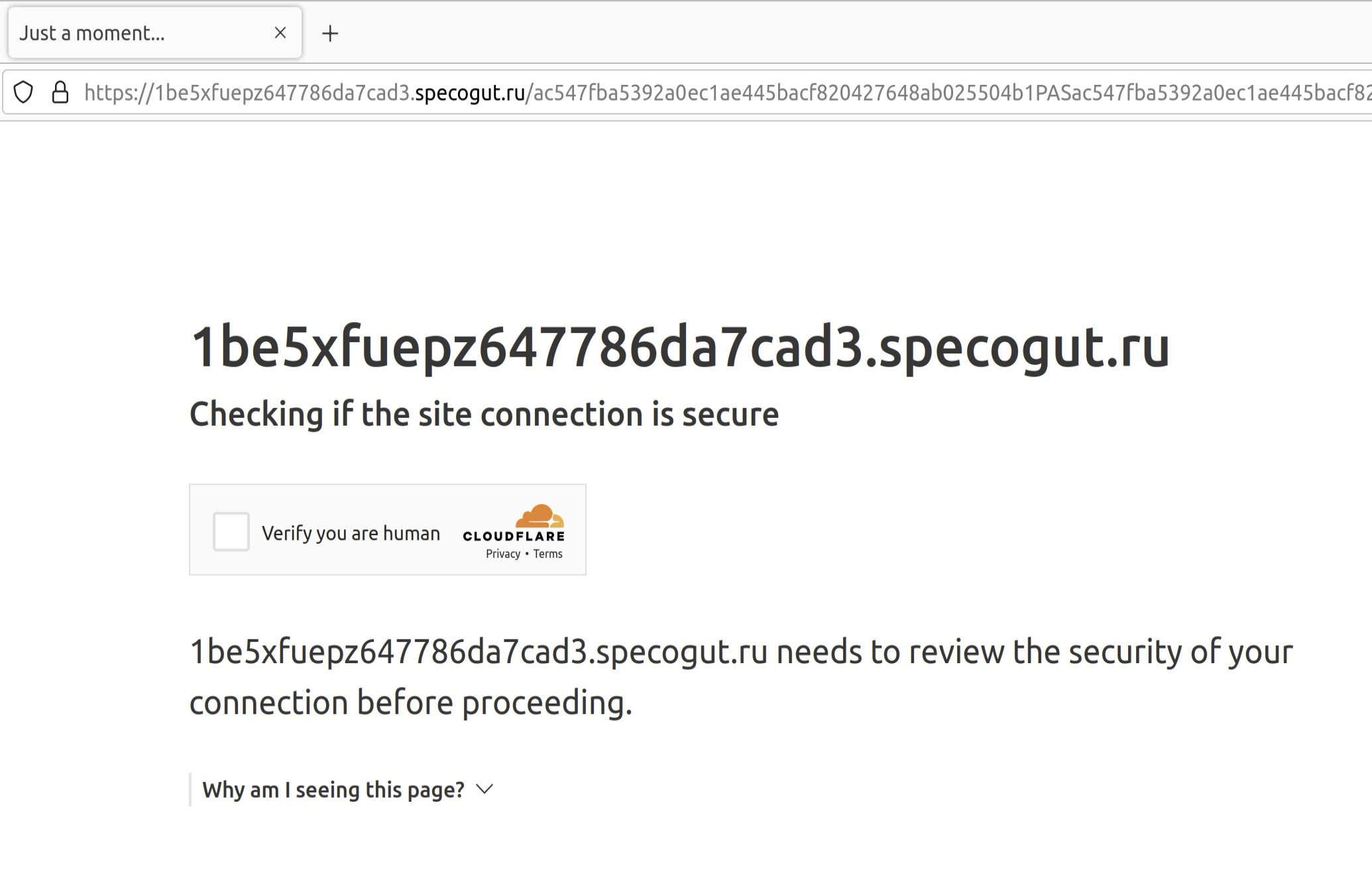 Once the CAPTCHA is completed, a fake Microsoft 365 login page is presented.
The backend of this phishing page verifies the login credentials against Microsoft, and if incorrect details are entered, it will tell users that the credentials are incorrect. The premise here being that considering most organisations now have multi factor authentication enabled, the attackers are attempting to obtain access to the account by enticing the user to input the current MFA access token.
MailGuard advises all recipients of this email to delete it immediately without clicking on any links. Providing your personal details can result in your sensitive information being used for criminal activity and may have a severe negative impact on your business and its financial well-being.    
MailGuard urges users not to click links or open attachments within emails that:      
Are not addressed to you by name.      

Appear to be from a legitimate company but use poor English or omits personal details that a legitimate sender would include.      

Are from businesses that you were not expecting to hear from, and/or      

Take you to a landing page or website that is not the legitimate URL of the company the email is purporting to be sent from.     
Many businesses turn to MailGuard after an incident or a near miss, often as a result of an email similar to the one shown above. If unwanted emails are a problem for your business, don't wait until it's too late.
Reach out to our team for a confidential discussion by emailing expert@mailguard.com.au or calling 1300 30 44 30.
One email is all that it takes    
All that it takes to devastate your business is a cleverly worded email message that can steal sensitive user credentials or disrupt your business operations. If scammers can trick one person in your company into clicking on a malicious link or attachment, they can gain access to your data or inflict damage on your business.    
For a few dollars per staff member per month, you can protect your business with MailGuard's predictive and advanced email security. Talk to a solution consultant at MailGuard today about securing your company's inboxes. 
Stay up-to-date with MailGuard's latest blog posts by subscribing to free updates. Subscribe to weekly updates by clicking on the button below.