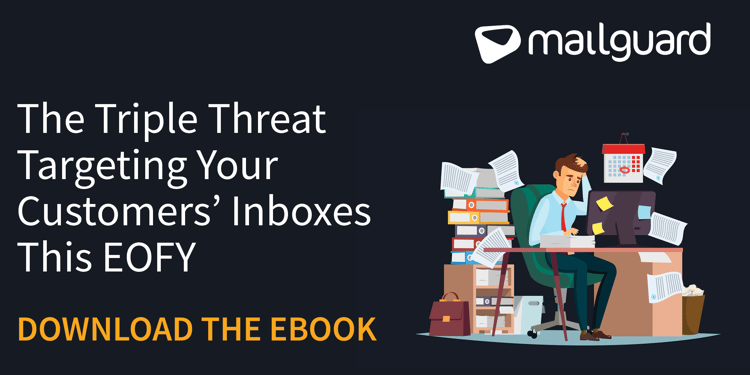 The End of Financial Year (EOFY) is upon us, and just like every year, businesses are bracing for an unwanted spike in finance and tax-related scams.
But did you know that your customers are much more vulnerable to falling victim to these scams this year?
As if things weren't already challenging enough, this EOFY we are observing a triumvirate of cybercrime threats facing businesses – three distinct, but substantial threads of risk that are targeting inboxes and tricking users in insidious ways. It's imperative that businesses ensure they are protected at this time of heightened risk.
Download our latest eBook which highlights the triple threat targeting inboxes, along with recommendations about how your customers can boost their cyber resilience.
Talk to us
MailGuard's partner blog is a forum to share information and we want it to be a dialogue. Reach out to us and tell us what your customers need so we can serve you better. You can connect with us on social media or call us and speak to one of our consultants.
Australian partners, please call us on 1300 30 65 10
US partners call 1888 848 2822
UK partners call 0 800 404 8993
We're on Facebook, Twitter and LinkedIn.