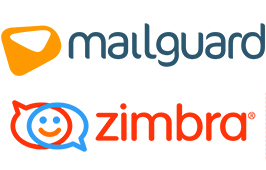 As a privately owned company, Zimbra needs no introduction. Trusted by over 100 million end users, in over 140 countries, Zimbra is all about connecting people and information via exceptional collaboration software including email, calendaring, file sharing, activity streams, social communities and more.
Zimbra's email platforms provide business customers with exactly what they are looking for in an email service, while tailoring security and privacy solutions to cover all possible concerns. These can include the threat of malware or viruses, annoying spam, the frustration that occurs from lost emails, or the loss of productivity due to email downtime.
When it comes to fulfilling the important email needs of their customers, Zimbra has always listened. To ensure customers were receiving spam protection well above industry standards, Zimbra formed an invaluable partnership with MailGuild, built on delivering 99.997% spam filtering provisions and 100% virus protection. When Zimbra customers wanted a better way to sync and share files, Zimbra acquired file syncing and sharing provider Mezeo, expanding their unified collaboration suite with secure, cloud-based file sharing.
Zimbra has also kept security and privacy in their customer's hands through a dedication to Zimbra Open Source, allowing users to have complete visibility in regards to the source code. This is also a vital point that customers should consider when looking for a reliable and transparent email host provider.
This passionate tenacity for putting customers first, and the 'customer-centric' approach to all areas of business, has seen the formidable relationship between Zimbra and MailGuard evolve, as both companies take a staunch approach to email privacy and security. With Zimbra and MailGuard seamlessly integrated together, customers can rest assured that their emails are completely private, and that nobody reads or scans emails for anything other than spam and viruses.
By utilising Zimbra in conjunction with MailGuard, you will have complete peace of mind in regards to all of your business email needs. Both Zimbra and MailGuard have a strong track record for always putting customers first. This is one of the core reasons why MailGuard continues to be a proud partner of Zimbra, and why we ourselves have used Zimbra for over 6 years.