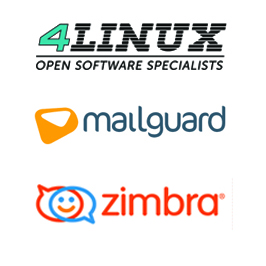 Brazilian IT consultancy and support group 4Linux have formed a partnership with Australian company MailGuard.com.au – the trusted name in enterprise cloud email and web security.
4Linux, who are long-term Zimbra partners, have chosen MailGuard to enhance the security and privacy of the Zimbra email platforms they on-sell and support.
"If your organization uses your email system to exchange confidential information, then security and privacy should be your number one concern when selecting a new, or replacing an existing email collaboration system."
"This is why at Zimbra, we are excited about the collaborative joining of forces between MailGuard and 4Linux, to enhance the privacy and security for Zimbra users." Brent Rhymes President, Field Operations at Zimbra.
"As cloud security innovators for over 14 years, MailGuard are honoured to forge such an important partnership with 4Linux. MailGuard are already in 27 countries, and this partnership with a leading Brazilian IT company 4Linux emphasises the exciting growth of the IT industry in South America". Craig McDonald, CEO MailGuard.
As mutual partners of Zimbra, MailGuard were specifically chosen by 4Linux for their commitment to security and privacy, as well as the ability to translate their Service Management Console into Portuguese (as well as other languages).
After trialling MailGuard, this is what 4Linux had to say about the company and their services:
"4Linux have been providing email solutions for their Brazilian clients for over 15 years. As mutual Zimbra partners, the decision for us to include MailGuard in our suite of products was a natural progression." Rodolfo Gobbi, Director General of 4Linux.
"Regardless of the email solution in place (cloud or on-premise), MailGuard services can be implemented easily with our client's existing environment, as the services are offered through the cloud." Fabio Schmidt, email expert at 4Linux.
"We have previously used other anti-spam solutions, however this was not sufficient enough to cope with the amount of spam making its way into inboxes every day. After activating MailGuard, that number plummeted and continues to eliminate spam and viruses while freeing up IT productivity time and resource efficiency." Juliana celebrates Ilário, Sales Manager 4Linux.
4Linux, Zimbra and MailGuard look forward to working together in ensuring the email privacy and security of clients in Brazil.