MailGuard has been a pioneer of cloud security since 2001. Today, we are recognised as the trusted name in global enterprise security with our origins in email security. MailGuard customers turn to us because the task of setting up, maintaining and managing on-premise email security services takes up too much internal resource time, and clients understand the true benefit of entrusting their online security needs with a reputable vendor. With the desire for businesses to move to the cloud growing, so has the competitive business of delivering vital cloud services. The host of available cloud vendors has also grown tenfold, with IT companies wanting a slice of the 'cloud' pie. Outside of MailGuard, two of the most recognised global vendors include Google and Microsoft.
Business customers may look to these giants because of their reputation in revolutionising early computer and internet technology. Yet for what these companies have in brand power, doesn't necessarily extend to their customer needs. Based around the same morals and values, MailGuard and Zimbra have forged a partnership that delivers hosted email and collaboration products, proving to potential customers that you don't have to go with the 'largest' players in the field to get the best products and services. If you are currently comparing the leading vendors, let's take a look how MailGuard and Zimbra outshine Google and Microsoft Office 365 with regard to their hosted email offerings.
Defence
Utilising MailGuard's cloud security on top of Zimbra's email platform, this sure-fire layered defence has proven to work and protect businesses. MailGuard have built our platform on a vertically integrated stack that provides the highest quality of defence.
Unlike other competitors, the MailGuard and Zimbra stack filters via multiple anti-virus and anti-spam engines, giving customers assurance that they are protected by the best cloud products on the market. MailGuard's anti-virus modules are interchangeable with leading anti-virus engines including Symantec, Sophos, McAfee, Kaspersky and more. This provides the best-multi-layered defence for our clients and partners. Customers receive superior anti-virus with 100% guarantee and spam protection at a rate of 99.997%, 100% email uptime, and 24/7 expert support with a 98% first call resolution rate, should you need to talk to someone. Compare these vital stats with Google or Office 365. As a layered defence, MailGuard products work by mitigating security risks, blocking malicious activity and protecting precious resources and data.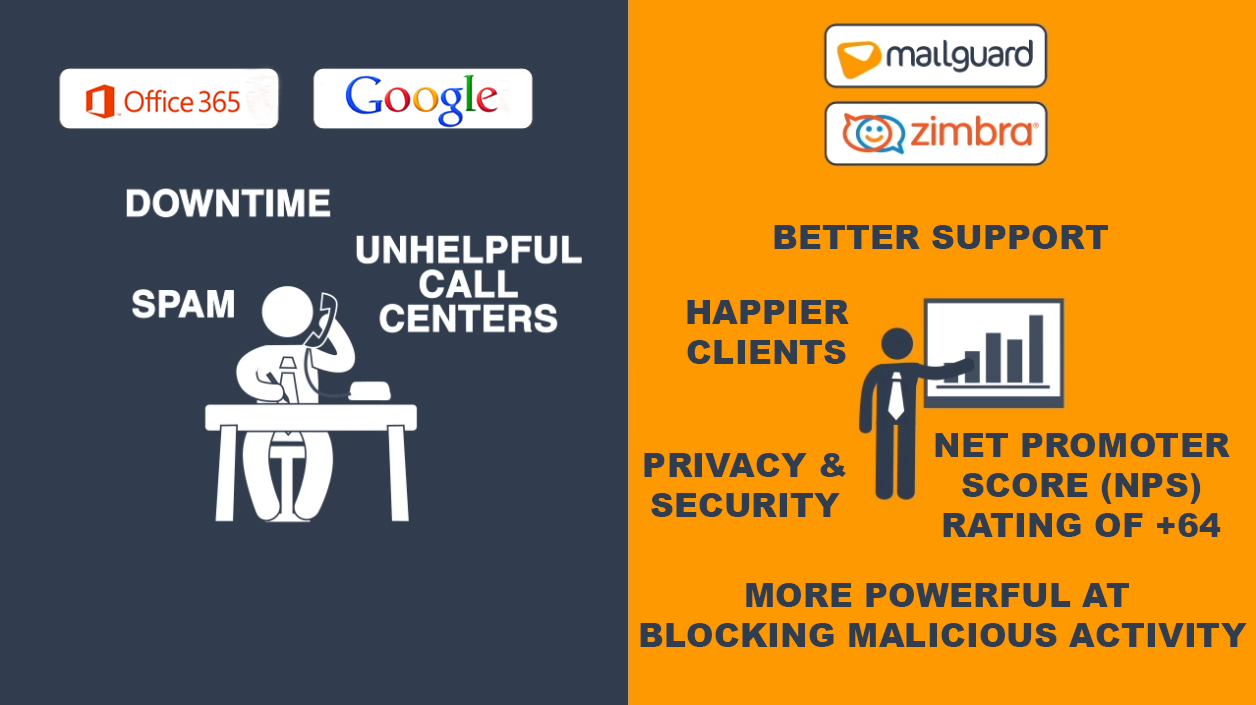 Privacy
While MailGuard and Zimbra excel in the area of defence, the issue of privacy and security for cloud email users is a top priority. Google's privacy and user data policies have faced substantial criticism from users around the globe after it was revealed that the company had been scanning and indexing emails automatically. Google defended its practice by stating that the systems were put in place to scan for spam and malware, however the fact remained that they scanned emails and information from search results, map requests and YouTube videos, to target online advertising.
MailGuard and Zimbra integrate seamlessly together so that customers can rest assured that their emails are kept completely private and that nobody ever reads or scans their emails for anything other than security purposes.
Safety
MailGuard has the ability to service those businesses with or without data centres. The security of MailGuard's customer data is of the highest priority. MailGuard global data centres are required to pass annual SAS-70 tests, meaning they are hardened against both physical and network attacks. MailGuard's filtering service also protects critical messaging infrastructure by using a global filtering network of scalable and redundant data centres, which operate like secure gateways through which all inbound and outbound business communications are filtered.
Support
Since inception, MailGuard has led the cloud industry in customer service, recording a year-on-year 98% partner and client retention rate, a 98% first call resolution rate and a industry-leading Net Promoter Score (NPS) rating of +64. MailGuard's commitment to an in-house 24/7 support function, means clients and partners enjoy a responsive and dedicated service. MailGuard helpdesk and finance teams have also built solid relationships with our customers, and it is this focus on customer support that we have over our competitors which has seen many businesses turned off by the larger vendors which don't have the same focus.
Ease Of Use And Setup
MailGuard's fully-managed cloud-based solutions require no installation with zero down time for set-up, and no updates, ever. Clients and partners experience set-and-forget services and infrastructure that are quickly deployed, have the most up-to-date security, employ 100% service uptime and have fully scalable solutions if business circumstances change.
By utilising Zimbra in conjunction with MailGuard, you will have complete peace of mind in regards to all of your business email needs. Competitor vendors like Google and Microsoft Office 365 are all about market share, and not interested in maintaining the balance of best product, customer service and client relationships. Both MailGuard and Zimbra have a strong track record for always putting customers first. This is one of the core reasons why MailGuard continues to be a proud partner of Zimbra, giving clients most importantly choice when it comes to the best cloud security solutions.
If you are ready to make the move to MailGuard, see how easy it is with Breaking Up With Your Cloud Provider - What To Do When The Honeymoon Is Over
---