Cyber-attacks today are a top concern for both enterprises and consumers, making headlines far-too-commonly in news stories around the world. They impact hundreds of thousands – often millions – of individual consumers, and even more individual records, all from a single attack on one company.
As we celebrate our 18th birthday, we have rounded up the 18 companies that've been hit by the most notable cyber incidents of all time, including data breaches and viruses, in an infographic.
Titled '18 Cyber-Attacks That Shook The Web', this infographic serves as a valuable tool in educating readers on the different ways cyber-crime can impact even the most cyber resilient companies.
If the past 18 years have taught us anything, it is that companies will be breached. No matter how tall or big the wall is, the enemy will find a way around it or under it.
Let these data breaches serve as a motivator for all of us to practise good cyber hygiene, and to remain vigilant.
Download our '18 Cyber-Attacks That Shook The Web' Infographic here.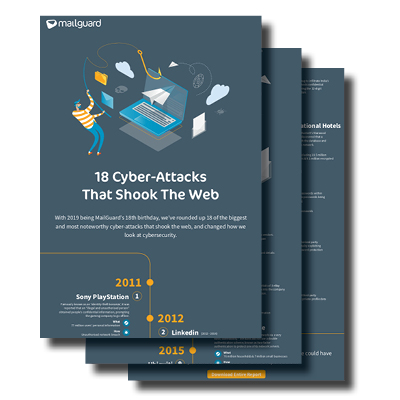 One email

Cybercriminals use email scams to infiltrate organisations with malware and attack them from the inside.
All criminals need to break into your business is a cleverly worded message. If they can trick one person in your company into clicking on a malicious link they can gain access to your data.
For a few dollars per staff member per month, you can protect your business with MailGuard's predictive email security.
Talk to an expert at MailGuard today about making your company's network secure: click here.
Stay up-to-date with new posts on the MailGuard Blog by subscribing to free updates. Click on the button below: