Brandjacking - where cybercriminals impersonate the brands we trust, in order to fool us into clicking on malicious content - has affected some of the world's biggest companies, past and present.
Anyone can be a target of brandjacking scams.
In celebration of our 18th birthday, we've collated a list of brands that are frequently
mimicked, along with examples of some of the emails spoofing them.
Discover 18 companies that have been the subject of brandjacking incidents in our Brandjackers Hit List, get your copy here.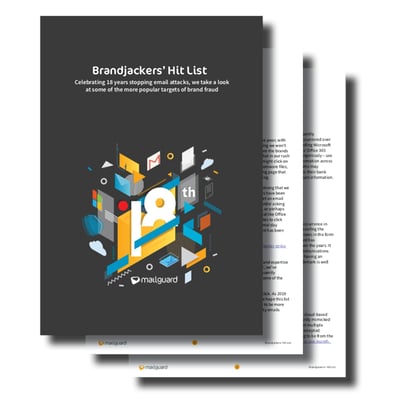 As cybercrime continues to evolve, we hope this list proves useful in helping email users to be more
vigilant and informed about the nasty emails arriving in their inboxes.
---
Defend your company and your inboxes against brandjacking scams
It only takes one person in a company to click on a malicious link to allow criminals to seize control.
Don't take that chance. There's never been a better time to take on the challenge of breach-proofing your company. The old saying goes 'prevention is better than a cure' and that's certainly the case with cybersecurity.
For a few dollars per staff member per month, you can protect your business with MailGuard's predictive email security.
Talk to an expert at MailGuard today about making your company's network secure: click here.
Stay up-to-date with new posts on the MailGuard Blog by subscribing to free updates. Click on the button below: