In what may appear to be simply a misdirected email, users who click on the 'Order0076654.xlsx' attachment are in for a nasty surprise. The attachment is a malicious payload that could result in devastating consequences for the user and their business.
Entitled 'Re: Re: Urgent order !!!', the email appears to come from the purchasing department of a Belgium Limited Liability Company, 'E.C.K BBVA', which is a wholesaler of home electrical appliances and audio-video equipment. The email is enquiring about the price and availability of goods for a future order.
This is what the email looks like: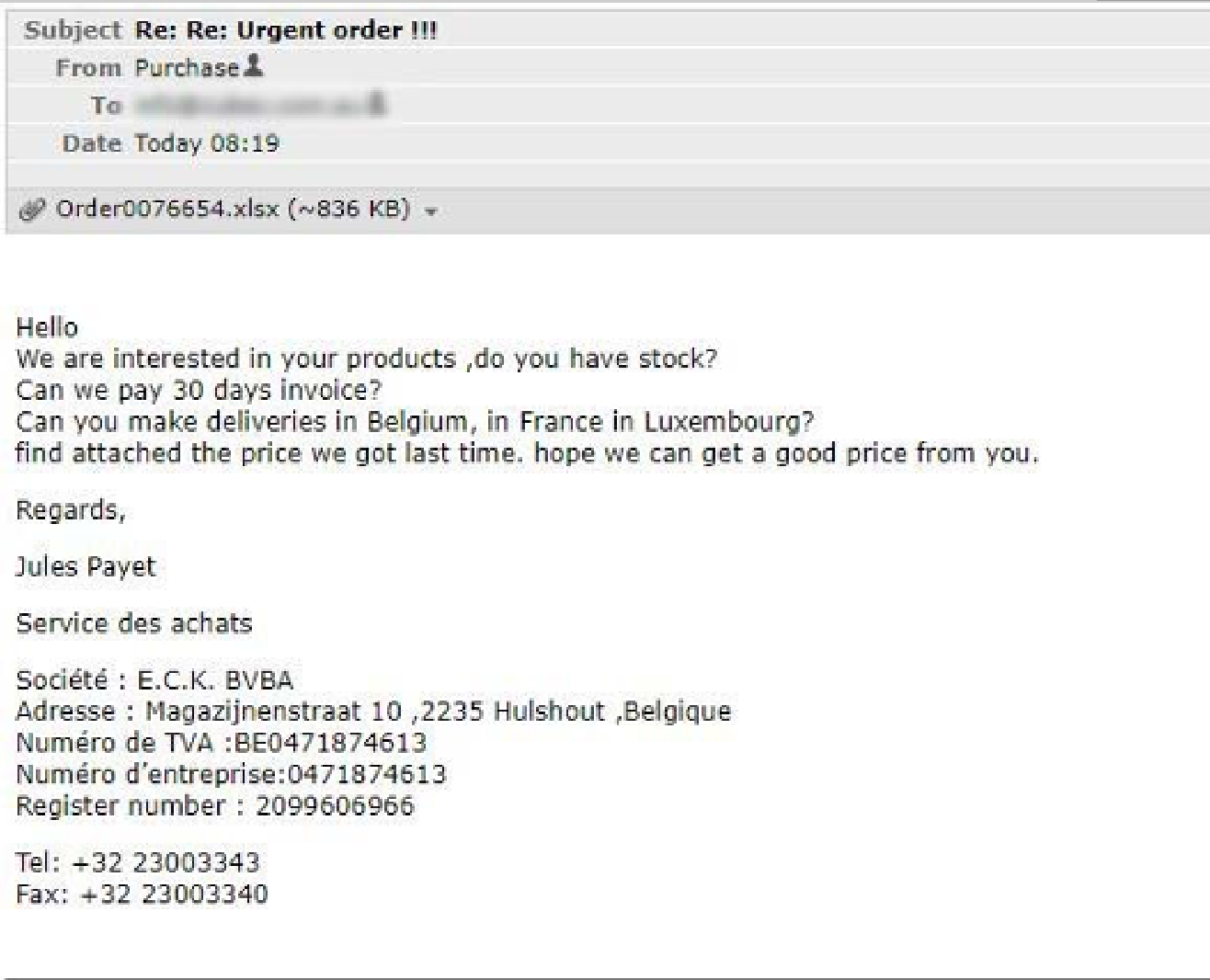 The display name for the email sender is 'Purchase' and the sending email address is info(at)cet-powre(dot)com. Perhaps more familiar to a European or French-speaking recipient, nonetheless anyone that receives this email and is curious about what it contains, is at risk of inflicting serious damage in the event that they are to click on the attachment.
MailGuard urges users not to click links or open attachments within emails that:
Are not addressed to you by name.

Appear to be from a legitimate company but use poor English, or omit personal details that a legitimate sender would include.

Are from businesses that you were not expecting to hear from, and/or

Take you to a landing page or website that is not the legitimate URL of the company the email is purporting to be sent from.
One email is all that it takes
All that it takes to devastate your business is a cleverly worded email message that can steal sensitive user credentials or disrupt your business operations. If scammers can trick one person in your company into clicking on a malicious link or attachment, they can gain access to your data or inflict damage on your business.
For a few dollars per staff member per month, you can protect your business with MailGuard's predictive and advanced email security. Talk to a solution consultant at MailGuard today about securing your company's network.
Stay up-to-date with MailGuard's latest blog posts by subscribing to free updates. Subscribe to weekly updates by clicking on the button below.