MailGuard has detected a new zero-day phishing scam using fake Netflix branding.
Netflix has become a favourite vehicle for email fraudsters. Their large customer base makes them a valuable target for brandjacking; cybercrime that exploits the trademarks of well-known companies to deceive victims.
As shown in the image above, this email is a well designed fake; it shows 'Netflix' as the sender name and prominently displays the Netflix logo.
There is an 'update payment' button in the body of these emails which links to a phishing website with bogus Netflix branding - see image below: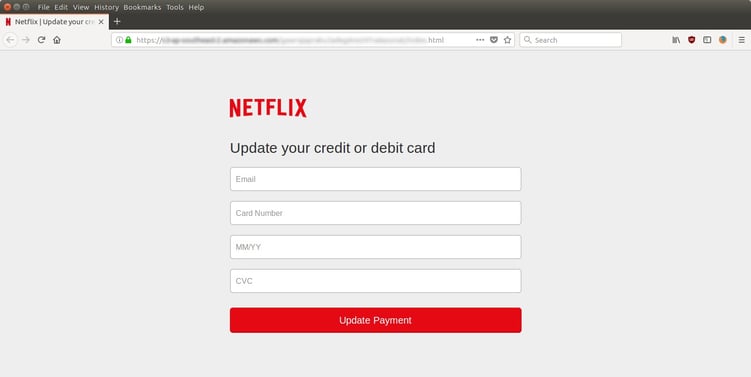 This sort of phishing scam allows cybercriminals to harvest victim's credit card credentials. The phishing page is designed to operate like a legitimate login portal. It asks for card details and password verification, then ejects the scam victim to a real Netflix page to allay suspicion.
MailGuard has successfully prevented these emails from reaching our customers, but unprotected inboxes will be affected today. Please exercise caution if you are not a MailGuard customer.
This new round of phishing emails follows the Netflix branded scam MailGuard broke November 3 last year, which made international media headlines.
Please share this alert with your social media network to help us make the people aware of the threat.
Stop Phishing Scams

Phishing can be enormously costly and destructive, and new scams are appearing every day. Don't wait until it happens to your business; take action to protect your company from financial and reputational damage, now.
Effective cybersecurity requires a multi-layered strategy. For a few dollars per staff member per month, add MailGuard's cloud-based email and web filtering protection. You'll significantly reduce the risk of malicious email entering your network. Talk to an expert at MailGuard today about your company's cybersecurity needs: 1300 30 44 30
Stay up-to-date with new posts on the MailGuard Blog by subscribing to free updates. Click on the button below: