Here's a roundup of this weeks articles on the MailGuard Blog. It's been a busy week here, especially for our CEO Craig McDonald, who managed to fit a mentoring workshop and a leadership interview with Prof. Gary Martin into his schedule...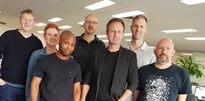 On Monday, our CEO Craig McDonald hosted a Q and A session for Cyrise program participants. Cyrise is a venture accelerator focused on facilitating the development of Asia-Pacific based cybersecurity startups.
Speaking to the CyRise group, Craig McDonald emphasised the importance of growing Australia's cybersecurity industry to meet the escalating challenges that it faces. He talked about his own experience, building MailGuard over the past 17 years, and encouraged the Cyrise mentees to be agile in their approach as they grow their companies.
"I started MailGuard seventeen years ago because of an email virus that wiped out all the computers at my company that I was running then. I realised that the anti-virus products that were available just couldn't protect us from stuff like that," Craig told the Cyrise group. "The big anti-virus companies were taking up to thirty days back then to respond to new threats. And you know, essentially most security products that are on the market are still using that same basic process. Not much has changed. MailGuard came about because I realised that what was needed was a responsive product that could adapt quickly to new threats that were appearing..."

>> Read more about Craig McDonald's Cyrise workshop, here.

On Tuesday Craig McDonald posted an article about the risk of cybercrime during the holiday season:

'The most profitable time of year for retailers is right now - between the North American 'Thanksgiving' and new-year. When business is booming, cybercriminals are busy too... A couple of weeks ago I re-watched that fantastic movie 'Catch Me if You Can' with Leonardo DiCaprio. In the movie (no spoilers I promise) DiCaprio steals from banks, scams airlines and gets away with all his misdeeds by using simple tricks. He makes fake cheques with scissors and glue; he wears disguises and stolen pilot's uniforms to assume different identities and infiltrate companies; he lies; and people believe his lies because he uses small pieces of factual information to make them seem credible. Social engineers are using the same sort of tricks as Leonardo DiCaprio's character, but instead of taking the risk of showing up in person, they are doing all their trickery from the safety of some anonymous computer thousands of kilometres away from their victims...'
>> Read the rest of Craig's insightful article, here.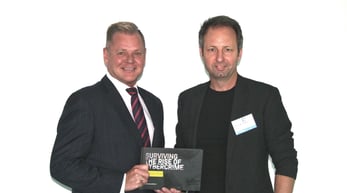 On Wednesday, Craig McDonald -MailGuard CEO - interviewed Professor Gary Martin. Gary is CEO and Executive Director of AIM WA, and has held several executive level appointments at Murdoch University in Western Australia.
Craig asked Gary about the leadership challenges presented by cybersecurity:
Craig: I feel strongly that we need to talk about cybersecurity a lot more openly. We sometimes find that when companies are impacted, and often badly damaged by cybercrime, they don't share their experience because of the reputational damage associated with it. Do you think we can get to a place where - at least at a leadership level - we can share knowledge about this problem more?
Gary: Here's the thing, Craig; until there is a lot more discussion and sharing, cybersecurity challenges will not only prevail; they will escalate. What is required is exactly as you say. We need much more open dialogue about cybersecurity and we are not getting that because – once again – senior leaders in an organisation haven't been involved in enough discussion around cybersecurity issues; typically leaving these matters to IT staff.
There's a level of ignorance prevailing around these issues in many organisations. Once more senior leaders become involved, there will be an increasing realisation that organisations need to share their challenges and unite to minimise or overcome the challenges posed. We do have quite a way to go to getting to this point though, I believe. That is; to a point where organisations share the challenges they've experienced and how they've dealt with them...
>> Read the rest of Craig's interview with Prof. Gary Martin, here.

On Thursday Craig McDonald wrote an article warning of a phishing scam targeting CEOs on LinkedIn: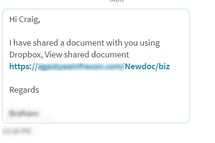 'I've received a number of messages on LinkedIn over the last 24 hours that rang alarm bells. At first glance they looked like ordinary notes from my contacts, but then I noticed they were all asking me to click on an unfamiliar link. I had our MailGuard team look at the link, and run it through our systems. Sure enough, the link in the message opened a fake Dropbox login page, which asked for credentials...'
>> Read all about the LinkedIn scam, here.
Protect Your Inbox

All criminals need to break into your business is a cleverly worded email; if they can trick one person in your company into clicking on a malicious link they can gain access to your data.
For a few dollars per staff member per month, you can protect your business with MailGuard's cloud-based email and web filtering security.
Talk to an expert at MailGuard today about making your company's network secure: click here.
Stay up-to-date with new posts on the MailGuard Blog by subscribing to free updates. Click on the button below: