Today, Craig McDonald - CEO and Founder of MailGuard - hosted a Q and A session for Cyrise program participants at the MailGuard offices in Melbourne.
Cyrise is a venture accelerator focused on facilitating the development of Asia-Pacific based cybersecurity startups. Cyrise runs 6 month mentor-driven programs in Melbourne. The Cyrise program brings startup founders from across the Asia-Pacific region together with industry leaders who can help them create successful new cybersecurity companies.
CyRise Startups Q and A:

Craig McDonald is an active mentor with the Cyrise program.
Today Craig spoke to the Cyrise participants in an informal Q and A session hosted at the MailGuard offices.


CyRise program participants in the Q and A workshop were:
Scott Handsaker; CEO of CyRise

Kirstin McIntosh; Program Manager at CyRise
Dr Vaughan Shanks; founder of Cydarm
With 14 years' experience in defence and security and a PhD in machine learning at scale, Vaughan sees the need for a human-centric security operations platform that supports the workflows of organisations and can be used by non-technical people. CYDARM is building the leading platform for integrated cyber detection, analysis and response management.
Dr Omaru Maruatona; founder of AiCulus
With a PhD in Artificial Intelligence, Omaru is seeking to build the world's most adaptive AI platform for real-time cyber security. The ambition of AiCULUS is to create the world's most adaptive and secure solutions to help business and organisations take full advantage of the Internet of Everything.
Regan McKay; founder of NetCrypt
Regan is a serial tech entrepreneur with three successful companies behind him. NetCrypt is a B2B SaaS product which aims to help secure data wherever it may be, with a comprehensive solution that helps companies migrate to the cloud and file sharing without compromising security. NetCrypt has just finished a global beta in 22 countries and is about to go to market in Australia, New Zealand, South Africa and the USA. NetCrypt was named in the Anthill Magazine Smart 100, 2017.
James Rolevink; founder of Cybercitadel
James believes that the global cyber job market is a supply vs. demand problem which the traditional recruitment model of 'CV + interview' cannot solve. The solution is to turn the existing job market on its head with a new paradigm designed to scout, develop and deliver the raw talent needed for NextGen Cyber Security.
Shared Experience

Speaking to the CyRise group, Craig McDonald emphasised the importance of growing Australia's cybersecurity industry to meet the escalating challenges that it faces. He talked about his own experience, building MailGuard over the past 17 years, and encouraged the Cyrise mentees to be agile in their approach as they grow their companies.
"I started MailGuard seventeen years ago because of an email virus that wiped out all the computers at my company that I was running then. I realised that the anti-virus products that were available just couldn't protect us from stuff like that," Craig told the Cyrise group. "The big anti-virus companies were taking up to thirty days back then to respond to new threats. And you know, essentially most security products that are on the market are still using that same basic process. Not much has changed. MailGuard came about because I realised that what was needed was a responsive product that could adapt quickly to new threats that were appearing. I think it's that constant aggressive search for the new threats that makes MailGuard different. Most of the giant cybersecurity companies, they wait until somebody has a problem before they update. We're testing against new threats every day to stay ahead of what's coming next. As smaller startup companies, you have an advantage in that you can be fast moving and agile."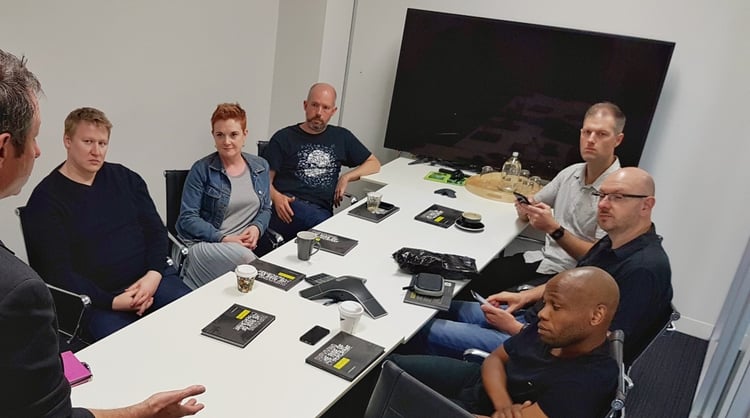 (Photo: Craig McDonald [at left] - MailGuard Founder and CEO - answering questions from the Cyrise mentorship group. Craig hosted the Q and A session for the Cyrise participants today at the MailGuard offices in Melbourne, Australia.)


Craig answered the Cyrise participant's questions about getting new clients, and talked about the importance of referrals in a trust-based business like cybersecurity:
"Starting out, our new business was all referrals. Our first big clients were actually companies I had worked with before in other spheres, and they heard about what MailGuard was working on and came to us. They were having problems with criminal-intent email, and the anti-virus stuff they were using just wasn't keeping it out. We already had metrics we could show them by then and that was really key in building confidence in our product."
The Q and A participants from Cyrise were particularly interested in hearing Craig's ideas about expanding into international markets, and he talked about the value of forming partnerships:
"Our partnership with Microsoft is very important," he commented. "Microsoft works very closely with us, and they are doing a lot to help us bring our product to a much bigger market. Microsoft, of course, shares the same concerns we all have about attacking the cybersecurity challenge, and they understand the value of implementing multi-layered security measures. I work very closely with their team, and they are great to collaborate with in terms of wider awareness about MailGuard's services. They really share our mission to make a safer online environment for businesses."
Takeaways:

After the Cyrise Q and A session, Craig encouraged the participants to connect with him on LinkedIn and presented them with copies of his book; 'Surviving the Rise of Cybercrime.'

Find more info about Cyrise and their work with Australian startup entrepreneurs here: www.cyrise.co


(Photo L to R: Regan McKay, NetCrypt; Kirstin McIntosh, CyRise; Omaru Maruatona, AiCulus; James Rolevink, CyberCitadel; MailGuard CEO, Craig McDonald; Vaughan Shanks, Cydarm Technologies; Scott Handsaker, CEO CyRise.)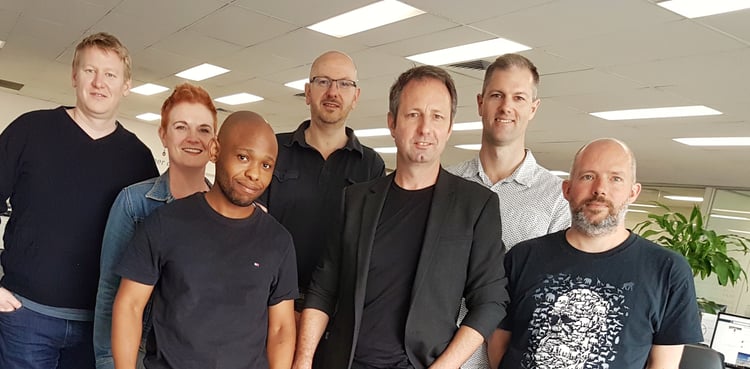 Stay up-to-date with new posts on the MailGuard Blog by subscribing to free updates. Click on the button below: