Hot wallets have been in the headlines this week following news from online cryptocurrency casino Stake.com that its ETH/BSC hot wallets had been compromised, with over $40 million in crypto reportedly stolen.
Crypto wallets, like any other account holding large stores of value, are valuable targets for cyber scammers, and so it's no surprise that MailGuard has intercepted the latest scam impersonating Trust Wallet.
The scam email warns that 'Your wallet will soon be suspended', urging users to 'Verify' their wallet before 11 September in order to avoid suspension. The subject line reads, "Action required: Unlock your wallet to avoid suspension."
And while the sender name is 'TrustWallet', the email actually originates via compromised accounts hosted on Amazon SES.
An example of the email is shown below: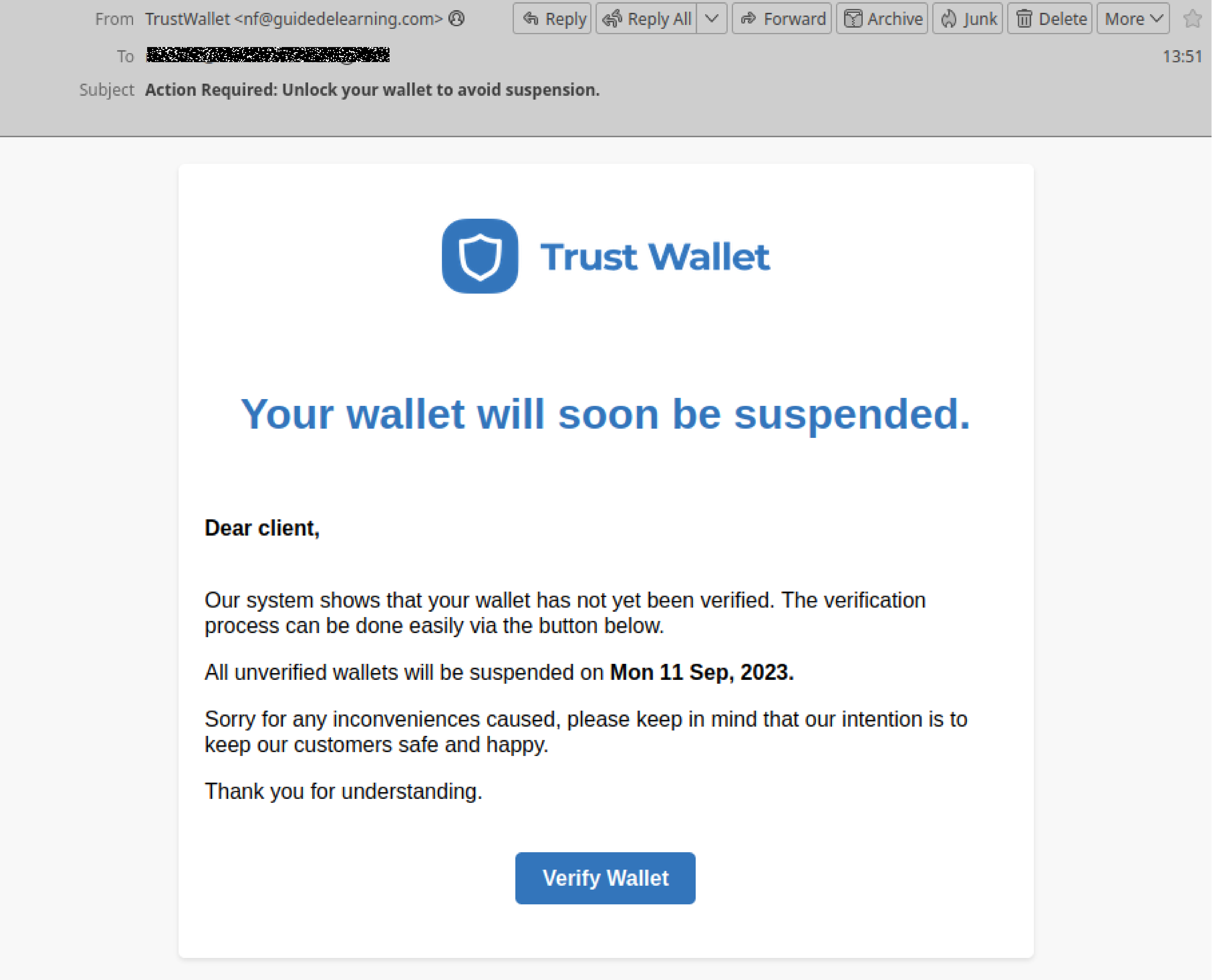 After clicking the 'Verify Wallet' button, users are directed to a phishing page where they are prompted to enter their 'Trust Wallet Recovery Phrase', which is a 12-word phrase (up to 24-words) that's generated when you first create a wallet, that operates like a password or similar access credentials.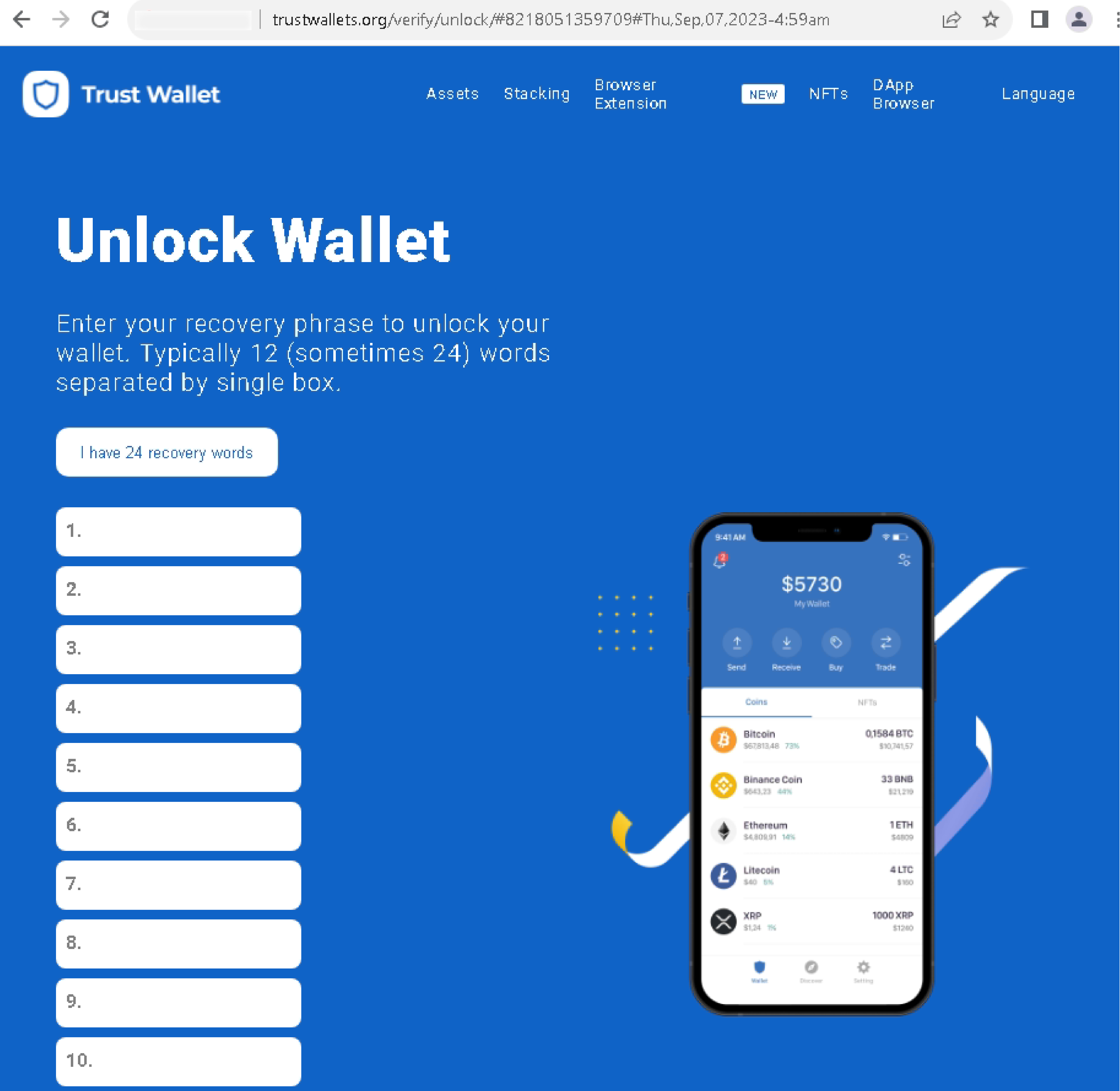 In a common phishing tactic, the page rejects the first attempt as an error with an 'Oops' message, and prompts the user to try again.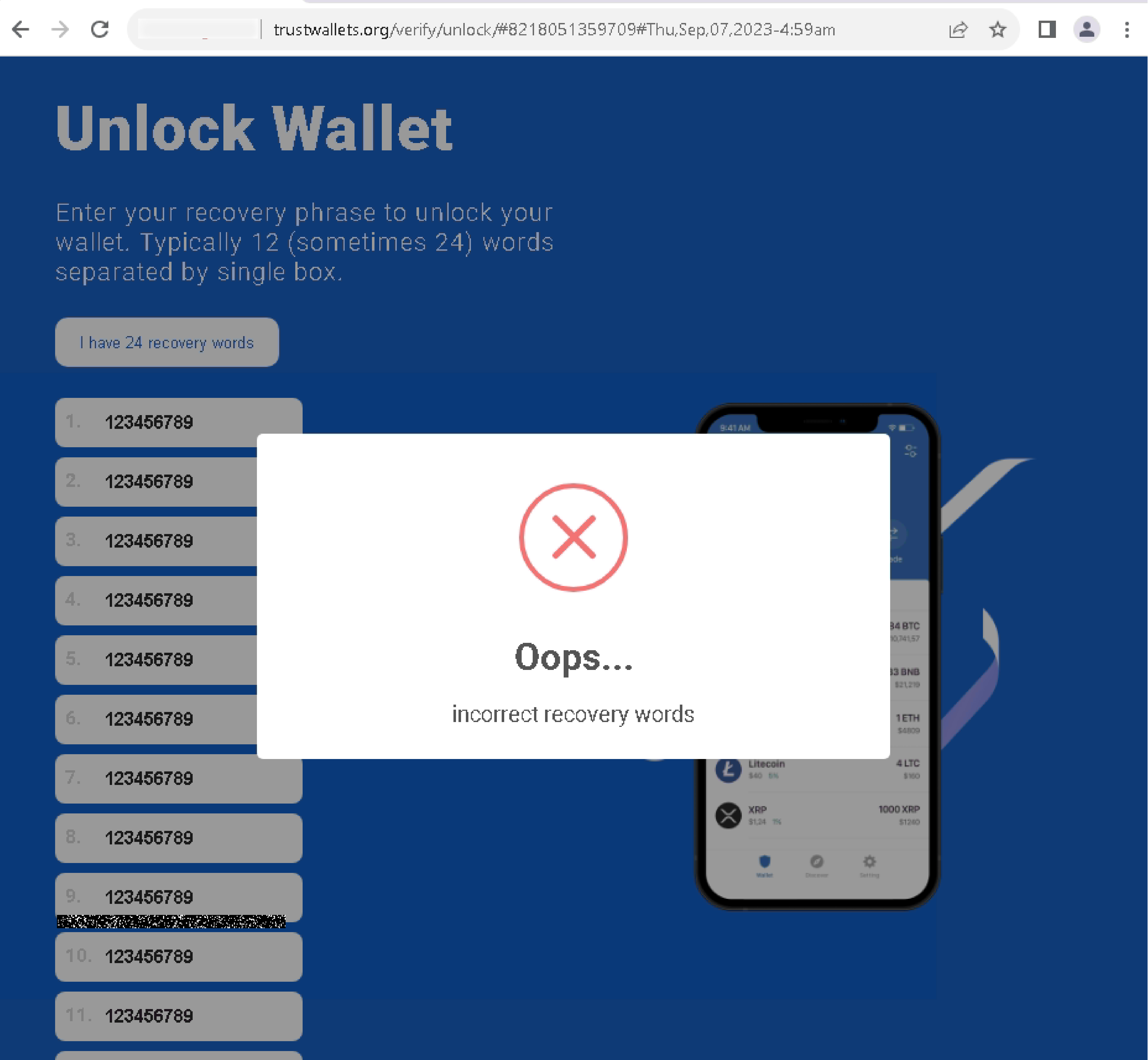 The page includes a verification step to check for any invalid user inputs before allowing the victim to proceed. Both the redirect and phishing pages are using new domains, hosted through a provider in the Netherlands.
The final page in the process confirms that the wallet has been successfully unlocked and asks the user to remain on the page while the verification process is completed, before finally redirecting them to the Trust Wallet community center. Victims are none the wiser that their accounts are being drained.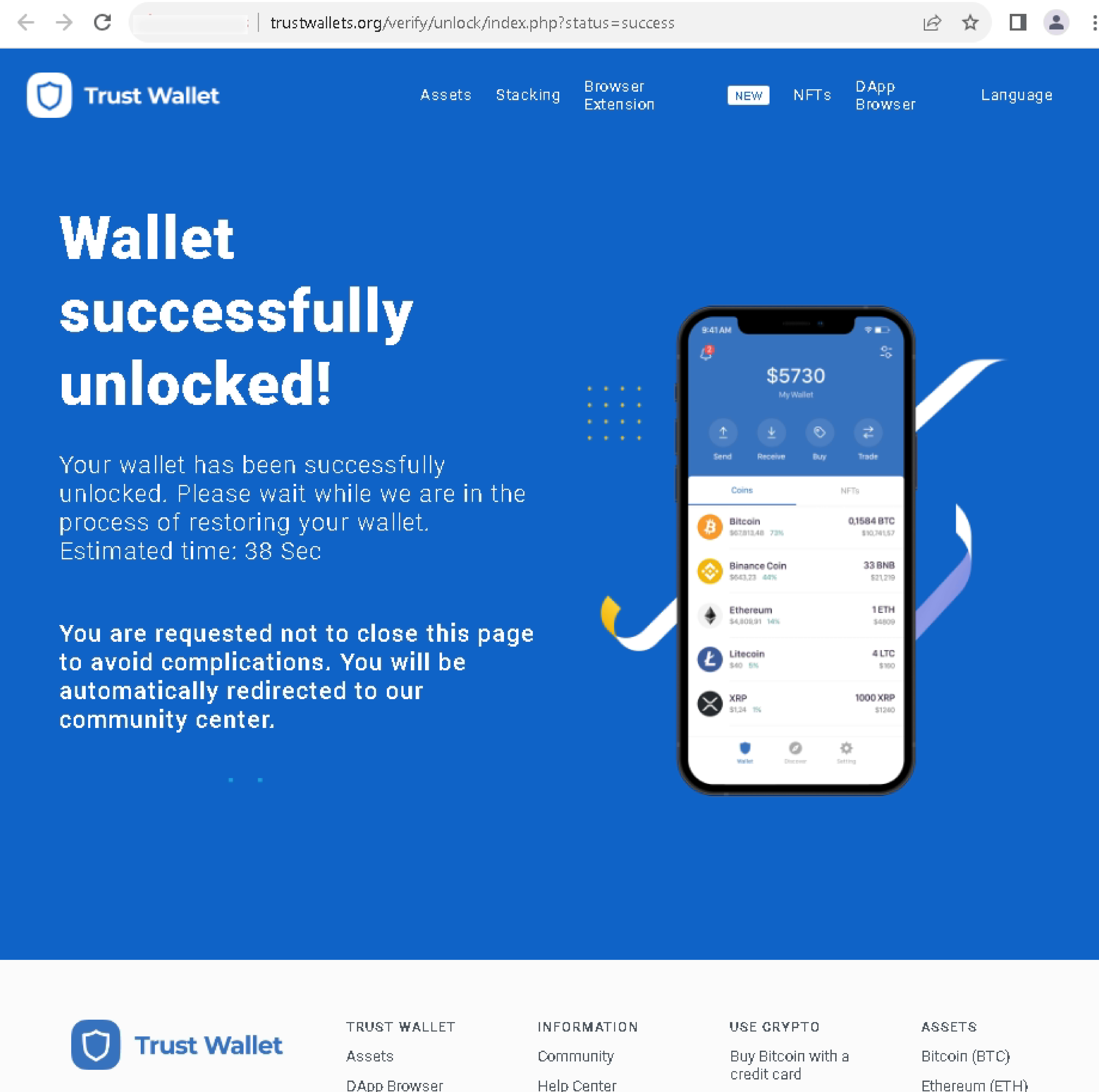 Crypto wallet scams like this one are not uncommon, designed to steal user credentials that can be harvested for sale on the dark web, and for use in other attacks. They leverage your trust in familiar platforms like Trust Wallet.
MailGuard advises all recipients of this email to delete it immediately without clicking on any links. Providing your personal details can result in your sensitive information being used for criminal activity and may have a severe negative impact on your business and its financial well-being.    
MailGuard urges users not to click links or open attachments within emails that:      
Are not addressed to you by name.      

Appear to be from a legitimate company but use poor English or omits personal details that a legitimate sender would include.      

Are from businesses that you were not expecting to hear from, and/or      

Take you to a landing page or website that is not the legitimate URL of the company the email is purporting to be sent from.     
Many businesses turn to MailGuard after an incident or a near miss, often as a result of an email similar to the one shown above. If unwanted emails are a problem for your business, don't wait until it's too late.
Reach out to our team for a confidential discussion by emailing expert@mailguard.com.au or calling 1300 30 44 30.
One email is all that it takes    
All that it takes to devastate your business is a cleverly worded email message that can steal sensitive user credentials or disrupt your business operations. If scammers can trick one person in your company into clicking on a malicious link or attachment, they can gain access to your data or inflict damage on your business.    
For a few dollars per staff member per month, you can protect your business with MailGuard's predictive and advanced email security. Talk to a solution consultant at MailGuard today about securing your company's inboxes. 
Stay up-to-date with MailGuard's latest blog posts by subscribing to free updates. Subscribe to weekly updates by clicking on the button below.