The email shown in the screenshot above, showing the subject "ATO Warning Document Received," is a new phishing scam detected by MailGuard.
Designed to look like a message from the ATO (Australian Taxation Office), this email states: "we noticed unlawful fillings (sic) & tax evasion on your previous tax return… To avoid legal action, see the link below to view and sign your document."

There is a link shown in the message "view ATO document," which points to a bogus login page; shown below: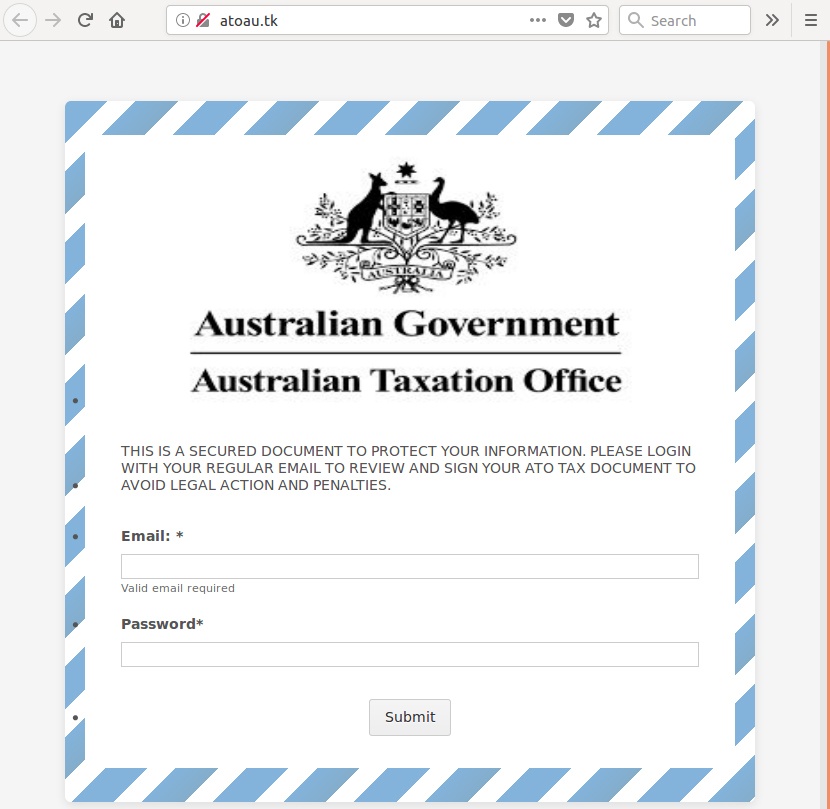 Cunningly designed with the Australian Coat of Arms (trademark of the ATO) and titled "Australian Taxation Office," this login page is actually a phishing site. Email addresses and passwords submitted will be captured by the criminals who set up this site and used to defraud scam victims.
The senders associated with this email scam are:
Jessica Lynn - jlynn@morningstarcfs.org

Paul Smart - paulsmart@live.com.au

rachael - rachael-alyse@hotmail.com

steve schutze - steve_schutze@hotmail.com
MailGuard has successfully protected our client's inboxes from this attack, but if you are not yet a MailGuard customer, you may receive this scam message, so please exercise caution.
Don't get scammed

If your company's email accounts aren't protected, scam emails like the one above are almost certainly being received by your staff. Cybercriminals know people can be tricked; that's why they send out millions of scam messages and put so much effort into making them look convincing.
People are not machines; we're all capable of making bad judgement calls. Without email filtering protecting your business, it's just a matter of time before someone in your organisation has a momentary lapse of judgement and clicks on the wrong thing.
For a few dollars per staff member per month, you can protect your business with MailGuard's predictive email security.
Talk to an expert at MailGuard today about making your company's network secure: click here.
Stay up-to-date with new posts on the MailGuard Blog by subscribing to free updates. Click on the button below: