Another day, another fraudulent package notification vying for your attention. DHL is the focus of the latest phishing scam being intercepted by MailGuard. With the subject reading 'Your package is stopped in one of our stations', the email claims that a small fee needs to be processed in order to have the package released.
The link provided in the email is for payment of a seemingly insignificant fee of AUD$1.99, in order to process the delivery.
The email looks like this: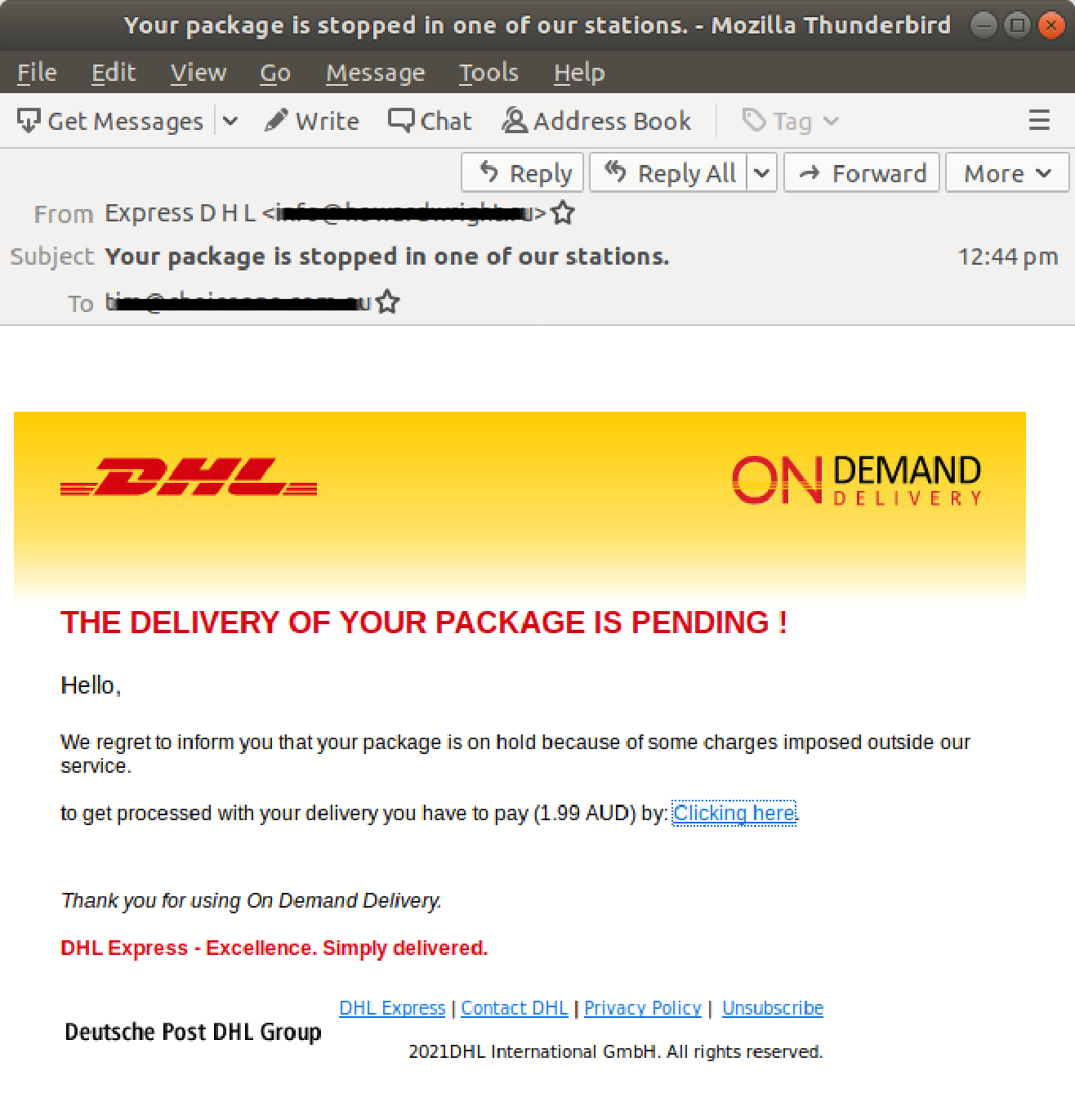 If the recipient clicks on the 'Clicking Here' link, they are immediately presented with a page advising that "Your package is waiting for delivery. Confirm the payment (1.99) in the following link..." and prompted with a 'PAY' button.

The following page asks for the recipients personal details, such as name, ZIP code, city, phone number and email.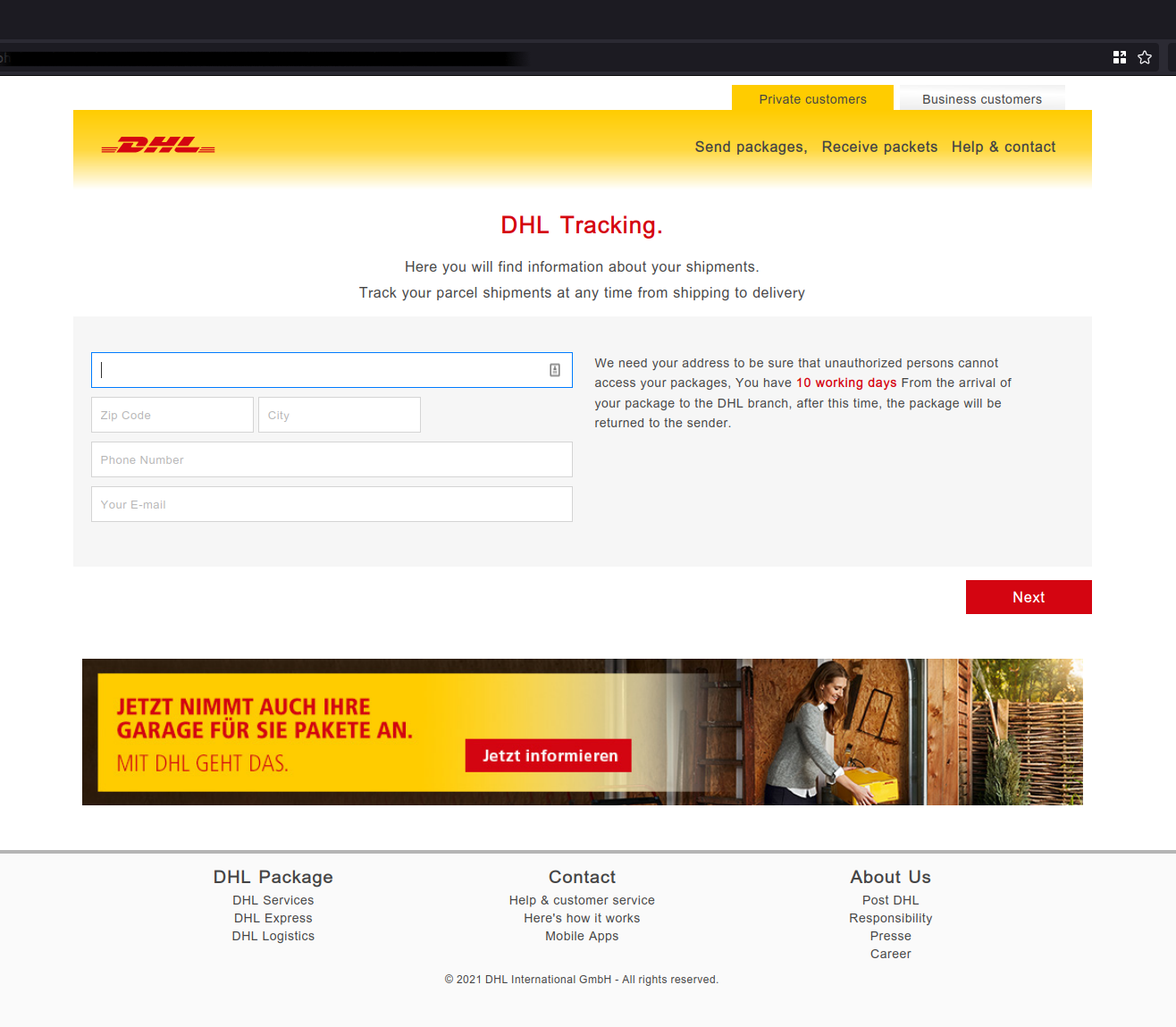 After capturing the victims personal details, clicking the 'Next' button takes victims to a payment page requesting credit card details, including the cardholder name, credit card number, expiry and CVC details.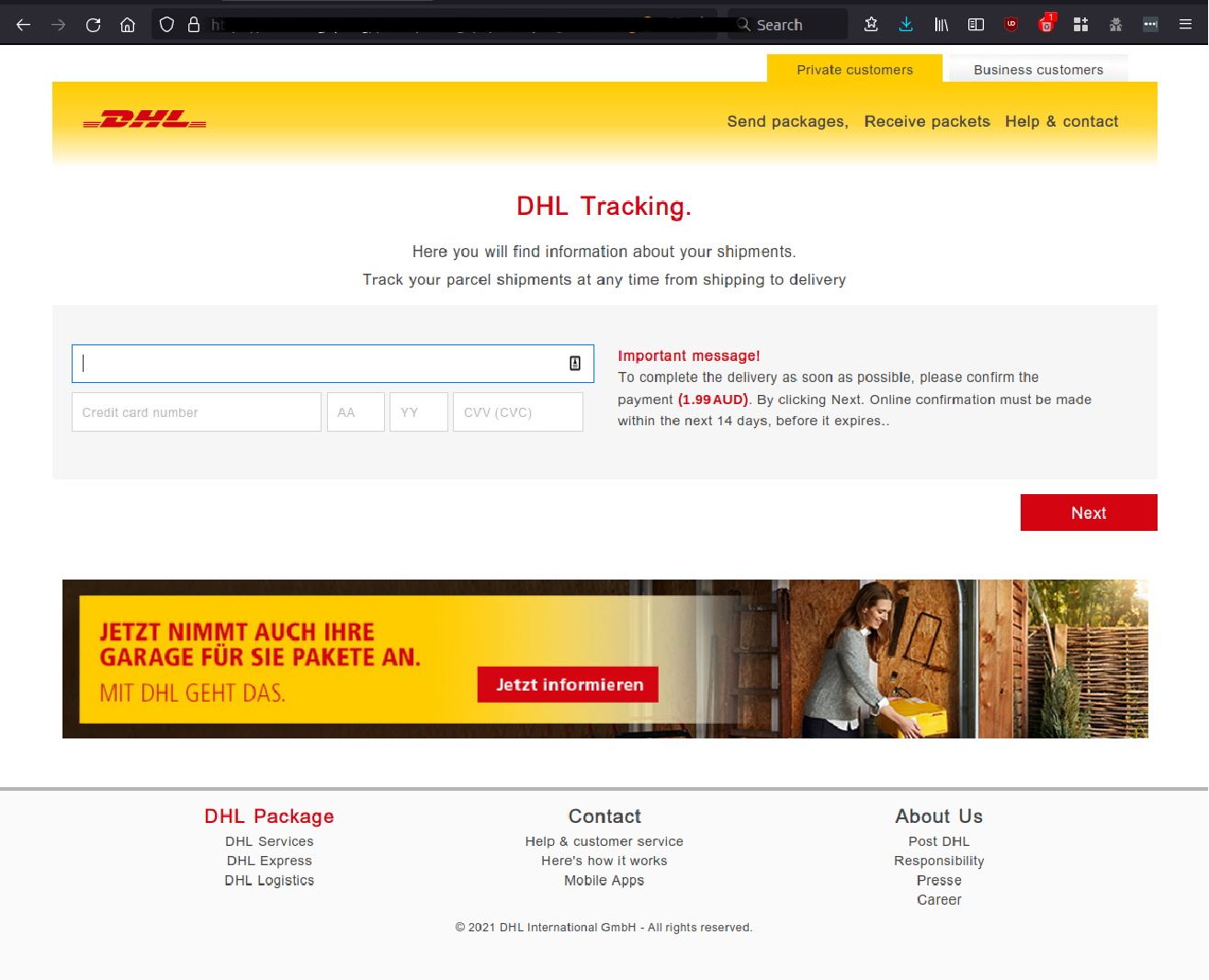 Mimicking a regular online credit card payment process and carrying a 'Verified by Visa' badge to lend authenticity, the last step asks victims to confirm a code that has been sent to them via SMS.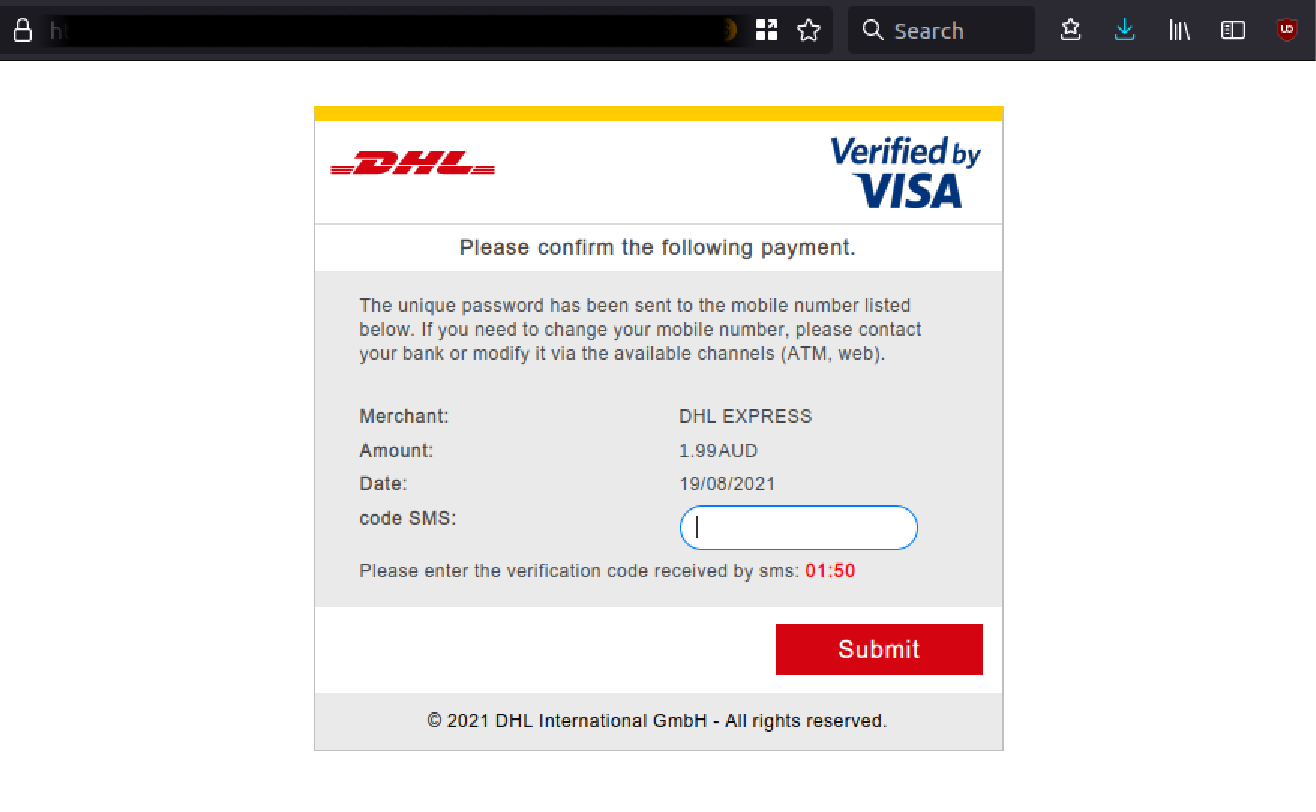 The scam prompts victims to re-enter the code, presumably while the cybercriminals are processing a transaction on the card.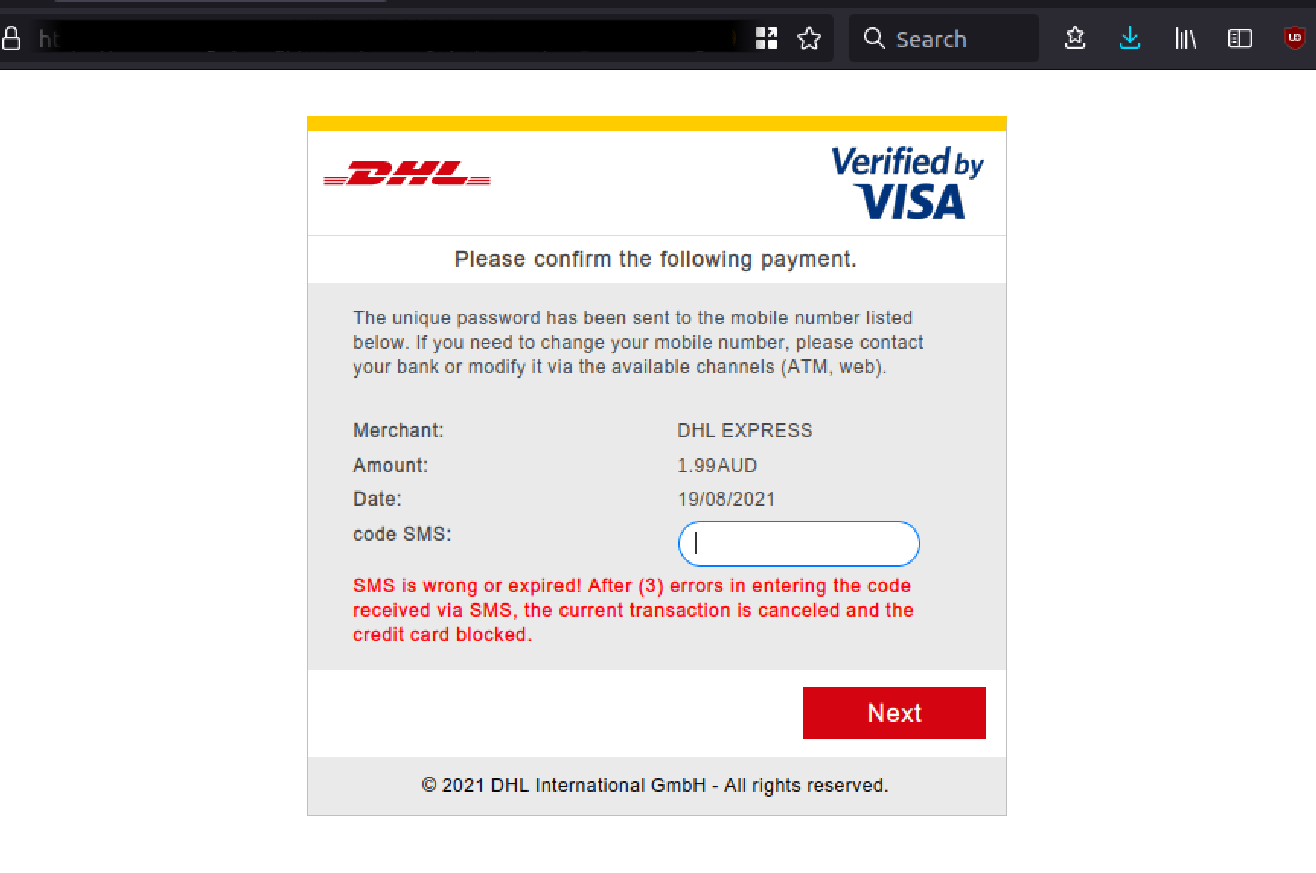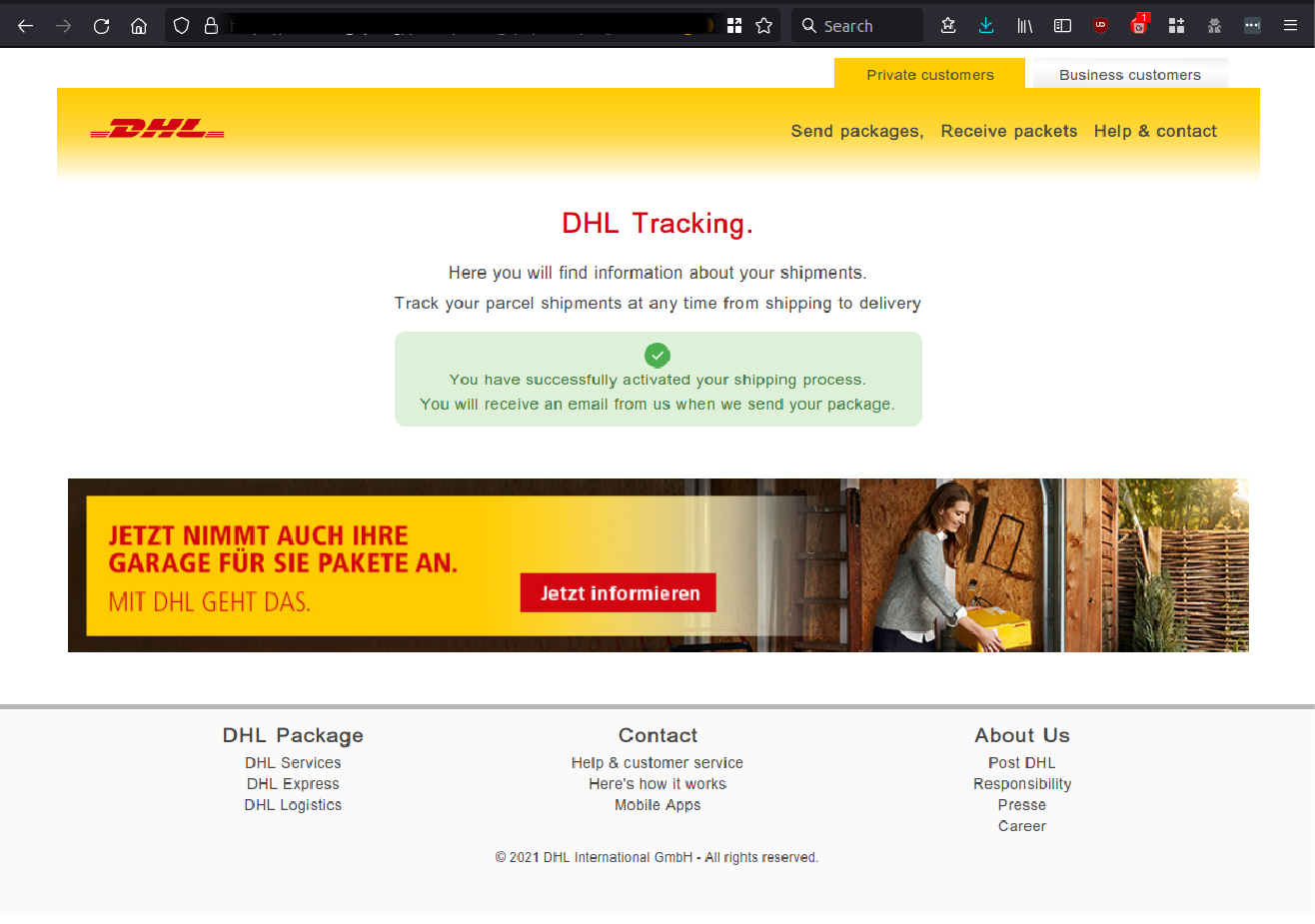 This scam employs DHL's branding & logo, including details related to the status of the parcel delivery, to feign authenticity. The sender address and domain, however, does not belong to the shipping company. It's actually a phishing page hosted on a compromised website and is designed to harvest the above-mentioned credentials of users.
Well-known companies such as Australia Post, FedEx and DHL are popular targets for scammers to impersonate because they are trusted names with large customer bases.
DHL offers the following advice, which can be found on their website as to whether you have received a fraudulent email:
"Official DHL communication is always sent from @dhl.com, @dpdhl.com, @dhl.de, @dhl.fr or another country domain after @dhl.

We never use @gmail, @yahoo or other free email services to send emails.

We never link to a website other than our own starting with for example

https://dhl.com/

,

https://dpdhl.com/

, or a country/campaign website
From a desktop computer:
Drag & Drop

the suspicious email into a new message and send it to

phishing-dpdhl@dhl.com as attachment. To effectively shut down the fraudulent service, we need complete mail headers which are not included in a forwarded message.
From a mobile device:
Forward the message

to us. If feasible, please always send the suspected email from a desktop as attachment including complete mail headers.




Report the message as spam

within your mail app, so that your mail provider can take appropriate actions
Please report all suspicious activity to our dedicated Anti-Abuse Mailbox at phishing-dpdhl@dhl.comfollowing the below instructions".
Further information can be found on the DHL website: https://www.dhl.com/au-en/home/footer/fraud-awareness.html
MailGuard urges all recipients of this email to delete it immediately without clicking on any links. Providing your personal details can result in your sensitive information being used for criminal activity.
MailGuard urges users not to click links or open attachments within emails that:
Are not addressed to you by name.

Appear to be from a legitimate company but use poor English, or omit personal details that a legitimate sender would include.

Are from businesses that you were not expecting to hear from, and/or

Take you to a landing page or website that is not the legitimate URL of the company the email is purporting to be sent from.
One email is all that it takes
All that it takes to devastate your business is a cleverly worded email message that can steal sensitive user credentials or disrupt your business operations. If scammers can trick one person in your company into clicking on a malicious link or attachment, they can gain access to your data or inflict damage on your business.
For a few dollars per staff member per month, you can protect your business with MailGuard's predictive and advanced email security. Talk to a solution consultant at MailGuard today about securing your company's network.
Stay up-to-date with MailGuard's latest blog posts by subscribing to free updates. Subscribe to weekly updates by clicking on the button below.