Global freight and logistics behemoth, DHL, is the subject of the latest fraudulent parcel scam spoofing their good name, brand and trusted reputation.
The email scam with a subject line reading 'You have a pending delivery (1)', claims to be an important message from the shipping center with 'instructions in order to be able to collect your package'. The emails are being sent from a compromised account belonging to a Malaysian eyecare company, with the sender display name changed to read 'Express DHL'. You can see an example of one of the emails below: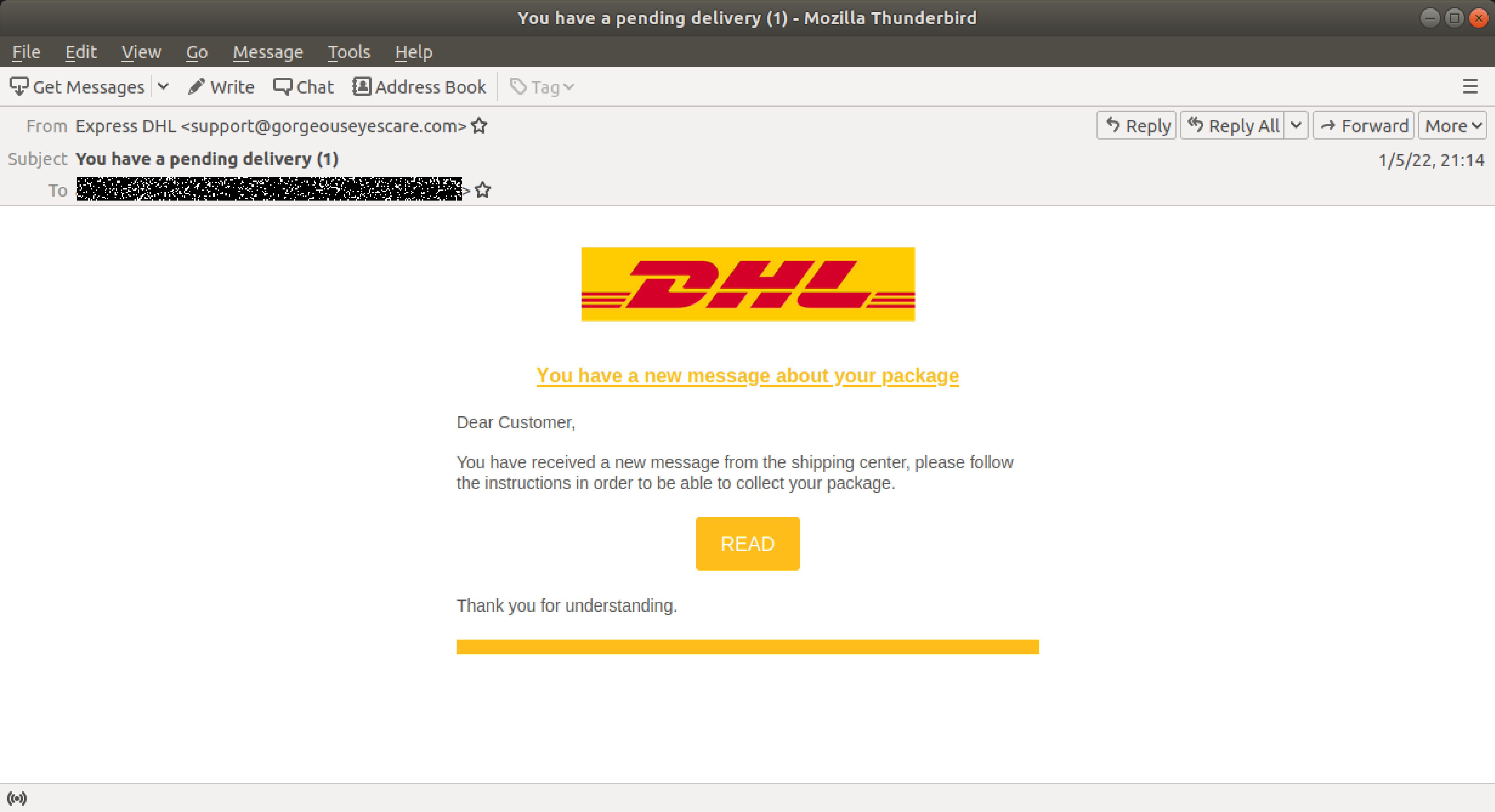 Upon clicking the 'READ' button, you are directed to the first of the phishing pages which asks for confirmation that you will agree to pay '2.76 €', 'within the next 3 days before it expires', and prompted to select the red 'Click Here' button. The transaction amount is intentionally small to reduce hesitation. The real prize in the scam is your credit card credentials.

At this stage, the cybercriminals behind the scam begin to harvest your personal information, like your name, address, city, postal code and phone number.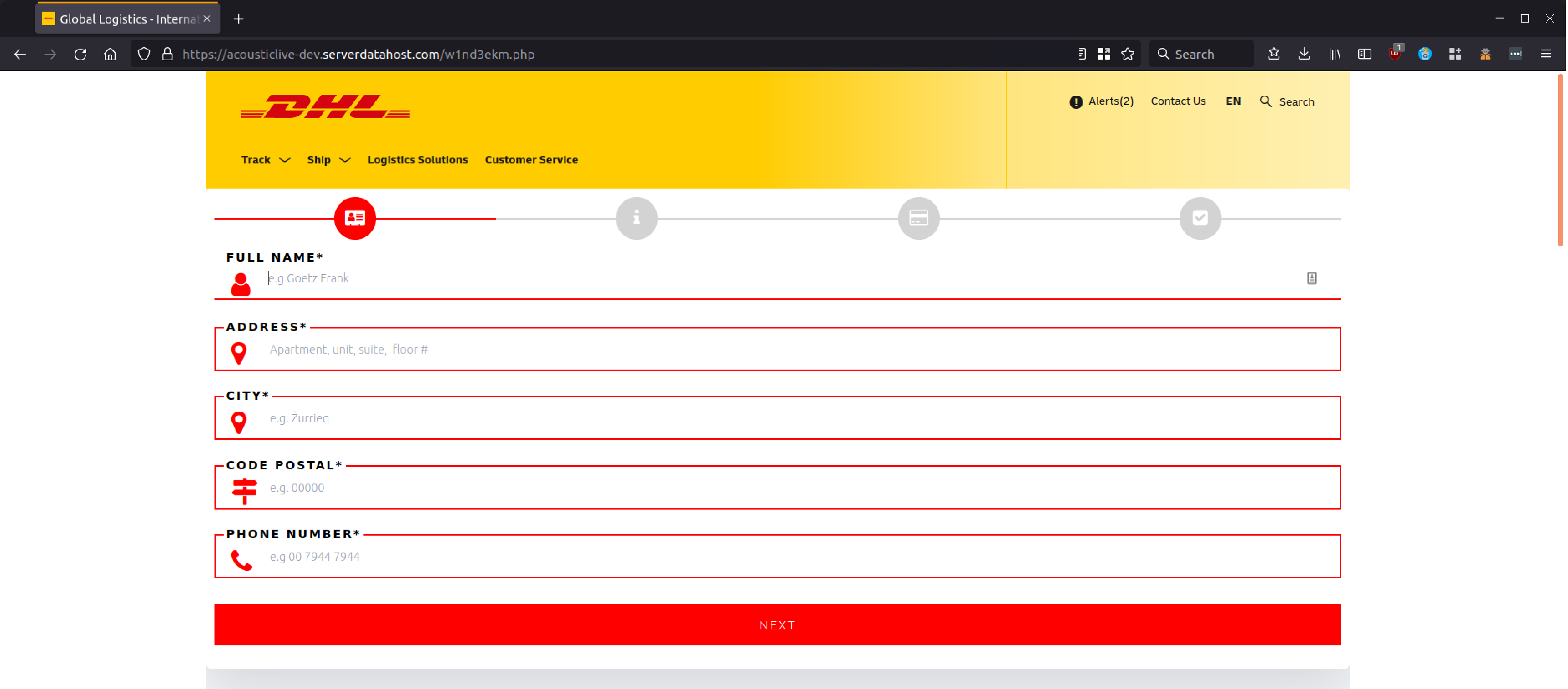 Once complete, you're prompted to nominate a preferred payment method, Visa or MasterCard.

After which, your credit card details are harvested, including your car number, expiry date and CVV.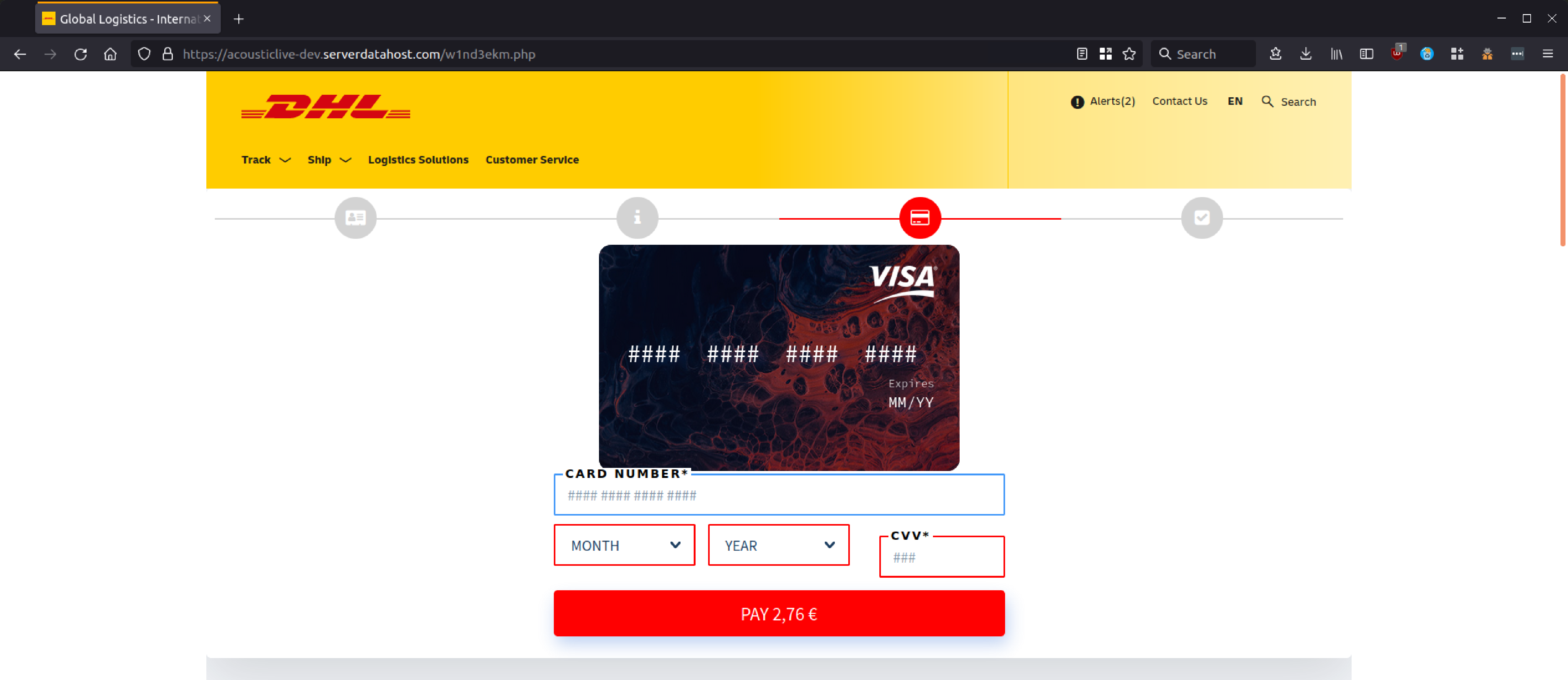 To feign authenticity, the scam now pauses to process the transaction displaying 'Verified by Visa' branding while you wait.

The final step in the scam, is to send a 'One-time verification' code to confirm your mobile number via SMS.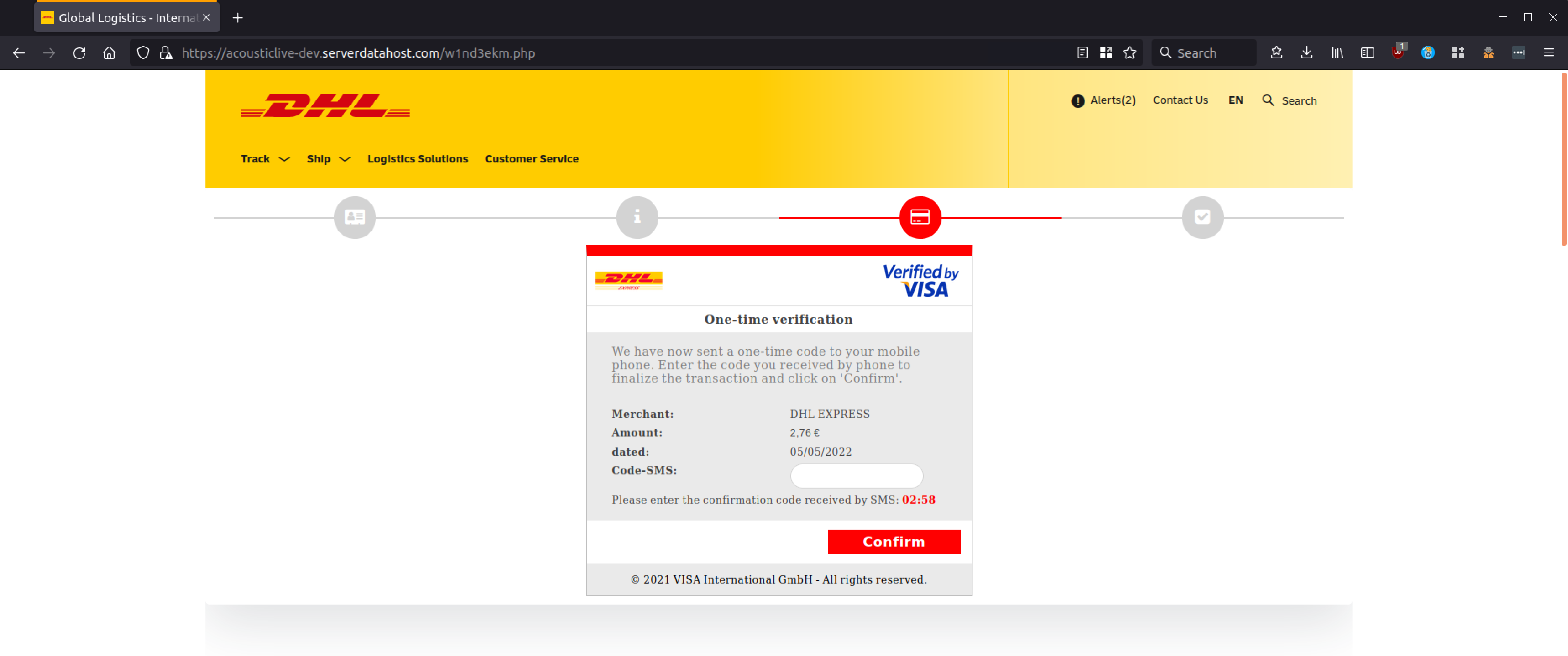 DHL, along with many other multi-national freight and logistics companies are frequently the subject of parcel scams. With the volume of physical mail, parcel deliveries and general freight increasing exponentially in line with a surge in global ecommerce, they are an easy target for cybercriminals looking to impersonate their trusted brand and to trade off their good reputation.
MailGuard strongly recommends all recipients of this email to delete it immediately without clicking on any links. Providing your personal details can result in your sensitive information being used for criminal activity and may have a severe negative impact on your business and its' financial well-being.   
MailGuard urges users not to click links or open attachments within emails that:     
Are not addressed to you by name.     

Appear to be from a legitimate company but use poor English or omits personal details that a legitimate sender would include.     

Are from businesses that you were not expecting to hear from, and/or     

Take you to a landing page or website that is not the legitimate URL of the company the email is purporting to be sent from.    



One email is all that it takes    
All that it takes to devastate your business is a cleverly worded email message that can steal sensitive user credentials or disrupt your business operations. If scammers can trick one person in your company into clicking on a malicious link or attachment, they can gain access to your data or inflict damage on your business.    
For a few dollars per staff member per month, you can protect your business with MailGuard's predictive and advanced email security. Talk to a solution consultant at MailGuard today about securing your company's inboxes. 
Stay up-to-date with MailGuard's latest blog posts by subscribing to free updates. Subscribe to weekly updates by clicking on the button below.