A new fake Dropbox phishing scam targeting users of the online sharing and storage platform is currently in circulation.
The scam invites readers to view files apparently shared by another Dropbox user, in a similar way to other Dropbox scams we've reported.
However, this phishing scam tries to fool users into submitting username and password details in order to gain access their email account.
Here's a sample of the email you should look out for: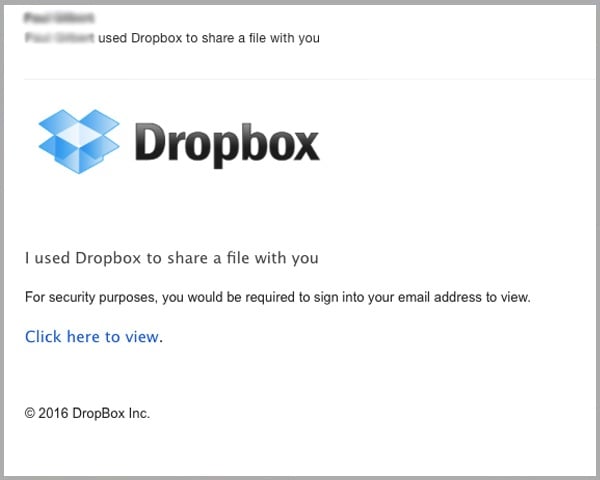 The Dropbox scam appears from a named sender, (we've blanked out their details to protect their identity, but let's call him 'Joe'), inviting the recipient to view a file recently shared in Dropbox.
Joe's email account appears to have been compromised – he may have received the same Dropbox phishing scam recently and been fooled into giving away his email account details, allowing the scammers to hack into his account and distribute the scam further.
It's also possible that 'Joe' is known to the recipient, being an email contact saved in his address book, making the scam appear more legitimate.
By clicking on the enclosed link, readers then see the below screen, which encourages them to log-in to their Dropbox account through their webmail account to view the document: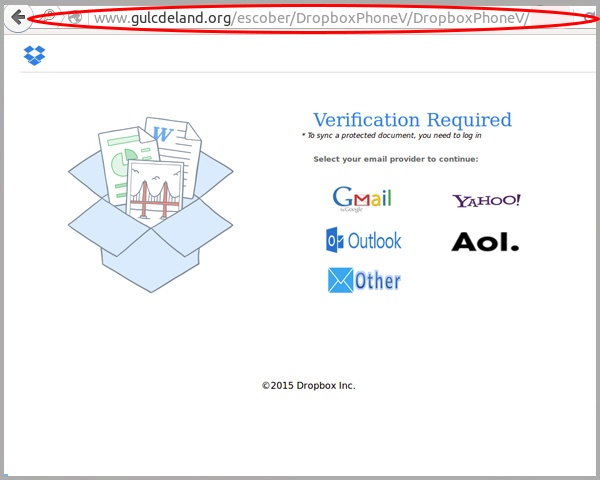 Vigilant users would be immediately suspectful of the URL displyed in the address bar, whose domain gulcdeland.org bears no resemblance to Dropbox.
Although it's possible to sign up for Dropbox's services using a Gmail account they wouldn't give you the option of signing in using credentials of several email providors, a tactic also used by cyber cirminals in a recent Google Drive phishing scam, which should raise suspicion.
Below shows the screen users will see if they select the Microsoft Outlook sign-in option, a direct good replica of a Hotmail log-in screen: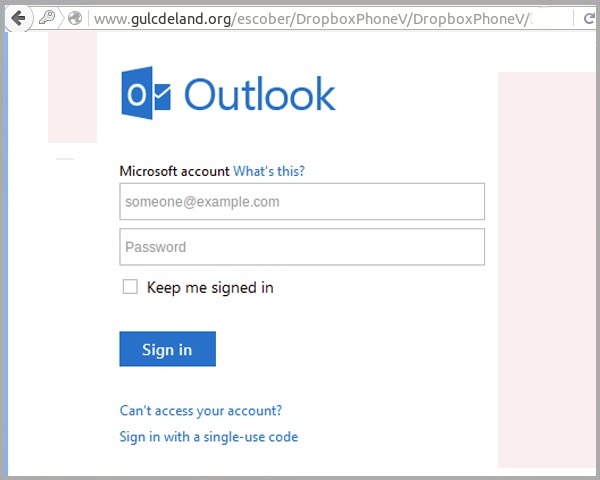 Once the user has submitted their username and password they then see the two screens, the first of which states that the supposed document is being downloaded, and the second of which states that Dropbox is experiencing download issues.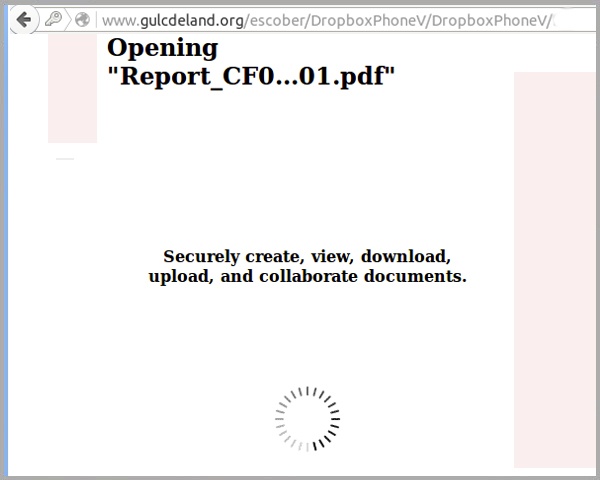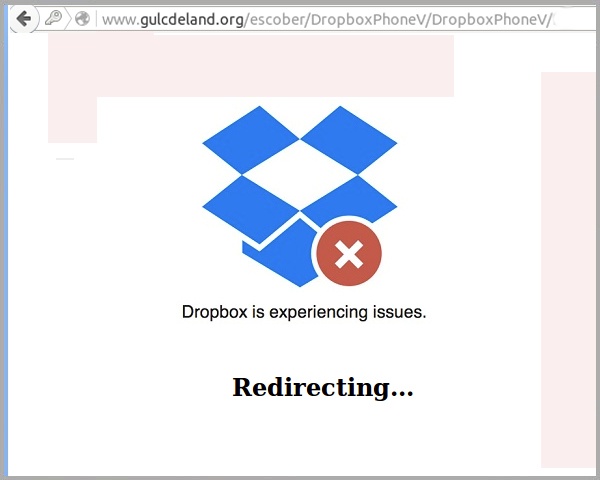 Finally the page redirects to an official Dropbox page, directing users to download its software, giving unfamilair readers the impression that they'll need to become a Dropbox user in order to continue.
In the meantime, scammers now have access to your email username and password which they'll use to distrubute this and other scams further and gain access to confidential information in your account.
To protect yourself from spam campagins like this Dropbox phishing scam:
Be wary of emails that ask you to view or download files from people you do not know.
Also be wary of emails which ask you to view files on services that you do not subcribe to.
Always hover your mouse over the URL of links contained in emails to check their destination address – if they look suspicious, don't open them. To log into a service like Dropbox, open a new web brower and type in their URL manually.
Be wary of services which ask you to provide log-in credentials for a number of different email providors – this is a trick scammers use to a widen their phishing net, allowing them to steal details from lots of users.
Dropbox also have their own webpage which educates readers on how to avoid phishing and malware scams.
You can prevent your business from receiving phishing scams by using cloud-based email filtering and web filtering software, which intercepts these emails before they have a chance to get into your inbox.
By building a multilayered defence for your business, including desktop antivirus, anti-malware and anti-spyware, you can ensure that you have 360 degree protection against a range of known and unknown threats.
Click here to download your free executive guide, Surviving the Rise of Cybercrime, by MailGuard CEO and founder Craig McDonald.
Keep up to date with email scams affecting your business by subscribing to MailGuard's weekly update.